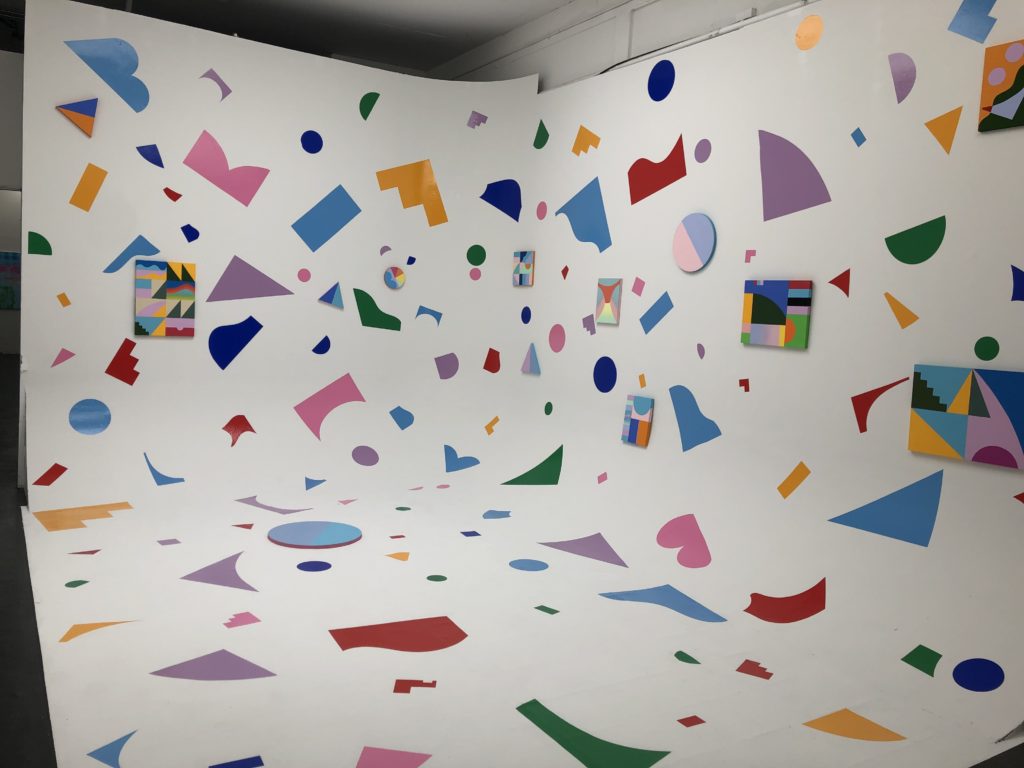 Summer never lasts. The vibrance, abandon and heat all disappear, making way for insular, insulation-blessed pursuits. This is part of the polyphonic inspiration behind Poolside, an abstract painting show that captures the fleeting, sugary joy of the season in a multi-room, immersive gallery experience. 
Artists Jayes Caitlin, Michelle Miller and Jung Yun have filled the burgeoning Rhythm Visuals Gallery with brilliant paintings and prints, weirdly done. The entire experience is a dopamine rush, a jolt of audacious work to get you through the dog days of Summer.
Miller, who co-owns Print Shop LA in Chinatown, built the centerpiece of the show, a behemoth installation with enough centripetal force to reroute traffic.
"I usually do murals and paintings, so it was really cool to be able to take the shapes out of the paintings and hand cut them and create this playful world," Miller told We Like L.A., "All my work is really connected to my gender identity and design and the experience traveling and moving through different environments."
You can walk into the installation – so long as you strap on some booties – and dance among the jagged and jubilant shapes, a top-notch photo op for the gram or for airdropping to a confused stranger. The Yale-bound Miller, who identifies as non-binary, has carved out a niche with shape-obsessed, ice cream-colored works that you can seemingly taste with your eyes, including a project to design and print the official poster for this year's Pitchfork Music Festival in Chicago.
The other big draw is a kiddie pool in the back of the gallery where you can grab water balloons and pilfer the gallery's white wall to reveal a bodacious painting, a magic marker-like illusion scaled up. It's made with hydrochromatic ink that dries white but turns clear when you get it wet, says Caitlin, who, like the other artists in this exhibition, moved here after studying at the School of the Art Institute of Chicago. She runs the aforementioned print shop with Miller, and has a virtuosic grasp of abstract technique.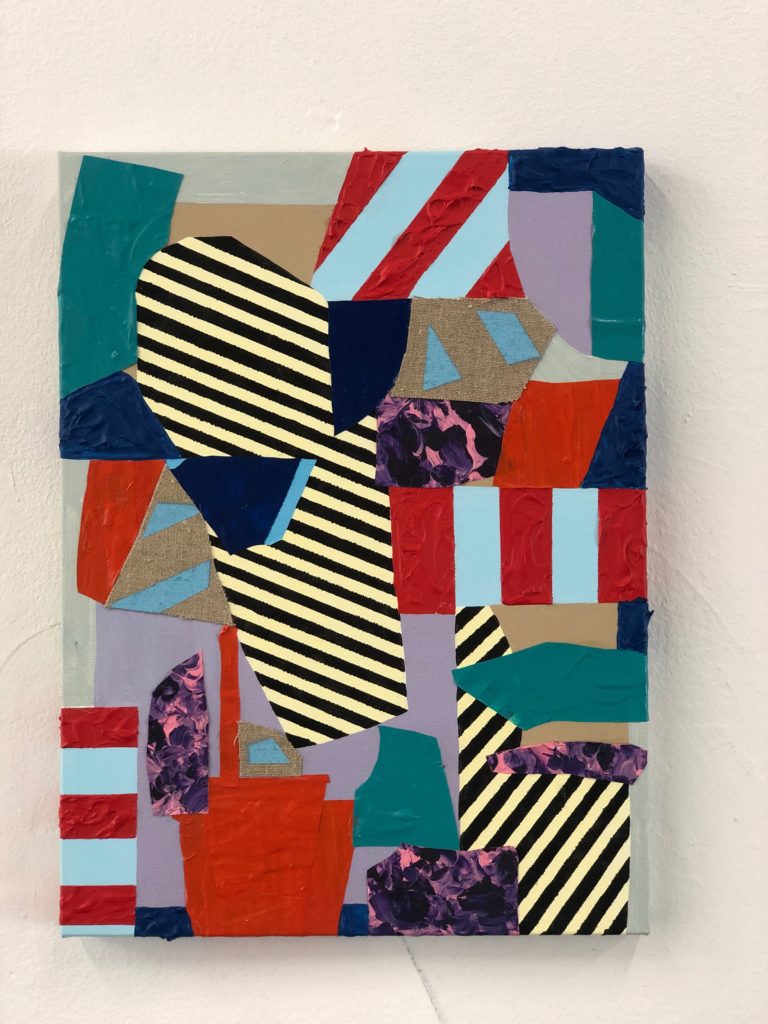 Her work here is on-theme. It's eye-popping and prismatic and modern, but it stands out from the other pieces here with its almost tribal, pastiche sensibilities. 'That series for me is all made from these board paint skins that I collaged together, so it stays really loose while I'm working and has a lot of freedom to improvise, but it's all still paint in the end,' she said.
Poolside, like most work at Rhythm Visuals Gallery is smartly laid out, the bombast of the front and back rooms of the gallery softened by the meditative middle-room work of Yun, an enigmatic and esoteric artist whose skill belies his young features.
"I moved around growing up, so its kind of natural for me to adapt to where I'm at. Whatever's available to me, I don't need a paintbrush," Yun explained.
He uses unconventional techniques – one piece was done by hand, another made in part with box cardboard in lieu of a paintbrush – and incorporates video and sound baths for an overall moody and sativa-friendly experience. A murky visual is projected onto the biggest piece here, slowly changing shape and color the longer you stare. And trust, you will stare.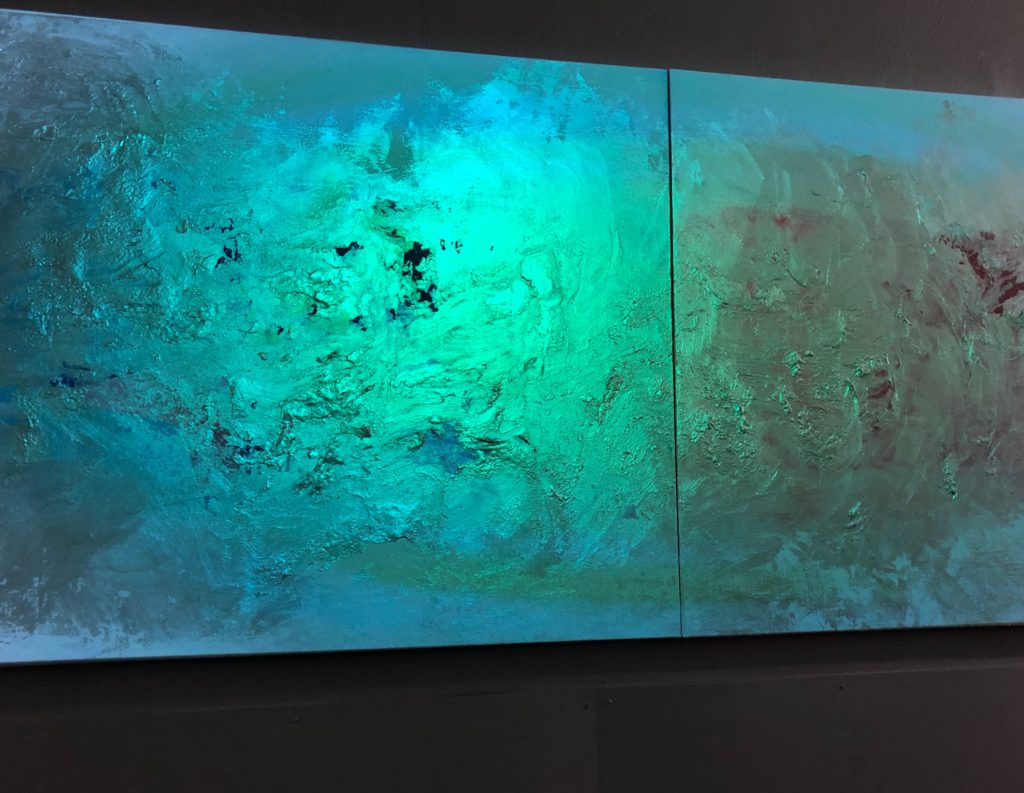 "There is no painting like this if you look back in history," he said.
Boundlessly curious, he's also a fashion designer who'll be selling his progressive, warehouse-chic apparel in the gallery, so you can wear the strange.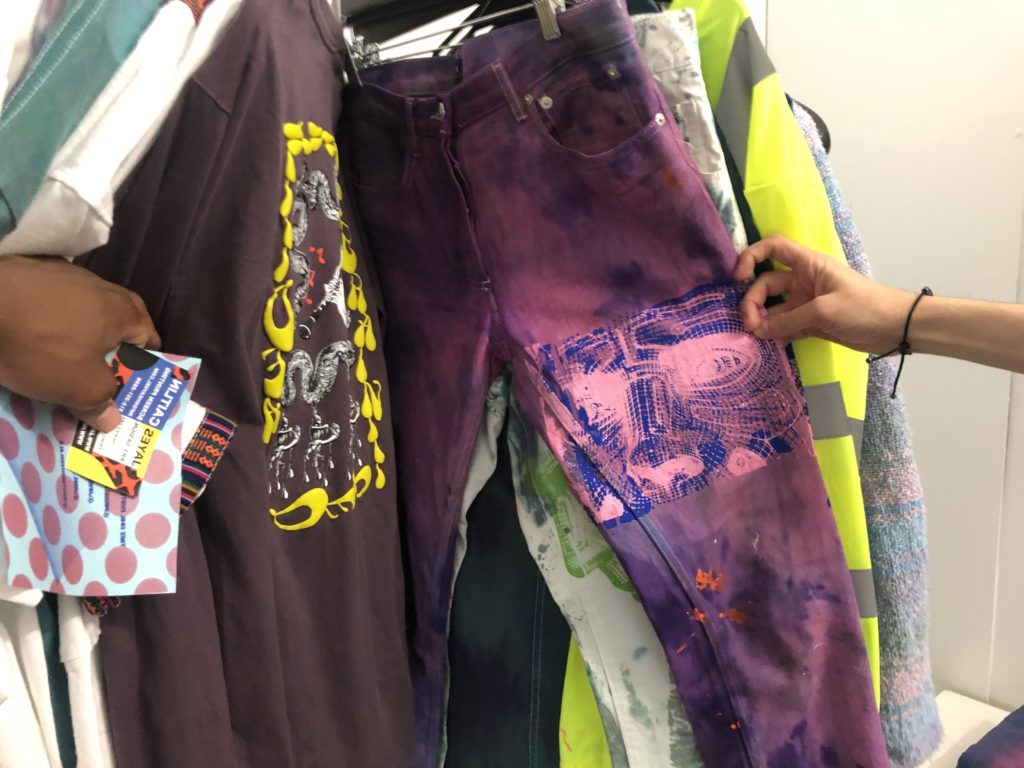 For opening reception on August 10 the show boasted snacks, cocktails, intrepid ice cream flavors by Mild Crush and tarot readings by Ayyaht. Truly summertime radness encapsulated.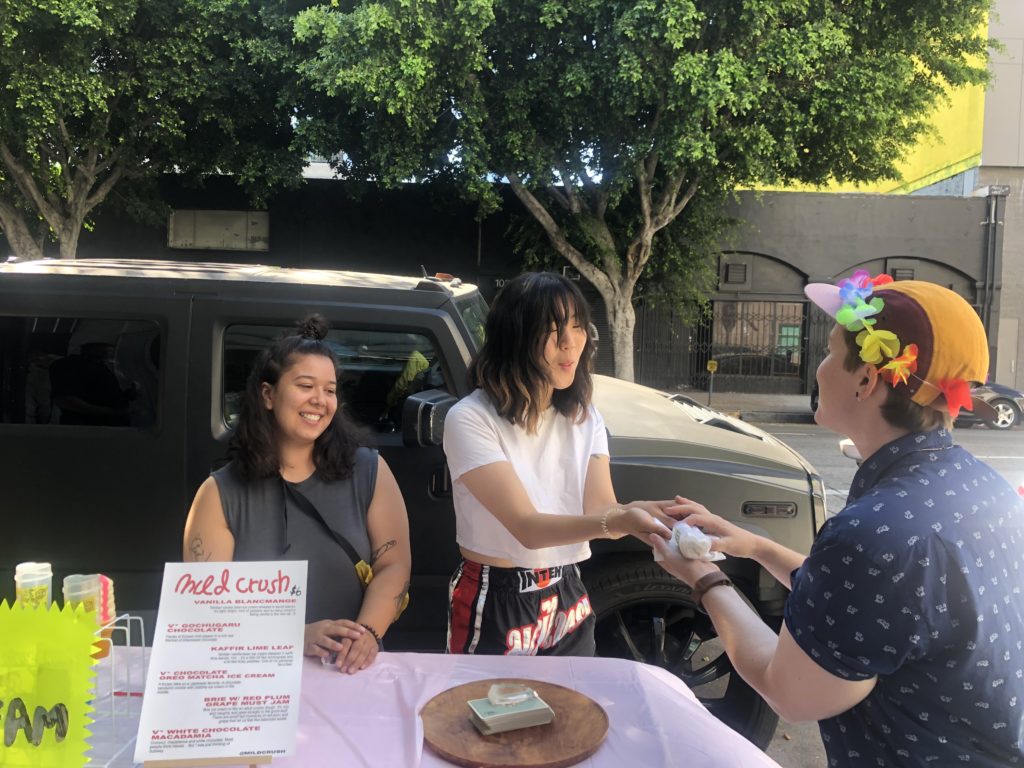 The exhibit is open Sunday, Monday and Thursday from noon to 4 p.m. through September 5. Rhythm Visuals is located at 1040 S Olive St, Los Angeles.
It's not terribly far from the nearest train stop, and is easily accessible by bus if you want to avoid parking downtown. Ride share, per usual, is recommended.