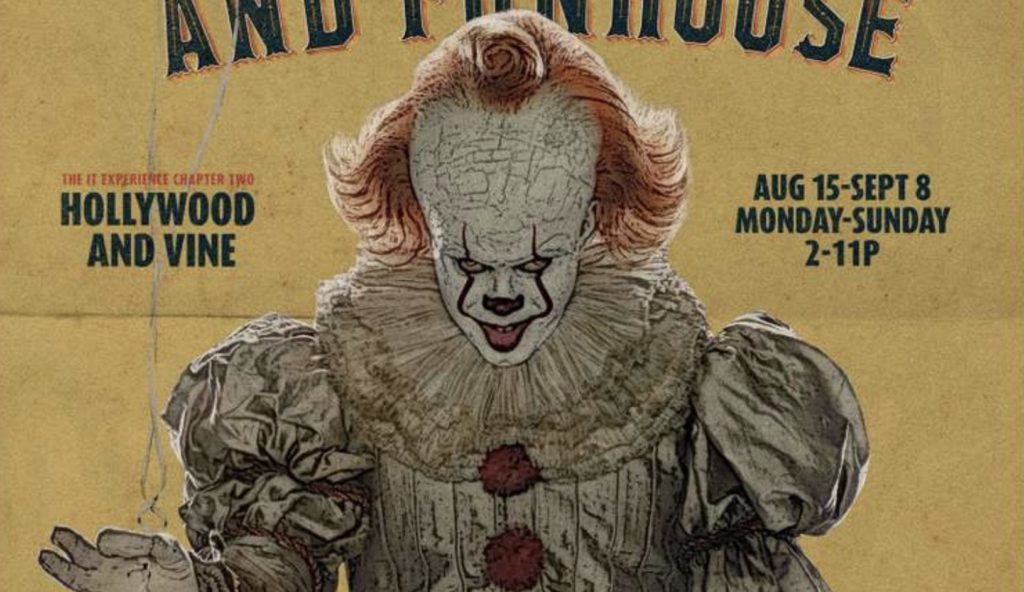 Every week in Los Angeles there are tons of great things to do (even before the weekend gets started) that we think you ought to have on your radar. With that in mind, we put together a list every Monday through Friday morning to keep you in the know about what's happening in the city you love (or maybe just like).
This week, from Monday, August 12 to Friday, August 16, features TAP TAKEOVER at Skyspace, Echo Park Rising, The Derry Canal Days Festival (a.k.a. IT Chapter Two experience), LA Zoo Roaring Nights, Jurassic Park in concert at The Hollywood Bowl and MUCH more.
Remember you can always go to our L.A. events calendar page to get an updated rundown of what's happening around the city.
Hope you find the rundown useful and, as always, enjoy your week!
---
Keep in mind that while we retain complete editorial control of our content, for some of the ticketing options provided we utilize affiliate links and receive a commission if you purchase through our links.
---
Monday August 12th, 2019
1.During the month of August Skyspace's The Garden Bar will host TAP TAKEOVERS where your admission between the times of 4 p.m. to 1 a.m. will include a free craft brew. This week guests can sip on a beer from Angel City Brewery from August 12-14.
2. Poolside is a new immersive abstract painting show at Rhythm Visuals gallery in Downtown L.A. The exhibition features multiple rooms and visual experiences, including one where guests throw water balloons at a white wall to reveal a hidden painting. The exhibit is open Sundays, Mondays and Thursdays from noon to 4 p.m. through September 5. FREE
3. The 15th Annual HollyShorts Film Festival will screen over 400 films from 30 different countries during the festival's 10-day run from August 8-17 at TCL Chinese Theatres in Hollywood.
4. Start your week with a free Jam Session at the Ford Theatre. This week's focus: Hula and Ukulele FREE
5. The Mermaid Comedy Hour returns to the Hollywood Improv with a fierce lineup that includes Valerie Tosi, Joleen Lunzer and more.
6. Seven Grand in Downtown Los Angeles will host the Whiskey Society and taste through Kaiyo Whisky a malted Japanese barely spirit aged in Mizunara oak casks.
7. The Business LA is a free comedy show at Little Joy featuring some of the best local comics in town. FREE
Tuesday August 13th, 2019
8. The Hammer museums series celebrating John Singleton (1968–2019) will host a free screening of Poetic Justice this Tuesday. FREE
9. Moonlight Movies on the Beach brings a summer-long series of free outdoor movie screenings on the shores of the LBC to three different locations near Downtown Long Beach and Belmont Shore. The series continues with Beetlejuice at Granada Beach on Tuesday and The Wizard of Oz at Nautilus Shell Shoreline Village on Thursday. Screenings happen on select Tuesdays and Thursdays through August 20. FREE
10. A colorful, winding installation called The Second Home Serpentine Pavilion is now open at the La Brea Tar Pits for the summer and its 100% free for the public to roam and explore. The pavilion is open daily and will run through November 24. FREE
11. Mr. C's Poolside Cinema is back for the sixth year in a row. From June 11 through August 27 Angelenos can indulge in a luxury outdoor movie experience by the pool with a Cipriani menu, classic movie snacks and Peroni Nastro Azzurro. The Incredibles will be screened this week.
12. Free museum days: Los Angeles County Museum of Art and Autry Museum of the American West
Wednesday August 14th, 2019
13. The first-ever Museum of Weed is now open in Los Angeles. This 30,000 square foot space of 'higher learning' presented by WeedMaps aims to provide insight and history into marijuana through interactive exhibits, Instagram-friendly art installations and a bevy of historical artifacts. The museum is open Wednesday through Sunday. Admission starts at $35.
14. The Standard in Downtown Los Angeles will host Not Your Standard Bingo this Wednesday at 8 p.m. with Maebe A. Girl and Indica Sativa.
15. Shakespeare By The Sea will once again offer a ten-week program of admission-free performances with two featured productions: The Comedy of Errors and Henry V at a variety of venues across Los Angeles on Wednesday through Saturday. FREE
16. The Spare Room welcomes back Evening of Tiki, a one-night collaboration with the best and brightest cocktail talent from around the world. Happening once a month from May through September, beverage director Yael Vengroff will work alongside each guest bartender to create an over-the-top tiki-inspired menu. The Spare Room will also have a food menu, DJs and special guests for each night.
17. Back for the 16th year in a row, The Independent Shakespeare Co. presents Shakespeare in the Park at the Old Zoo in Griffith Park with free performances of either Pericles or Twelfth Night Wednesday through Sunday. FREE
18. Art Battle Los Angeles returns to Exchange LA for a wild night of art-making right before your eyes. Expect to marvel at artists in a competitive painting tournament transforming blank canvases into beautiful, original paintings in 20 minutes.
19. Plan C a free comedy show happening on the second Wednesday of every month at The York in Highland Park returns for a round of progressive laughs starting at 9 p.m. FREE
Thursday August 15th, 2019
20. Echo Park Rising returns for its ninth year to celebrate music, creativity, diversity, and small businesses of Echo Park. The music festival will feature multiple live music stages and activities such as free tours of the historic Jensens Rec Center, a Echo Park Lake history & nature walk, special happy hour menus at surrounding restaurants, discounts at local storefronts and much more. FREE
21. Pennywise returns to Hollywood with a second terrifying, immersive event. The Derry Canal Days Festival will open to the public on August 15 at the corner of Hollywood and Vine, drawing from the forthcoming IT Chapter Two, which hits theaters on September 6. There will be 10 different interactive spaces over the course of a whole 40 minutes for each guests to enjoy. FREE
22. Celebrate the 50th anniversary of the Apollo 11 moon landing at the Hollywood Bowl through live music, iconic film clips, and archival footage of the historical moment. Oscar-nominated composer/conductor David Newman and the LA Phil will lead the live musical performance. Check for discounted tickets before making your purchase. DISCOUNTED (via Goldstar)
23. Downtown Long Beach Alliance's monthly Live After 5 event will host a free bicycle drive-in screening of Big Fish at The Promenade. Bring the whole family it's open to all ages. The surrounding area of Long Bech will also offer specials, activities a discounts for the evening. FREE
24. Grand Central Market will host Roofless Painters an oil painting workshop open to all. Materials will be provided and there will be a guide to help you master the art of oil painting.
25. The world's largest Korean culture convention KCON stops in Los Angeles from August 15-18 for a celebration of music, workshops, meet-and-greets, and more, plus two nights of concerts at Staples Center.
26. Westfield Century City's Come See movie nights returns this Thursday with a free screening of Ferris Bueller's Day Off plus complimentary movie bites and snacks for all. A special live-acapella Brat Pack-themed performance by For The Record Live will take place before the show. FREE
27. Descanso Gardens hosts Beer Garden Nights welcoming the public into their Courtyard for some brews and some wandering through the gardens during sunset. The series will happen every Thursday through August.
28. As part of Beverly Hills third annual BOLD Summer the city will host several happenings on a weekly basis every Thursday, Friday, and Saturday throughout the month. This week there will be architectural tours, temporary large art installations and the Beverly Hills Art Walk & Trolley. FREE
29. Eataly presents Thursdays with Chef Michael Cimarusti where guests can enjoy a special seafood dinner prepared be their eyes by two-Michelin-star chef Michael Cimarusti at Il Pesce Cucina.
30. The Skirball Cultural Center welcomes it's twenty-third annual season of Sunset Concerts with Tamar Llana & Ventanas on Thursday. FREE
31. Sizzling Summer Nights at The Autry happens every Thursday evening through August 22. Enjoy live music, dance lessons with an instructor, access to museum galleries, and a separate children's dance floor, plus tacos, margaritas, and other light refreshments.
32. Every first and third Thursday of the month Brennan's in Marina Del Rey hosts their famous turtle races. Since 1974, this tradition brings these little speedsters out of their sanctuary (located in the bar) for an exciting game that support charities. Race starts at 9 p.m.
33. Culver City's Boulevard Music Summer Festival will takeover the Dale Jones City Hall Courtyard this Thursday for an evening of live music. FREE
34. Taking place every third Thursday of the summer months, The El Segundo Art Walk is a self-guided exploration featuring more than 35 artists in 30+ venues in downtown El Segundo. FREE
35.Free museum days: Japanese American National Museum (from 5 to 8 p.m.), MOCA Grand & MOCA Geffen (from 5 to 8 p.m.), Skirball Cultural Center (noon to 5 p.m.), Long Beach Museum of Art (3 to 8 p.m.) and USC Pacific Asian Museum (5 to 8 p.m.)
Friday August 16th, 2019
36. The Los Angeles Zoo's annual after-hours music series, Roaring Nights, is back for summer 2019. Come experience a party atmosphere featuring DJs, bands, a Silent Disco combined with animal talks and feedings plus a number of food trucks. Check for discounted tickets before making your purchase. DISCOUNTED (via Goldstar)
37. The Wiltern will host a screening of Oliver Stone's 1991 film The Doors: Final Cut in 4K restoration this Friday. The party will include a tribute performance by Strange Days. Themed cocktails, and photo opps will also be available. Dressing the part is highly encouraged.
38. The Hollywood Bowl hosts Jurassic Park in Concert live to picture at the iconic outdoor amphitheater. The show takes place this Friday and Saturday.
39. On Friday, The Bob Baker Marionette Theater will debut a grand organ installation. Following the organ show, guests will enjoy the theater's very first show to run in their new home at the historic York Theater in Highland Park.
40. The Music Center's Dance DTLA features live music and/or DJs paired with expert dance instructors providing beginner group dance lessons for attendees. Each night has a different dance theme. The series continues with Motown/Funk at The Music Center Plaza. Dance DTLA continues on select Fridays through August 30. FREE
41. Head to the iconic Hollywood Forever Cemetery for Los Angeles LGBT Centers OUT UNDER THE STARS series this Friday. Labyrinth will be screened and guests can enjoy food and drink from local vendors, music by a DJ, celebrity guest appearances, free swag and more.
42. The Labyrinth Masquerade Ball returns August 16-18 at the Millennium Biltmore in DLTA is a unique experience featuring extravagant costumes, performances, multiple ballrooms with dancing, mythological acts, special effects and more.
43. Spend the season sipping wine during sunset hour at Barnsdall Art Park's Friday Night Wine Party Series. Happening on the lawn of architectural gem the Hollyhock House, the evening features a fine selection of wines curated by Silverlake Wine, a live DJ and tours of the house. The series happens every Friday evening till September 6.
44. The Groundlings' latest hilarious main stage show, Groundlings Treasure Hunters runs every Friday and Saturday through September 14.
45. Summer Friday Night Drive-In at the Roadium returns every Friday evening from June 7 to August 30 to revive your favorite films in a classic 1950's drive-in setting. The series continues with a screening of Monsters Inc.
46. Odd Nights At The Autry feature a collection of over 200 vendors, 20 gourmet food trucks, a beer garden, custom handmade treasures and live local bands.
47. "The Assassination of Edgar Allan Poe," weaves in and out of the many Victorian mansions at Highland Park's Heritage Square Museum. The show follows the strange life and mysterious death of Edgar Allan Poe through multiple storylines. Audience members decide which storyline to follow (literally) in this immersive theatrical event and draw their own conclusion on how the famous writer died. The show runs Friday through Sunday.
Food Pick for the Week
This week's pick by Christina Champlin, Co-Founder of We Like L.A.
Chao Krung celebrates its 50th anniversary by offering diners 50% off their Pad Thai for the entire month of August. As Los Angeles' oldest Thai restaurant, Chao Krung's family owned kitchen is helmed by Chef Amanda who has created a menu that digs deep into the recipes passed down by her family. This is not your ordinary Pad Thai, this is Pad Thai in its original form, the way it was meant to be eaten. Chewy rice noodles are tossed in a fiery wok with a tamarind, palm sugar and fish sauce reduction, along with a protein of the diner's choice. The flavors are balanced, not so much on the sweet-side that most Pad Thai identify with. Fun fact: the family has cooked for the king of Thailand so technically you too can indulge like a royal.
Chao Krung is located at 111 N Fairfax Ave, Los Angeles, CA, 90036
---
Want to get our to-do lists straight to your inbox every week? Sign up for our email program. Have an upcoming event you'd like suggest for listing? Drop us a line at [email protected]