Hey all!
After the success of our recent Hollywood Sign hikes, we're expanding to some other group-hike-friendly destinations in the area.
First up: Eaton Canyon.
A short hike to the Eaton Falls via a short ~2 mile trail sounds like a lovely way to begin a Saturday morning to us!
(FYI: We're talking about the lower falls here, NOT the upper falls that have been deemed off-limits due to multiple hiking groups getting stranded and requiring rescue assistance).
With the recent rains in January, we're hoping to catch some of the spring wildflowers that will carpet the lower portions of the canyon floor, and of course the highlight will be the sweet waterfall at our ultimate destination where we can chill out for a few minutes, grab some shade and enjoy the natural surroundings. Our hike will take place on Saturday, March 14th starting at 7:30am.
To join us on this day, please RSVP on our Meetup.com group. We're trying to limit the hike group to just 30 people, so please respect the RVSP (technically there's nothing stopping you from going on your own, but for the sake of the trail, it'll probably be better if there aren't 100 folks swarming it all at once).
Key points, meeting spot, times, and trail map below if you want more information.
Looking forward to seeing you guys out there!
Key points to Remember
Here's a few key points to remember for the hike if you're planning on joining us:
Meet at 7:15am, depart at 7:30am. We go early so we can avoid additional crowds (our group will be pretty sizable as it is!)
3.8 mile hike round trip (there and back). Difficulty level: easy-moderate
Estimated hike time: 2.5-3 hrs (includes hanging out by the waterfall for a bit). Feel free to bring a snack to hang out and chill for a bit at the falls, but please make sure not to leave any trash!
Dogs are allowed, but keep 'em leashed please!
Although the trail is mostly easy to traverse, you might have to step into some shallow streams at some points along the trail and/or scale a small boulder or too, so keep that in mind both for the attire / shoes you wear and your expectation level. If scaling a smallish boulder if beyond your physical capacity, you might want to consider another hike!
Bring water (duh).
Because of aforementioned streams and occasional boulders, not recommended for children under 10.
We will slow down, take a pit stop multiple times along the trail. We're limiting the hike t0 30 folks and the organizers (us) will attempt to keep everyone together along the path. We'll use a standard group leader at the front and sweeper at the back approach.
Meeting Spot
Here's the physical address of where we're meeting. Should be ample free parking near the Trail Center.
1750 N Altadena Dr
Pasadena, CA 91107
Our group will congregate at the north end of the parking lot near the trailhead at 7:15am, departing on our journey at 7:30am. Here's a picture of roughly where we'll be.
For more background on Eaton Canyon, check out their official website.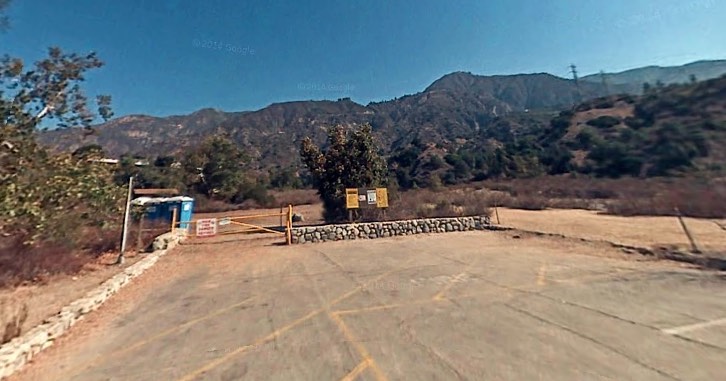 The Hike Itself
As stated, it's about 3.8 miles there and back. Here's a Google map embed of the route we'll be taking:
For a great detailed step-by-step of the trail we're taking, head over to this rundown by Everytrail. Super easy to follow.
And that's it!
Looking forward to seeing folks out there on the 14th. And as one, final reminder, please make sure to RSVP on our Meetup group if you want to join us. The limit is 30 for this hike, and we don't want it to get too crowded so please respect the RSVP.
Cheers.