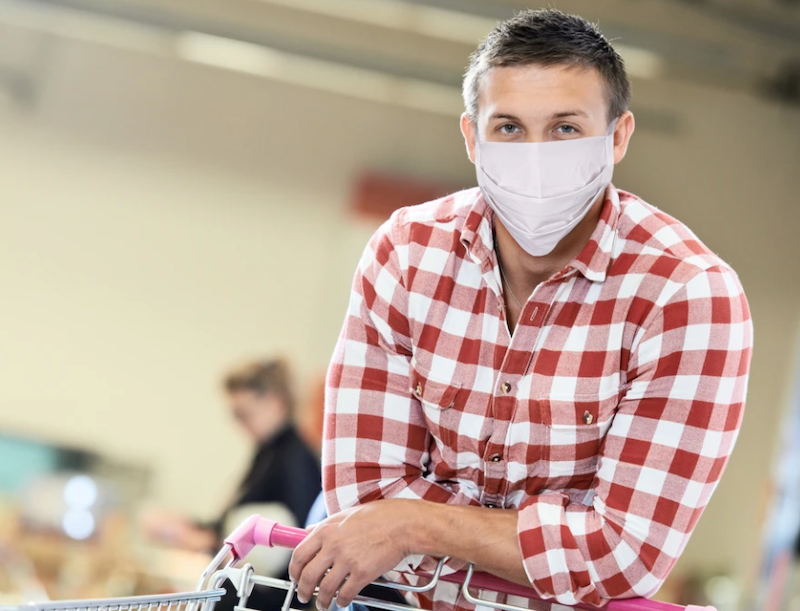 In this evening's briefing, Mayor Eric Garcetti announced a worker protection order requiring all workers at non-medical essential businesses—including drug stores, restaurants, grocery stores, hotels, construction sites, and taxi and rideshare services—to wear cloth facial coverings over their noses and mouths while at work. Additionally, all customers of these businesses must also wear facial covers. This all goes into effect on Friday, April 10 at midnight.
"We wanted to wait until these were available. We can see people now selling them on corners and online. Our capacity, thanks to the amazing apparel industry here, has expanded," Garcetti said.

Businesses must either supply their employees with facial coverings or reimburse them so they can buy their own.

Employers must also provide access to clean restrooms where workers can wash and sanitize their hands and must allow workers to do so every half hour. Employers must also enforce social distancing guidelines between all employees, visitors, and customers.

Garcetti also encouraged businesses to install plexiglass barriers between retail workers and customers. There currently isn't enough plexiglass available to do that, but Garcetti said the city hopes to get more.

If you're visiting an essential business, such as doing your grocery shopping or picking up a prescription, you must also wear a mask. If you don't have a facial cover on, you may be refused service.

So, where can you get a cloth facial covering? You likely already have one in the form of a bandana or scarf. You can tie it around your face and tuck it into your shirt or jacket, or check out this easy tutorial on how to make yourself a mask with a piece of cloth and two hair ties. Or you can buy one from one of the retailers listed here. If you're an essential business that needs to request masks for your staff, click here.
Please note that N95 masks are still reserved for doctors, nurses, first responders, and other medical workers.

We may all look like old-timey bandits when performing our necessary tasks now, but at least we'll be protecting one another. If you have a particularly creative mask, you can share it on social media using the hashtag #laprotects. Like this!: