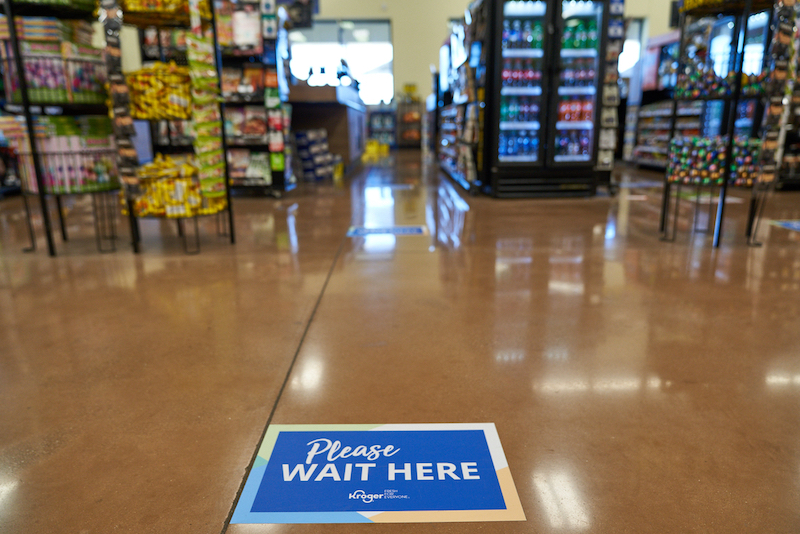 In an effort to enforce social distancing, Kroger is trying out some new strategies. They include turning some aisles into one-ways to cut down traffic and cutting store capacity in half. Kroger owns several store brands, including Ralphs and Food 4 Less. 

The reduced capacity begins today, according to a release from Kroger. Typically, store capacity would be one person per 60 square feet. Now, it's one person per 120 square feet. Kroger will monitor that capacity using QueVision technology. Kroger has used QueVision, a platform that allows store managers to access real-time data, since 2012.
"Kroger's introduction of customer capacity limits is one more way we are doing our part to flatten the curve while operating as an essential business, providing our customers with access to fresh, affordable food and products," said Mary Ellen Adcock, Kroger's Sr. VP of operations, via the release. "During this national pandemic, we are committed to adopting preventive measures to help protect the safety and health of our associates, customers, and communities."

Some of those other measures include installing plexiglass dividers between cashiers and customers and placing floor decals that help customers space themselves appropriately while waiting in line.

As for the one-way aisles, Kroger will be testing that strategy in various cities. The release did not specify if Los Angeles was among them.

Meanwhile, L.A. Department of Public Health Director Barbara Ferrer announced yesterday that Angelenos should avoid shopping and other essential outings this week if they can help it.