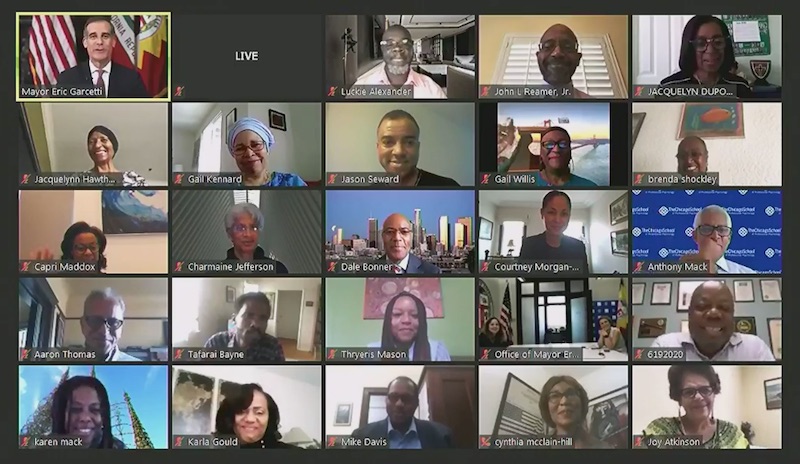 Today, L.A. Mayor Eric Garcetti signed Executive Directive 27, a racial equity initiative. The move comes after weeks of protests nationwide calling for racial justice and an end to police brutality.
"We want to ensure that the starting line is the same for everyone," Garcetti said in a briefing earlier today. "For people of color, for women, for people with disabilities. That our LGBTQ and veteran communities are met with equal opportunity. This represents a very vital step forward, one which is critical to turn this moment of anger and pain into a movement of progress and equality." 
The executive directive will ask all city departments to prepare for the possible repeal of Proposition 209. Proposition 209, passed in 1996, added a section to the California Constitution's Declaration of Rights that prohibits the state from "discriminating against or granting preferential treatment on the basis of race, sex, color, ethnicity, or national origin in the operation of public employment, public education, and public contracting." In short, Proposition 209 ended affirmative action.
A new ballot measure, ACA 5, would give voters the chance to repeal Proposition 209. ACA 5 has already cleared the Senate Labor, Public Employment and Retirement Committee and now heads to the Senate Appropriations Committee. To show up on our ballots this November, the Senate must pass ACA 5 by June 25, according to the Sacramento Bee.
In anticipation of Prop 206's repeal, Garcetti's executive directive instructs all city departments to begin planning affirmative action programs in their recruiting, hiring, and training policies. 
Additionally, every general manager and the head of every department or office will be required to appoint a racial equity officer, who will develop and oversee that department's equity plans.
Those plans will detail the department's existing policies around recruiting, hiring, training, retention, promotions, and contracting, and describe efforts to attract, promote, and hire "from a robust pool of candidates." Departments and offices will also be encouraged to consider several factors in their hiring processes, Garcetti said, including "the adversities that a candidate has overcome," which might include neighborhood demographics, if they're the first graduate in their family, and other circumstances. 
A racial equity task force made up of department representatives will continue to strategize and develop new goals, while all city employees will participate in mandatory implicit bias training on an annual basis. 
Deputy Mayor of Economic Opportunity Brenda Shockley will also serve as the city's first Chief Equity Officer. 
"[The directive] is a much needed and valuable tool, and a way to truly identify and measure progress for a fair and equitable Los Angeles," Shockley said during today's briefing.
She also highlighted a new hiring study that will establish a baseline for Los Angeles's racial equity goals, while also providing a foundation for the possible repeal of Prop 209. 
You can watch the full announcement below.