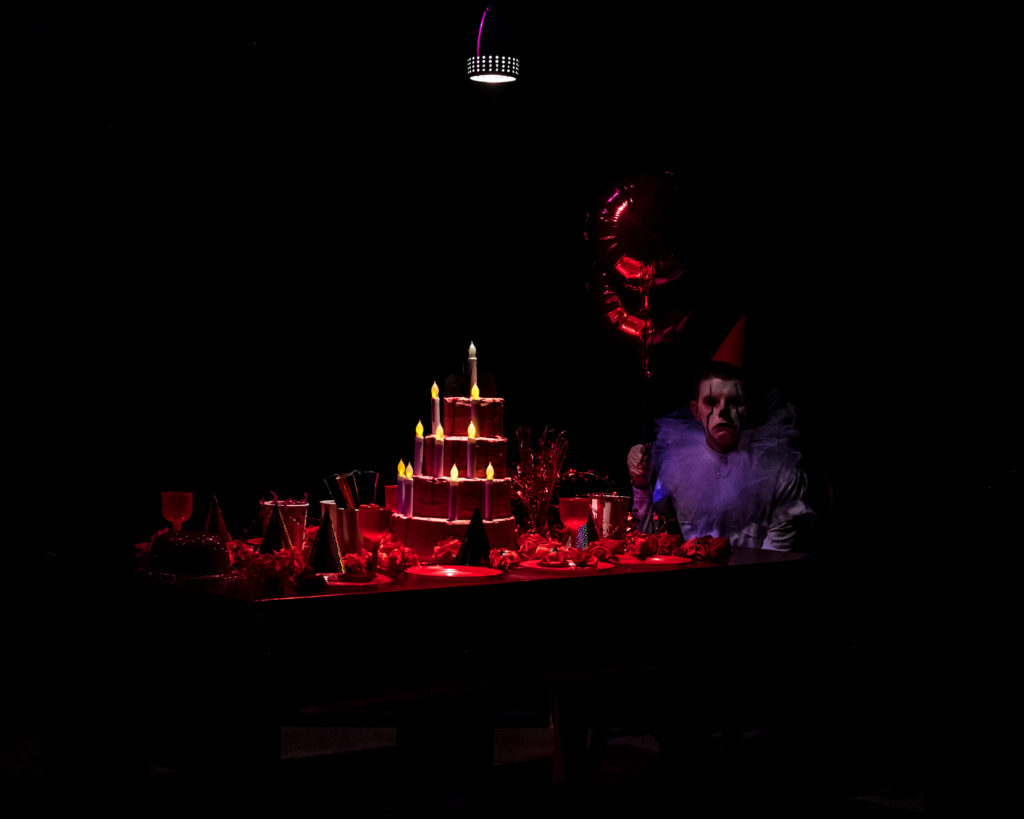 Now that I've seen a good bit of L.A.'s Halloween offerings, I can say that Haus of Creep is our sexiest "haunted house." But really it's not a haunted house at all. What is it? Well, it's different for everyone. For me, it was shortly after I emerged from the X-rated puppet show that I noticed the fellow in the gimp mask had a new muse. He was painting a portrait of a completely naked man, whose arms were stuck inside two long, cardboard tubes. When he walked, he looked like an insect, but I'd been told he was actually a piece of living art that I could buy. This is Haus of Creep.
Haus of Creep is the fourth Halloween attraction from JFI Productions. Since their first show in 2015, their Halloweens have gotten stranger. Year one's traditional, walk-through maze—which already contained an added layer of immersion and multiple pathways for apprehensive guests—has since spiraled into gorgeous, atmospheric works of art and theater. Last year's Creep LA: Awake focused on nightmares. It was dreamy and brooding, unraveling over an unfinished expanse in ROW DTLA in monochrome splendor. This year Haus of Creep reinvents JFI's experience once again. It is an art show that takes place in a faux-gallery, but also a theater piece that critiques modern art and our increasingly Instagrammable culture. 
Guests arrive at The Company's gallery (again housed at ROW DTLA). The Company is a gaggle of archetypal arthouse characters. They're pretentious, immaculately dressed, and probably cruel to even their closest friends. Each one could have been snipped straight from Velvet Buzzsaw, and they're so proud of their show. A walk around the gallery reveals ephemera from previous Creep shows and busy installations that are probably statements about the way we consume culture.
In one early exhibit, you peer into a series of small holes to see scantily dressed models getting primped for a BDSM ball. In a lounge area, you can buy a glass of beer or wine while a dancer in neon lingerie works a pole. Everything is both is sexy, but is also trying too hard to be sexy. If this were an actual art show, you might roll your eyes. But because it's not—and because you've been to shows just like this—you smirk. It's a great parody, and it's better than the real thing.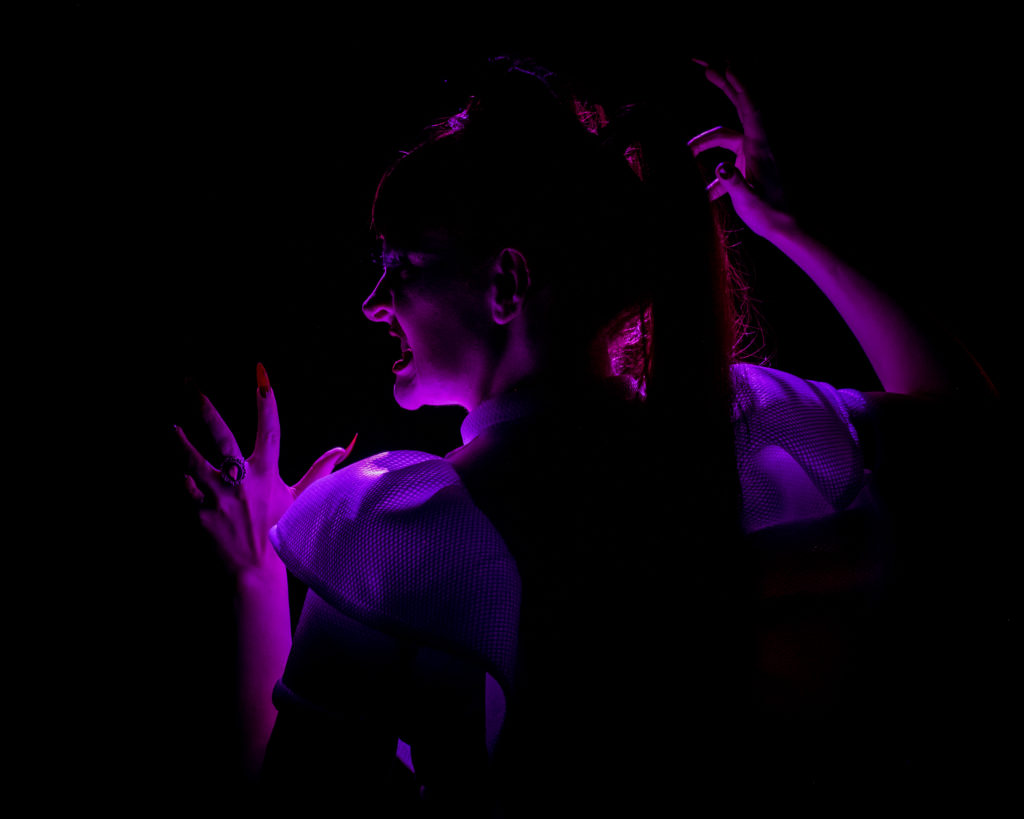 For the first few minutes, guests wander at their own pace. Eventually the group congregates in the main room where curator Clarissa Hawkins (played by Misha Reeves) welcomes you to her show. She announces an upcoming auction of living art. And because this is a horror piece, that means what you think it means: actual human beings repurposed as art you can buy to own. 
Clarissa's reveal came as no surprise to me. Early on, I was intercepted by art critic Mona Carmichael (played by Deidre Lyons). She told me how her wealthy friend built a plastic house in front of his own estate for his living art, which spends its days rolling around. She acted as though she were describing a fashionable Roomba, not a person.
Clarissa wants us to get a good look at her wares, so she invites them out. They include a Pagliacci-cum-Pennywise clown (played by Jacob Miller), a couple in bondage gear and handcuffs, and a woman in a red dress and Twiggy makeup. Mona leans in to tell me the pair in chains would likely go first as sex always sells. 
Clarissa then releases us to explore the gallery some more and perhaps interact with the art. Unlike previous versions of Creep, there is no set pathway to follow. This isn't a haunted maze where things pop out at you, but an open-world exploration. You look at whatever you want to look at and talk to whatever characters you like.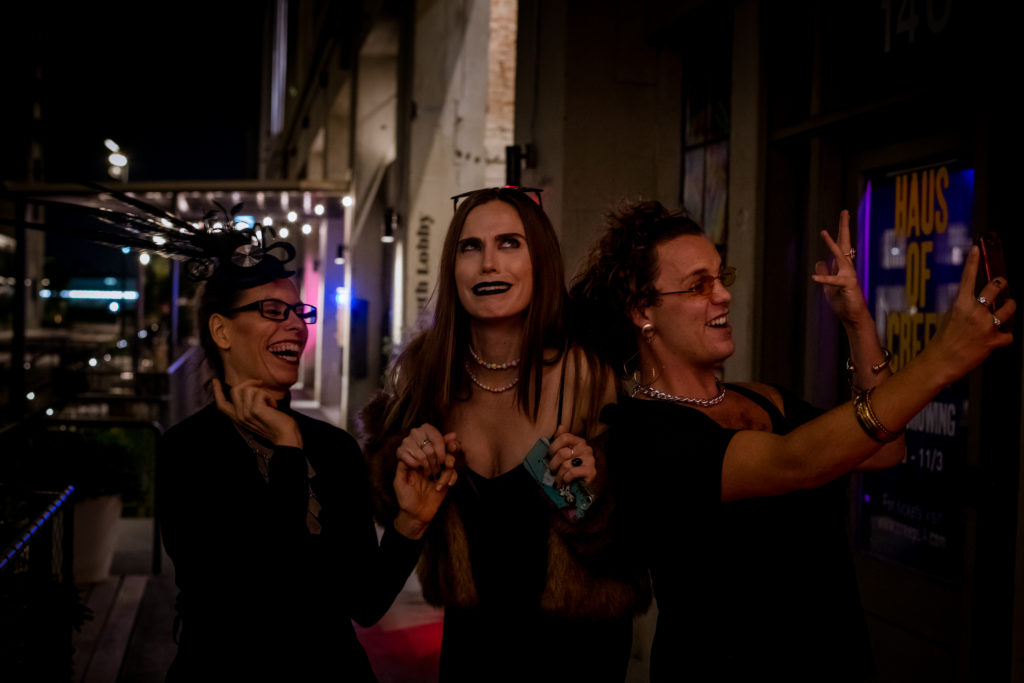 Characters generally come in two factions: the Company and the Creeps. The Company consists of Clarissa, her lackeys and patrons, bright-eyed tour guides eager to share info about the art, and the artists themselves. The Creeps are the art. You choose to follow a specific storyline or character, or meander aimlessly. Whatever game plan a person picks, it's impossible to see and do everything Haus of Creep has to offer in a single visit. There are numerous spaces to unlock, which you might not even realize exist until a character ushers you inside. 
On my visit, I went to a birthday party hosted by the clown, an extremely naughty puppet show, and played a tense game with Mona about achievement and sacrifice. In between these moments, I saw a variety of strange things, like the aforementioned tube man, a woman developing photos in a roped-off chamber, and a small room where a man was giving out new hairdos. I observed increasingly bizarre incidents until the show's horrifying climax, the likes of which I won't spoil. Let's just say, art can sometimes be dangerous.
If you go to Haus of Creep, you should expect to see your own batch of weird, adults-only things, but they won't be the same things I saw. You may be touched (gently), blindfolded, and subject to violent or sexual imagery, but this is not an extreme haunt. You can purchase beer or wine throughout the evening, but the bathroom is located outside the Haus of Creep, so plan accordingly. This is about a 75-minute show. You'll probably have fun going with friends or alone. If you choose to go with others, feel free to ditch them and do your own exploring so you have something to talk about after. Though you won't be able to use your phone or take pictures with it inside the event, there are several photo booths you can use to remember your night among the creeps.
Haus of Creep runs through Nov. 3 at ROW DLTA, 777 Alameda Street. Tickets are $69.