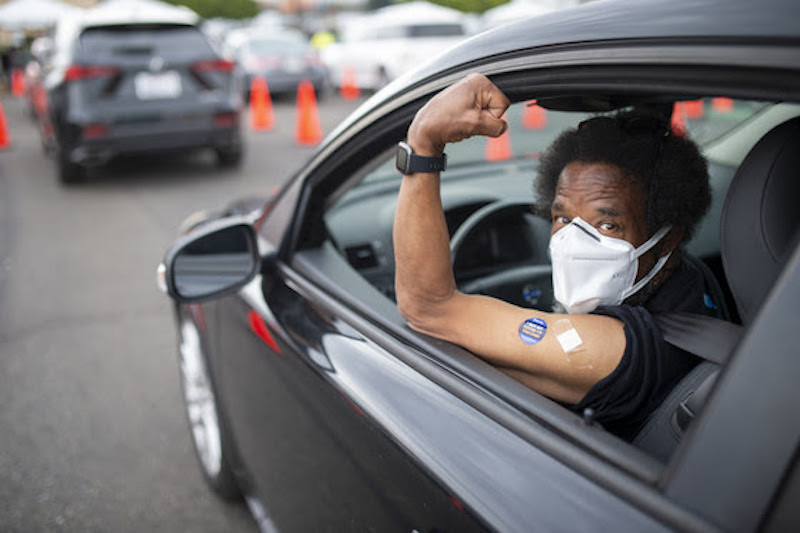 L.A. County will roll out its next vaccination phase on March 1, expanding to workers in education, food and agriculture, and emergency services. Not sure if that means you? Here's who Phase 1B includes and how to sign up for your vaccine.
Food & Agriculture
The Dept. of Public Health plans to partner with employer and employee organizations, unions, and other groups to help distribute information. Eligible vaccine recipients in this group include:
Food service workers
Food manufacturing workers
Grocery store employees
Animal agriculture workers, including those involved in Vet Health
Veterinarians
Food and Agriculture-associated Port and transportation workers
Education & Childcare
If you work in this sector as an educator, you may hear more info from your school district, as it may have its own vaccination center. Eligible vaccine recipients in this sector include:
Teachers (K-12, preschool)
Support staff (K-12, preschool)
Childcare workers
Independent school employees
Junior college employees
College and university employees
Emergency Services & First Responders
If you work in this sector, you may receive more information from your department, agency, or employer. Eligible vaccine recipients in this sector include:
Police/law enforcement officers
Emergency management, Search and Rescue, emergency and public safety communication centers, EOCs
National Security
Maritime and Aviation Response (TSA)
Corrections officers and workers
Courts/Legal Counsel & Prosecution
Campus and school police
Rehabilitation and re-entry employees
Federal law enforcement agencies
Police, fire, and ambulance dispatchers
Security staff who maintain building access control and physical security measures
DCFS, APS (workers who physically respond to abuse and neglect of children, the elderly, or dependent adults)
L.A. County's vaccine supply remains limited, so you'll have to register for an appointment to get your dose. Upon arrival, you'll need your ID and proof of employment. For more information about what you'll need and how to register, check out vaccinatelacounty.com. You can also call 2-1-1.