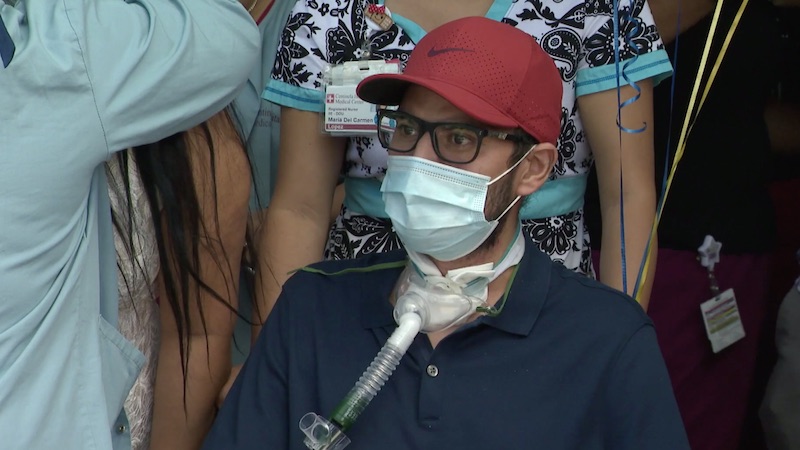 Many young people think COVID-19 only results in serious illness or death for seniors or those with underlying health conditions. And while that is often the case, a 32-year-old Inglewood man with no underlying conditions just spent 93 days in the hospital due to the virus.
Michael Orantes is a construction worker and the father of a 2-year-old little girl. He began experiencing symptoms in late March after returning home from Spain. After receiving a positive test result for COVID-19, he was admitted as a patient at the Centinela Hospital Medical Center, KTLA reports.
He was placed on a ventilator and was unconscious for two months. According to ABC7, one of Orantes's lungs collapsed several times. His doctor, Dr. Paryus Patel, told the station, "His heart started taking a pounding. His brain started taking a beating."
Just yesterday, after 93 days, was Orantes deemed well enough to leave. He lost about 35% of his body weight during his stay. He still needs help to breathe.
In recent briefings from the Los Angeles County Department of Public Health, officials revealed that about half of all new COVID-19 cases are now people 18-40 years old, an uptick from the onset of the pandemic.
Also concerning, doctors say they've seen an increase in strokes among younger patients with COVID-19, including patients with no known risk factors for stroke.
"We're seeing a startling number of young people who had a minor cough, or no recollection of viral symptoms at all, and they're self-isolating at home like they're supposed to — and they have a sudden stroke," Dr. Adam Dmytriw told the New York Times.
Officials have stressed the need to practice physical distancing, wear a mask, and avoid crowds and gatherings with people outside of your household as COVID-19 cases continue to rise across the state.