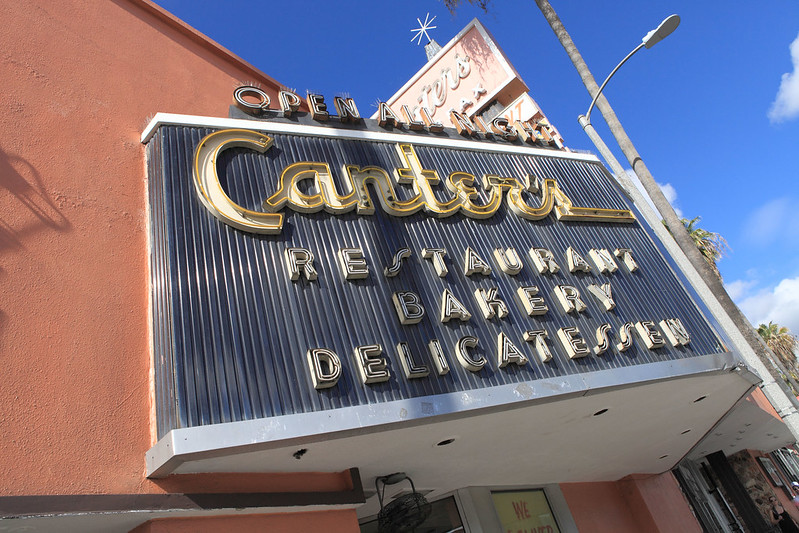 Do you love a Canter's Brooklyn Ave? Then check out the Skirball Cultural Center's next exhibit. "I'll Have What She's Having": The Jewish Deli runs April 30 through Sept. 6 and explores how Jewish immigrants used food to bring tradition and build community in the United States. Of note, Star Trek: Exploring New Worlds will also be on display.
The exhibit comes from Skirball curators Cate Thurston and Laura Mart and writer Lara Rabinovitch, a specialist in immigrant food cultures. According to a release from the museum, guests can expect to see "neon signs, menus, advertisements, fixtures, packaging, historical footage, TV and film clips, and other artifacts surrounding delis and how they evolved from specialty stores catering to immigrant populations into the beloved national institutions they are today."

The exhibit will also show how these immigrants used ingredients available in the U.S. to create new dishes based on Central and European cuisine.
"I'll Have What She's Having": The Jewish Deli contains six sections:
Food of Immigration: According to Thurston, the Jewish deli is "as much about immigrants as it is about food." Via the release: "We open the exhibition with a close look at how the influx of Jewish immigrants to New York City in the mid-nineteenth century meant that regional Central and European foods such as pickles, knishes, gefilte fish, borscht, and rugelach came to be served under one roof. This created an appetite for the mixed cuisine that we now know and love as Jewish deli."
Items on view include objects that Jewish immigrants brought to the U.S. in the early 1900s, including suitcases, passports, and cutlery. Guests will also find a glossary of Yiddish terms.
The Food: A display of food images and props detailing the history and nuances of popular dishes, including matzoh ball soup, chopped liver on rye, bagels, and herring.
Mid-Century Heyday: A focus on the mid-twentieth century, when the Jewish deli began to go mainstream and attract a large clientele. Here, you'll find menus, matchbooks and other ephemera from key delis in New York and L.A.
You Don't Have to Be Jewish: This section takes its name from an advertising campaign: "You don't have to be Jewish to love Levy's Real Jewish Rye." Here, you'll see how Jewish delis became a quintessential part of the U.S. city. Find uniforms from various delis and photos of politicians seated at deli counters. You can also pose at long-time regular Larry King's favorite booth at Nate 'n Al, a deli in Beverly Hills (which Apple Pan owners Shelli and Irving Azoff purchased in 2019).
Survivor Communities: This section explores how Holocaust survivors and refugees found community and work among delis as they entered the U.S. According to Laura Mart, via the release: "Delicatessens provided a livelihood and a purpose for the immigrants who became owners, waiters, cooks, and customers. One such business was Drexler's Deli in North Hollywood, which was owned and operated by Rena Drexler, a survivor of Auschwitz, and her husband, Harry. For them, the deli was a place to give sustenance and a sense of togetherness for the Orthodox Jewish community that grew up around it. We are honored to display the stunning original neon sign that brightened the entrance to their much-beloved deli."
Shifting Landscapes: The last section of the exhibit talks about how delis have had to move, revamp, or even close due to changing trends or other issues. This section will also show Jewish delis as depicted in TV and film. Of course, one such clip will be from When Harry Met Sally, the 1989 rom-com from which the title of the entire exhibit—"I'll Have What She's Having"—is derived.
The Skirball is located at 2701 N. Sepulveda Blvd., Los Angeles. Hours are Tues.-Fri., noon to 5 p.m., Sat.-Sun., 10 a.m. to 5 p.m. "I'll Have What She's Having": The Jewish Deli runs from April 30 through Sept. 6. Admission is $12 for adults, $9 for seniors, full-time students, and children over 12, and $7 for children 2-12. Admission is free for Skirball members and children under 2. Find more info here.