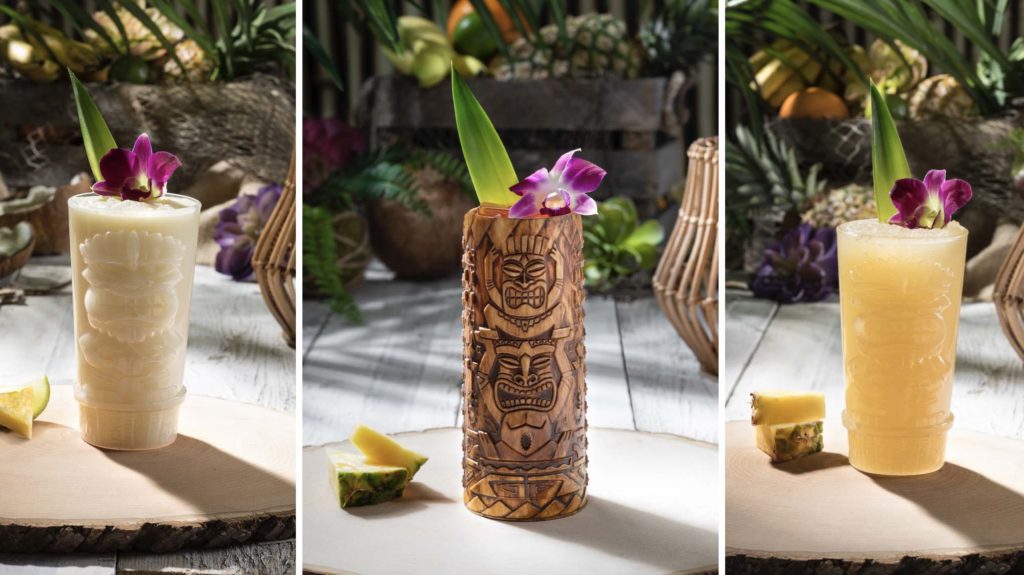 The creative minds behind Universal Studios Hollywood and Jurassic World are serving up pura vida this summer with Isla Nu-bar and Jurassic Cafe, two sure-to-be popular new ventures featuring island-themed tiki drinks and Costa Rican cuisine. These dynamic-yet-chill concepts are part of the opening of the bombastic 'Jurassic World-The Ride,' based on the Chris Pratt-helmed films.
The stand-alone Isla Nu-bar is easy on the eyes and detailed to the hilt. It's named after the fictitious Central American island in the Jurassic World movies, and has a thatched roof, so you can really feel the fantasy. Bartenders serve up island-favorites like Tropical Margaritas, Mai Tais and Piña Coladas in three collectible cups: Etched Tiki (pictured above), Bamboo-styled Tiki and Tiki God.
Jurassic Cafe's Executive Chef Marie Grimm goes all-in on Costa Rican classics like sweet corn cakes with slow roasted mojo pork, chorizo and potato empanadas and pomegranate guacamole with plantain chips. Each entree is served with Costa Rica's national dish, gallo pinto, aka rice and beans.
Yes, there is a gift shop. The aptly-named Jurassic Outfitters store will of course have t-shirts, drinkware, pins and other trinkets, but the big kahuna here are the custom-made dinosaur sculptures and maquettes. Replicas of T-Rex, velociraptor, triceratops and other fan-favorites will be available and sell for as much as a grand, high-end keepsakes perfect for the mantle.
The ride itself boasts a brand new story line that takes you through the theme park, high-in-the-sky and underwater with the famed Mosasaurus. The films' biggest stars appear, too: Pratt, Bryce Dallas Howard and BD Wong take you along with them, adding glitz to an already lofty experience.
You can also purchase slo-mo video of yourself plunging down an 84-foot waterfall, a moment you'll want immortalized on your IG for years to come. Who doesn't love watching their friends in terror?
Keep in mind the new California Neighbor Pass gives you 175 days in the park for $149 when purchased online, a bargain for folks who want to see all Universal Studios Hollywood has to offer. There's ample public transit to the park, and a designated rideshare drop-off point. Easy, breezy, beautiful: Jurassic World.
Although construction is ongoing for the revamped ride, both Isla Nu-Bar and Jurassic Cafe are in soft-open mode right now, according to Time Out Los Angeles, meaning you'll most likely find them serving if you stop by, but there's a chance hours may be limited.
As of now there is still no official launch date for Jurassic World-The Ride, except to say it'll open at some point in summer of 2019. For the time being both You can check the Universal Studios Hollywood official website for more info on the ride opening date as it becomes available.