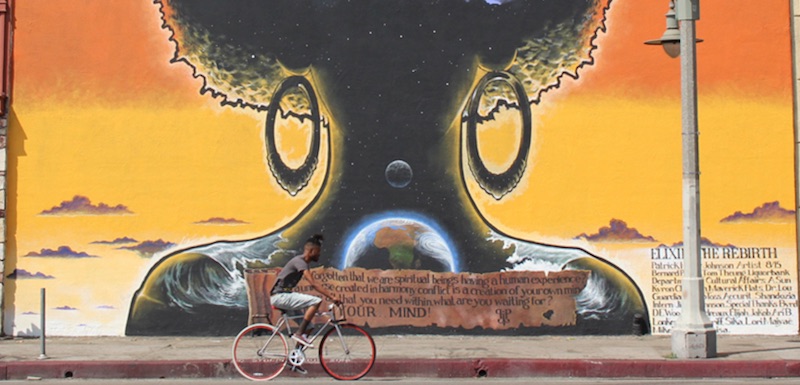 If you're an artist with an idea for public art during a pandemic, you may be eligible to win a grant to make that idea a reality.
The Los Angeles Department of Cultural Affairs Public Art Division (DCA) and City Council have set aside $340,000 in Arts Development Fees to provide relief to L.A. artists. According to DCA, the Citywide COVID-19 Emergency Response Program is "an opportunity for artists to re-imagine public art and how it is experienced in the places that we live, shop and play while providing economic relief to support artists in these areas."
Artists can apply for grants between $500 and $1,500 now through September 1 at 11:59 p.m. Those who work quarter-time in the arts may receive $500, part- or full-time artists may receive $1,000, and full-time freelance artists may receive $1,500. To qualify, artworks must be made available to the public through real-time, virtual, or online platforms. You can submit new artwork or a preexisting artwork relevant to the current climate that you'll share on a virtual platform. 
Eligible artists must:
Live in the City of Los Angeles.
Show professional creative experience over the past two years.
Not have received a public art commission from DCA between July of 2019 to June 2020 through the Public One-Percent for Art and Private One-Percent for Art Programs, the Mural Program, or DCA's collaboration with the Los Angeles World Airport Art Program.
Work greater than quarter-time as a creative producer, which could include actors, animators, craft makers, designers, dancers, DJs, literary writers, musicians, painter, poets, photographers, playwrights, sculptors, videographers, and so on. 
Be able to show that they were financially impacted by COVID-19.
High school or college students making work for school credit and employees of the City of Los Angeles may not apply.
For more information, including how to apply, click here.
Also of note, the City of Santa Monica is also offering grants for art related to its COVID-19 recovery efforts. Artist may win up to $20,000 in grant funds.