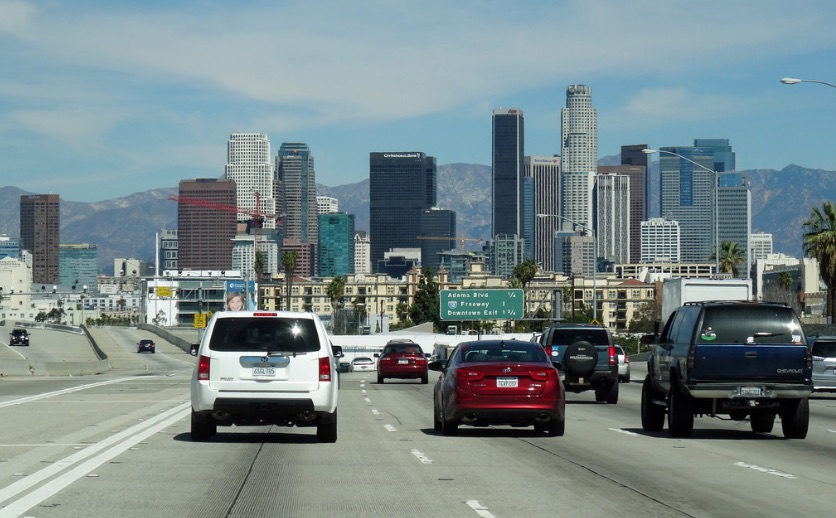 Yesterday, the public health order in Los Angeles County changed. It's no longer called "Safer at Home," but "Safer at Work and in the Community." It now allows for the modified reopening of houses of worship, drive-in movie theaters, flea markets, swap meets, offices, and in-store shopping at all retailers. Pools, saunas, and hot tubs in multi-unit residences or those that are part of an HOA may also reopen. Additionally, the county has provided health guidance for public protests.
L.A. County also intends to submit a request for a regional variance by the end of the day. The county expects to receive approval from the state, which means it could also open up salons, barbershops, and dine-in restaurants, too.
Many have expressed concern that the county is moving too quickly, especially after officials indicated only a week or so ago that L.A. County was not ready for a quicker reopening. So, what changed?
In the case of in-store shopping and religious services, not much. The state issued guidance for those activities, as promised. L.A. County could have decided to stall on those reopenings if data indicated it should, but have elected to move forward.
As far as regional variances, the biggest thing that changed was the state's guidelines for counties. Originally, a county had to have no more than one coronavirus case per 10,000 people and zero COVID-19 deaths in the last 14 days. At that time, L.A. County Public Health officials admitted that those benchmarks were nearly impossible for Los Angeles County to meet in the near future. 
Then, the state changed those guidelines on May 18 to no more than 25 people diagnosed with COVID-19 per 100,000 residents in the last 14 days or a positivity rating of less than 8% over seven days, and no greater than a 5% increase in hospitalizations over the past seven days, on average. 
Both sets of guidelines came with other criteria, including ample PPE, contact tracers, and testing capacity, and the ability to reverse course on reopening if a surge in infections or hospitalizations occurs. 
Under those revised guidelines, an overwhelming majority of California counties qualified for regional variances. As it stands, 46 out of 58 counties have already been approved.
Los Angeles County already had ample testing. In L.A., Dodger Stadium became the largest testing site yesterday with a capacity of 6,000 people per day. According to L.A. County Dept. of Public Health Director Dr. Barbara Ferrer, the biggest hurdle was the county's positivity rating, which only recently dropped from about 9% to below 8% as required. As a reminder, the positivity rating is how many people test positive for COVID-19 out of the total number of people tested.
If all these new reopenings and the application for regional variance surprise you, it doesn't seem to surprise officials. Aggressive action flattened the curve, now we're in our "recovery journey." Ferrer noted in today's briefing that this journey has always been intended as a phased reopening. But to maintain this momentum, we all need to do our part to control the spread of infection. 
"We're moving forward. This is the recovery phase," she said. "We feel very confident and we feel very confident because of all the work everybody has already done to get us here. Hospitalizations are down. Deaths are down. The number of cases is up, but that's a good thing as I've noted because it means a lot more people are getting tested, but our positivity rate is also down."
Ferrer continued by saying everything will look different when it opens, but that difference is what she calls "infection control." That's the mask wearing, physical distancing, hand washing, increased cleaning, and the protocols businesses much follow to protect workers and customers when they decide they're ready to reopen. That's reconfiguring spaces to allow for more distance between people, and allowing workers who can telecommute to continue to do so. 
"It's simple in one sense," Ferrer said, "but for everybody reopening, you know there are protocols you need to adhere to that may not be so simple. We are reopening, but I urge businesses and institutions to take their time to make sure that when they are open again, they are doing it in as safe a manner as possible."
But what if we don't do our part? Ferrer offered some concerning numbers.

If 2 million additional people are now going out and if 2% of those people have COVID-19, that accounts for 40,000 people who can spread the virus. If each of them transmits it to one other person, Ferrer said we'd be looking at a possible 80,000 infected people in just a couple weeks. If 5% of those people need to be hospitalized, that's 4,000 needed beds.

"Without taking a lot of care to make sure infected people do not infect others, we could easily get to a place where hospitals are overwhelmed," she said.

To avoid that possibility (and a reversal of these reopenings), Ferrer said there are three "cardinal rules."

1.) Since anyone could be positive and not know it, keep your respiratory droplets to yourself by wearing a cloth face covering and staying six feet away from other people.
2.) If you are sick or have tested positive, stay home and isolate for at least 10 days and until your fever and symptoms are gone.
3.) If you've had contact with anyone who has COVID-19, quarantine for 14 days—that's the incubation period of the virus.