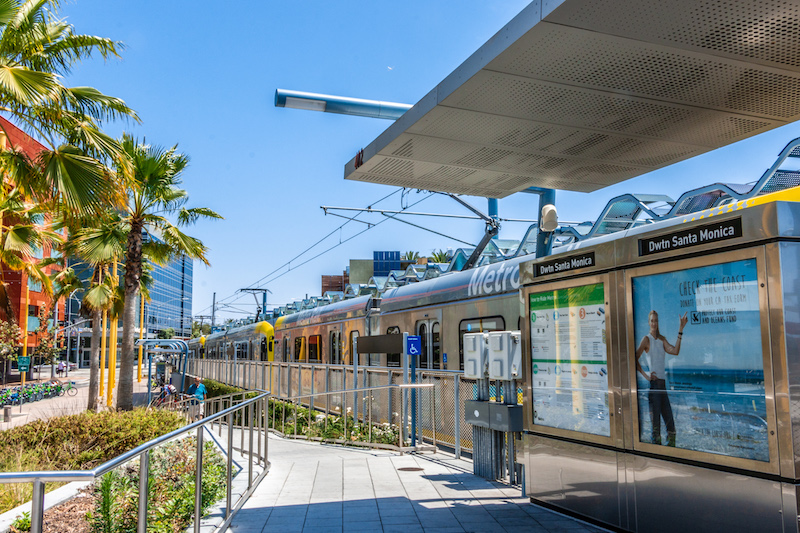 If you rely on Metro to get you to the essential places we're still allowed to go (pharmacies, grocery stores, medical appointments, etc.), know that L.A. Mayor Eric Garcetti said yesterday that he has no plans to shut Metro down. However, there will be some changes.
Due to COVID-19, L.A. Metro ridership is down 50-60%. As a result, some changes were announced today. Metro will watch ridership over the following days to see if other adjustments need to be made. They will also install sanitation stations at major transit stops. If Metro makes any additional changes, updates will be here or on Twitter @metrolosangeles. Here's what you need to know:
Bus service:
Metro is reducing its bus service 15-20%. They will attempt to adjust select trips to minimize inconvenience.
Rail service: 
Starting March 20, the last trains leave terminal stations at midnight. Metro recommends getting on the system before 10:30 p.m. to make sure you catch your last connection.
Starting March 23, trains on the B (Red), D (Purple), A (Blue), E (Expo), and L (Gold) Lines will run every 12 minutes between 6 a.m. and 6 p.m. Outside of those hours, they'll run every 20 minutes.
Light rail trains will have three cars. D (Purple) Line trains will have four cars. B (Red) Line trains will have six cars. This is to help passengers practice social distancing. 
Also starting March 23, the C (Green) Line (which will have two cars) will run every 12 minutes between 4-9 a.m.; every 15 minutes between 9 a.m. and 3 p.m.; every 12 minutes between 3-6 p.m., and every 20 minutes between 6 p.m. and midnight. 
Union Station is partially closed. While it's still open for ticketed Amtrak and Metrolink passengers, the public is encouraged to buy tickets online in advance. Security and station employees will guide anyone using the Red, Purple, and Gold lines or catching a bus to their destination. You will not be allowed in the station unless you have a ticket or are using one of these services. Note: Amtrak also announced reduced service on its Pacific Surfliner route. More info and updates can be found here.
There have also been a few other changes in surrounding cities:
West Hollywood's Pickup and SunsetTrip are closed. You may take CityLine Local and CityLine Commuter.
Pasadena Transit and Dial-A-Ride are now FREE. See the schedule here.
Santa Monica's Big Blue Bus will no longer serve Rapid 3, Rapid 7, Route 42, or Route 44. Other routes, including Rapid 12 and Route 9, now have fewer stops. UCLA's Hilgard Terminal is now closed, and Routes 1, 2, and 8 will instead service UCLA Charles E. Young/P2 Hub. Read the complete details here.
The Culver CityBus is now FREE for riders. Passengers should use the rear door to board unless they use a mobility device and require the lift at the front door. Due to decreased ridership, they'll be using their existing Saturday service schedule with additions to accommodate select lines. Read those details here.
You can also check out this Google doc of transit updates here.