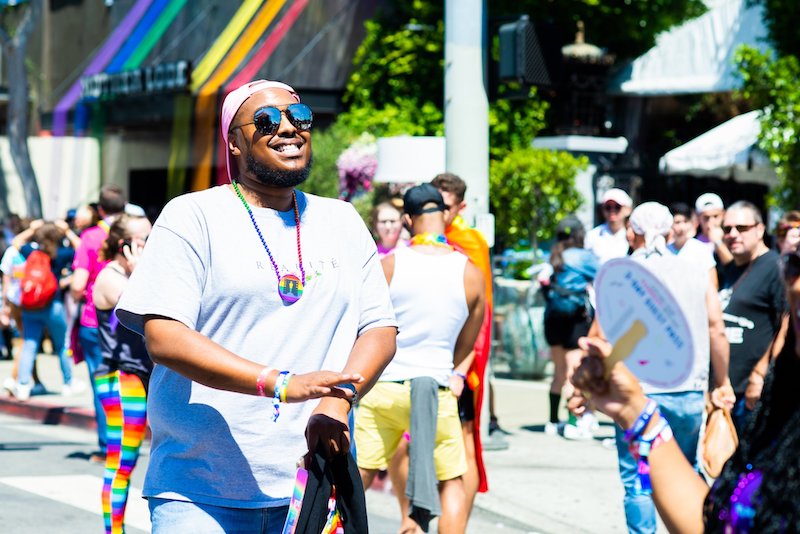 According to organizers Christopher Street West, L.A. Pride is canceled for 2020, though it will exist online in some way. This comes after a postponement of the annual festival back in March. 
L.A. Pride, originally scheduled for mid-June, is one of the biggest events in West Hollywood and Los Angeles in general. This year would have marked its 50th anniversary, if not for the pandemic. But, just because attendees can't join in the parade and surrounding festivities, it doesn't mean they can't celebrate at home. 
According to a statement from Estevan Montemayor, CSW board of directors president:
"The safety of the community is our top priority, and CSW must act responsibly to protect our community in the face of the COVID-19 pandemic. Our community has always adapted, changed, and become more resilient in the face of uncertain times. Although we cannot celebrate Pride with a Festival or Parade, CSW will make sure that the spirit of Pride is not forgotten. The LGBTQ+ community has overcome many obstacles over the years and has always emerged stronger and more unified. The 50th anniversary will be one to remember regardless of a physical experience this year, and our hope is to resume in-person events for our incredible milestone in 2021. Our community will once again look adversity directly in the face and rise up together in solidarity and celebration."
On June 28, 1969, the NYPD raided the Stonewall Inn, a gay bar located on Christopher Street in Greenwich Village, and began arresting those inside. Patrons and neighbors rebelled in what is now known as the Stonewall Riots or Stonewall Rebellion. The nonprofit Christopher Street West formed and held the first Pride parade in Hollywood a year later on June 28, 1970, drawing about 1,000 attendees. The parade has since moved to West Hollywood and typically draws some 500,000 people. 
Pride is not the only major event on hold in West Hollywood. Earlier this week, the city decided to defund all city-sponsored events through 2020, including the popular Halloween Carnaval. Officials cited not only the slim chance that a large event like that could occur so soon after the onset of the pandemic, but cost savings of about $6 million that could be diverted to more pressing needs. However, outgoing Mayor John D'Amico did note it's not entirely off the table if circumstances change. 
The digital programming for this year's Pride has yet to be announced, but you can check LAPride.org for updates.