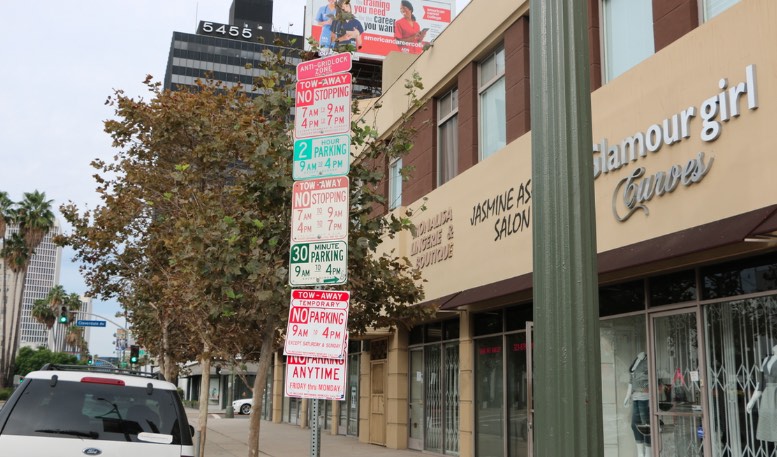 [Update, July 1]: Good news! Los Angeles will continue parking relaxed enforcement though the rest of July thanks to a vote from L.A. City Council on July 1.
[Update, August 3]: Relaxed enforcement has been extended through August 16.

Back in March, L.A. Mayor Eric Garcetti issued an order that temporarily adjusted the way the city issued and collected fines for parking tickets. On July 6, LADOT will resume enforcement on several parking regulations that were previously relaxed.
Starting July 6, the city will enforce regulations including:
Residential street sweeping
Expired registration on a vehicle
Peak/rush hour and gridlock zone parking restrictions
Ticket/tow for abandoned vehicles
Loading zones (white curb) will resume 10-minute grace period
As a reminder, there are several parking restrictions that were not relaxed and that will continue to be enforced. These include:
Metered parking
Time limits within preferential parking districts for vehicles without a valid or recently-expired permit
Posted repaving, street repair, and utility work
Posted time limit zones in residential and commercial areas
All posted Temporary No-Parking signs
Blocking emergency access (alleyways, fire hydrants, etc.)
Colored curb zones
Parking restrictions for city-owned lots
There will also be some regulations that LADOT won't enforce yet:
Overnight/Oversized Vehicle parking is still relaxed
Vehicles with recently expired Preferential Parking Permits will not be cited
LADOT has also extended the deadline for payment on existing parking fines to August 1. If you're unemployed or suffering financial hardships, you may be eligible for a payment plan or to have late fees waived. Call (866) 561-9742 for more info.
If the city decides to relax parking enforcement again, we'll let you know! You can also visit the LADOT Coronavirus Updates webpage for more details and the latest news.