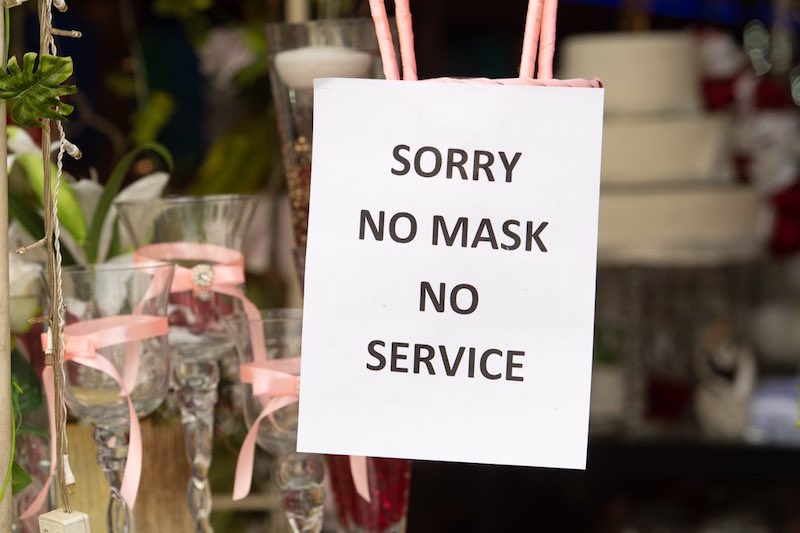 This weekend saw L.A. County ease restrictions on Stay at Home orders, opening select retail for curbside pickup as well as trails, trailheads, and golf courses. Businesses and visitors alike were asked to wear cloth facial coverings in most areas and always adhere to social distancing. According to L.A. County Department of Public Health Director Dr. Barbara Ferrer, people adhered to guidelines on golf courses and trails, but about 40% of surveyed businesses initially did not. 
Ferrer said that many flower vendors were enforcing physical distancing and offering handwashing opportunities this Mother's Day weekend. Some even handed out facial coverings to customers.
However, that wasn't across the board. Of the 410 businesses that inspectors surveyed over the weekend, Ferrer said that 162 were in violation of current orders. Some were allowing customers inside the stores, while others were not enforcing facial coverings or physical distancing. Most were ultimately able to come into compliance and "we only had to close a few places," Ferrer said during this afternoon's briefing.
Ferrer stressed that businesses do not have to open just because orders now allow them to do so.
"For some places, it's very easy for them to come into compliance and for others, it will take more work," Ferrer said. "We're here to be supportive, but we're absolutely certain that if you cannot really comply with the directives, it's not the time to reopen." 
In addition to enforcing facial coverings and physical distancing, businesses must also post a completed protocol checklist where the public can see it before reopening. 
Ferrer said crowds on trails this weekend were "larger, but manageable" and that park monitors were able to remind hikers to adhere to rules. Traffic on L.A. County's golf courses was "fairly low" and golfers adhered to protocols without issue.
The county expects to provide additional updates on current health orders on Wednesday, but it's worth remembering that our return to normalcy—which officials are now referring to as our "recovery journey"—will be slow. We're currently in the earliest moments of Stage 2 of 5. While 5 represents a complete return to life as we knew it, all of the businesses that reopen in stages 2 through 4 will need to do so with modifications. This could mean requiring everyone to wear facial coverings, opening at reduced capacity, and other rules. Data will always inform our progress, which may occasionally mean we'll need to toggle back if there's an increase in infections.