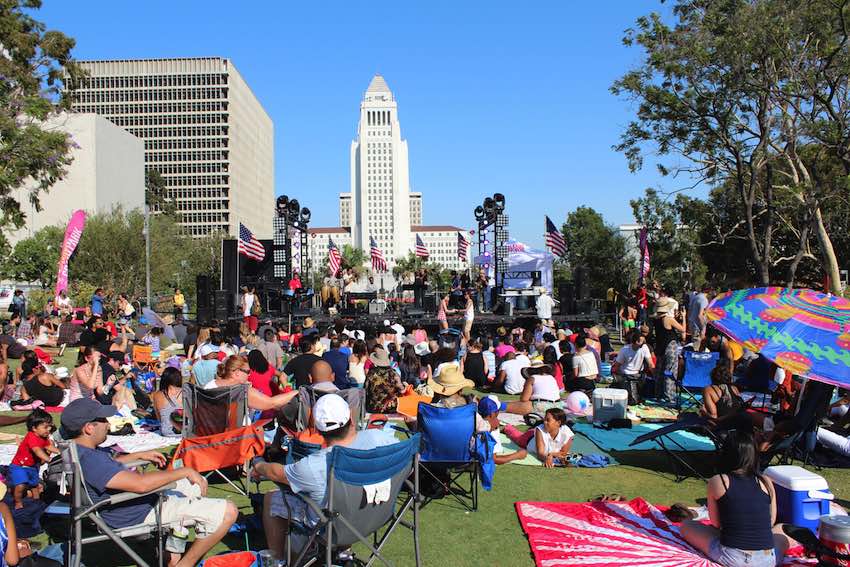 The Music Center and Grand Park's annual 4th of July party will be held online only this year while the park itself remains closed. 
According to a release from The Music Center, a free, family-friendly online program will feature local talent in comedy and music, cooking demos, workshops, and more. The event is three hours long and will stream on July 4, though the start time hasn't been announced. For updates, you can check here.
The annual Independence Day celebration is one of several large-scale events to cancel this year due to the pandemic. West Hollywood recently defunded all of its events through the end of the year, including Halloween Carnaval. Hollywood Fringe moved its annual play festival to October. L.A. Pride organizers Christopher Street West canceled this year's annual festivities, opting to move to some sort of online celebration instead. Some schools have been attempting to recreate the magic of Graduation Day and Prom online as the class of 2020 experiences one of the strangest senior years in modern history.
If you're looking for fireworks this year, San Diego's Big Bay Boom has canceled but will air a TV special on July 4 on FOX 5 in San Diego and KTLA in Los Angeles. Or you could watch Disney's "virtual fireworks" below.