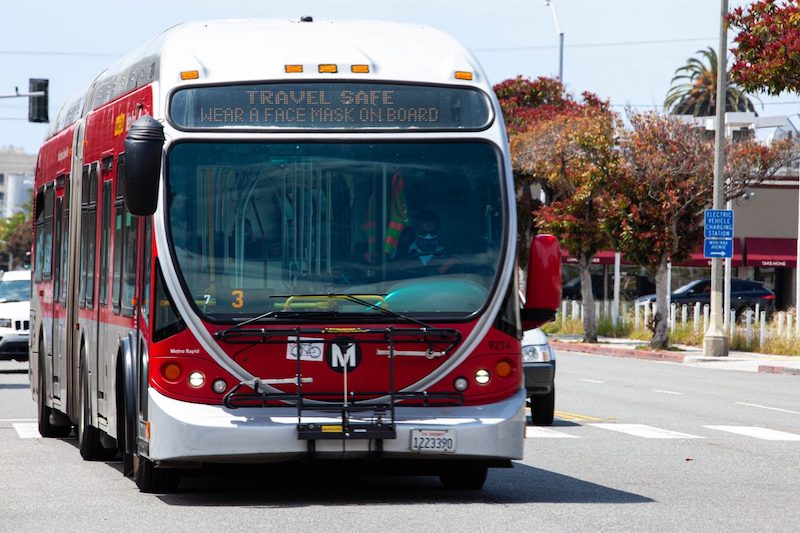 Imagine how convenient it might be if you could just hop on a train without considering if you felt like spending $1.75 for the convenience. Or if you knew you could catch the bus even if you forgot your TAP card or weren't sure how much money it had left? A new task force will explore the possibility of a fare-less L.A. Metro system starting September 1, according to Metro's The Source.
According to Metro data, the average median household income for its bus passengers is $17,975 and $27,723 for its rail passengers. In the face of record unemployment due to COVID-19, some of Metro's lower-income passengers may be facing even bigger hardships.
"LA Metro has a moral obligation to pursue a fareless system and help our region recover from both a once-in-a-lifetime pandemic and the devastating effects of the lack of affordability in the region," Metro CEO Phil Washington said via The Source. "Fare-free transit will help essential workers, moms and dads, students, seniors, and riders with disabilities. I view this as something that could change the life trajectory of millions of people and families in L.A. County, the most populous county in America."
The Fareless System Initiative (FSI or Operation FSI) and the task force will come up with a plan and present it to Washington and the Metro Board of the Directors by the end of the year. They'll look at how they might secure funding, how a fare-free Metro would impact other transit agencies in the county, and how much fare collection itself currently costs Metro. They'll also look at how going fare-free might affect the homeless, people of color (whom law enforcement is accused of targeting for fare collection), riders, and Metro employees. 
Recently, activists calling to "defund the police" have argued that other community services, including public transit, could be funded with money diverted from the police budget as other types of professionals take on roles previously assumed by officers. Of course, it's not clear if that avenue for possible funding is one the task force will consider. Right now, the listed funding opportunities include local, state, and federal grants and reprioritizing Metro funds.