You hopped off the plane at LAX with your dream and your cardigan, a la Miley Cyrus, but that doesn't mean you're a true Los Angeleno  — at least not yet.
It's one thing to physically reside in Los Angeles, it's another to identify the city of angels as your one true home.
The reality is the journey from transplant to true angeleno is one of experiences.
Whether you're an L.A. native or freshly arrived, becoming an "angeleno" is something that happens over time. I've been here for six years and I still wonder about my bonafides, but I guess it's all about the process.
Within that process there are those quiet, subtle moments, as I'm sure you've had too, where you'll catch yourself and realize that this city has truly gotten into your bones.
From parking wisdom and beating Waze to playing tour guide for out-of-towners or instantly recognizing obscure L.A. pop-culture references, below I've catalogued a few of the moments that have stood out over the course of my transformation during the past six years.
Not everyone's journey will be 100% the same, but perhaps you might recognize just a few of these from your own story…
1. When You Celebrate Finding The Holy Grail of Parking
You know you've a true angeleno when you have the intel, the patience, and the resourcefulness to find a free and clear street parking spot in one of those hard-to-get-parking areas, like Hollywood, West Hollywood, and Brentwood, just to name a few. And it's not just about the act of finding the spot, it's the mental fist-pump you do every time your little hidden gem of a spot is available. This is because you recognize the difficultly in what you just accomplished, and you celebrate the achievement duly.
2. When You Beat Waze
Sure you could always use the directions provided by Waze and Google Maps — but after you drive a route enough times, you'll get a sense of the traffic patterns and flow. You'll also notice that one street or that one turn that no app has ever suggested, but taking it seems to make all the difference (especially when it comes to avoiding a suicide left type of situation that Waze can sometimes lead you to). Eventually the app will probably figure it out too, but until then, you can take pride in your 'secret' knowledge.
3. When You Catch the Pressed Juice Bug
L.A. is known for so many things, but you have to admit that pressed juice and kale are pretty much everywhere. So much that sometimes, you'll find that you're totally in the mood for a kale salad and a $9 cup of fresh juice. There's absolutely nothing wrong with that — especially since you have so many options.
4. When you survive a day at the DMV to get your California license
There's nothing quite like letters D-M-V to send a shiver down your spine. It's absolutely no fun and borders on torture, but changing over your license at the DMV — whether it's when you first move here or when you know it's time — is an experience that takes your devotion to the city to a whole new level, on top of the literal fact that you will now have an actual California / Los Angeles identification card.
Just make sure to clear your schedule for the whole day, bring all documentation, and get ready to wait it out.
5. When you complain that 55 degrees is cold
When the temperature falls below 60 degrees, get ready for all of the East Coast and Midwest transplants to shrug and say, "You think this weather is cold?" Well, if you've been living in Los Angeles long enough, it certainly feels cold! When you live every day like it's 68 degrees and sunny, anything below will make you want to add layers on layers.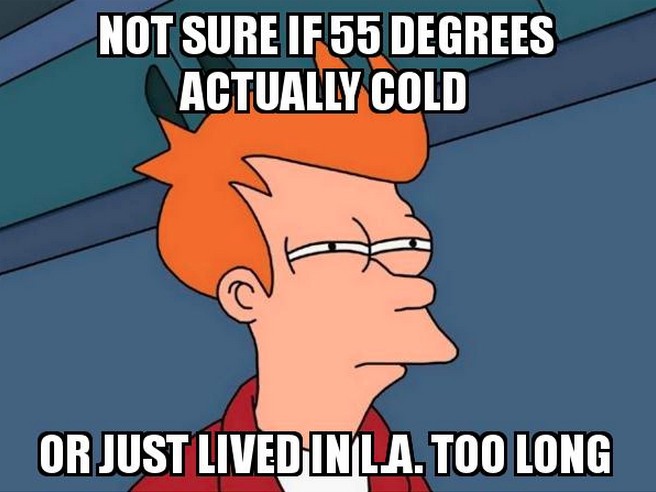 6. When you successfully play tour guide for your out-of-town friends/family and take them to see more than Hollywood Boulevard
A lot of people think of Hollywood Boulevard when they think of LA — after all, the Oscars are filmed at the Dolby Theater — but you know you're a true Angeleno when you can show your parents and out-of-town visitors what your version of LA is. It could be your favorite coffee shop, the best juice shop in your neighborhood, or your favorite hike.
Pro-tip: Find some good ideas for your out of town friends from our big list of free + fun to-dos around Los Angeles.
7. When you learn to use your time stuck in traffic wisely
Neophyte angelenos tend to get super frustrated in traffic and focus their energy on that. Once you've been here more than a minute though, you'll know how to maximize your time spent in your second home — aka the car. Books "on tape," playlists, and NPR all come in handy when you're in stuck in the rubberneck. Some people even do their makeup, and smoke, among other things in the car — not that I necessarily recommend that. But you'll find ways to do what you need to do.
8. When you totally get all those LA references in pop culture (Tupac's "California Love," Clueless, Randy Newman, The Kardashians, etc)
Before I moved here, most Los Angeles pop culture references went over my head, but when I had been here for awhile, they all suddenly began to click and make sense. Randy Newman's "I Love L.A." name-checks Imperial Highway, Santa Ana winds, Victory Boulevard, and more. A true Angeleno will understand why going to a party in the Valley was a big deal for Cher in Clueless and know all the Kardashian landmarks.
9. When you've tried at least 5 different variations of the In-N-Out secret menu
The In-N-Out secret menu will feel like the greatest discovery when you first arrive in Los Angeles. Knowing about the secret menu — "animal style," chopped chilis, the "Flying Dutchman" and all — makes will make you feel like you're part of an exclusive club (even though pretty much everyone knows about it already by now).
Still, once you've tried enough of the options, you'll settle on your ol' standby for when you need an In-N-Out fix and you'll feel right at home.
10. When you spot a celebrity and it's no big deal
When you first move or visit Los Angeles, you might freak out when you see celebs in their natural state — you know, if you're into all that Hollywood stuff. But once live here long enough, you'll eat, drink, and shop among plenty of recognizable and unrecognizable stars and it just be another day in the city of angels.
Ho-hum.
11. When you see the Theme Building at LAX and say, "I'm home"
If you're originally from somewhere else, flying into LAX from your hometown might feel like some kind of weird dream or suspended reality. But once you fully embrace your angeleno-ness, L.A. will be your true home and, no matter where you go, you'll be anxious to return.
Welcome home.
---
Are you a transplant who now considers L.A. your home?  What sealed it for you? Let us know in the comments below!