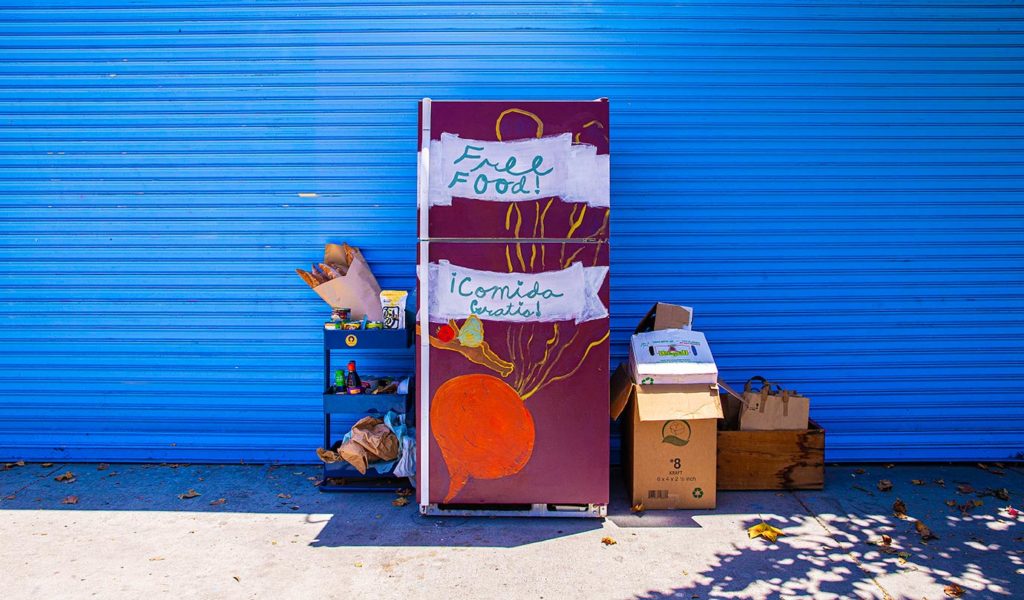 For today: community fridges face public health scrutiny, the Lakers and Clippers may boycott the rest of the NBA season, and our Sheriff thinks it's too hot outside for deputies to wear masks. Also, what's the deal with the CDC's new testing guidance? First, some newsy stuff.
Morning News Brief
In July, we reported on LA Community Fridges, a network of public refrigerator "pop-ups" containing produce, canned goods, and prepared foods free for the taking by anyone in need. Eventually, more than a dozen of these fridges sprang up around the county at coffee shops, storefronts, and parking lots. But they did so without necessarily getting the blessing of local public health officials. Now, several of the community fridges have been cited for health code violations, which may put the whole concept in jeopardy at a time when free food resources such as this are needed most. [LAist]
Yesterday, L.A. Sheriff Alex Villanueva used an online Q&A session to explain deputies' less-than-strict adherence to facial coverings, which resulted in a complaint letter written by L.A. County Inspector General Max Huntsman. "Deputies have been responding to fires, civil unrest, and murder scenes … in this extreme heat, there's a lot of concern about wearing the masks in addition to all the other restrictive gear the deputies are wearing," he said. So the defense amounts to… it's too damn hot. But what message does that send to the public about the optionality of facial coverings? And, what about two or three months ago when it wasn't as hot outside? [LAist]
Sometimes sports transcend the issues, but some issues are bigger than sports. That appears to be the position of both Lakers and Clippers players, who in a players-only meeting held last night voted to boycott the rest of the season in protest over police violence and the recent shooting of Jacob Blake. After the Milwaukee Bucks refused to take the court for their game yesterday, eventually all of the day's scheduled gamers were canceled. Cancellation of WNBA games and some MLB games soon followed. Heading into today, the NBA season's completion is an open question and whether it finishes or not seems to be a matter of if the players and owners can agree on what to do next. The NBA's Board of Governors is meeting later today, and internal discussions among the players are expected to continue as well. [LA Mag]
As if we weren't having enough issues with the USPS lately, yesterday an apparent bomb threat led to the evacuation of a South Los Angeles postal facility at the intersection of Gage and Central. Not a lot of detail available on this one yet. Police are still investigating. [KNX1070]
The fatal shooting of Anthony McClain by a Pasadena police officer has resulted in the fast-tracking of a previously proposed Civilian Oversight Commission. McClain was shot when he fled the scene of a traffic stop over a missing front license plate on Aug. 15. He was transported to a hospital where he later died. [LA Sentinel]
The LA Al Fresco program arose from a need to increase the amount of outdoor dining space during the pandemic, allowing restaurants to use sidewalks and parking lots for extra seating space where available. The idea was this would be a temporary fix until things got back to normal, but then we have consider, maybe this is the new normal. To wit, yesterday, Councilmember David Ryu offered a motion to permit the use of these outdoor spaces even after emergency orders are lifted. [We Like L.A.]
To Test or Not To Test (It Should NOT Be The Question)
In a bizarre change of course, the CDC announced this week a shift in its testing recommendations for people who may have been exposed to COVID-19. Specifically, the agency said that if you've been exposed to the virus but do not show symptoms, then you don't need to get tested (seriously, this is what they're saying). At a press briefing subsequent to the announcement, Assistant Secretary for HHS Admiral Brett Giroir defended the policy, arguing it was enacted to avoid false negatives for people who tested too early after exposure. But as Beth Mole points out for Ars Technica, if that's true, why didn't the department provide guidelines for a timeline to get tested?
Locally––both at the county and state level––the direction is still crystal clear. If you think you've been exposed, you ought to get tested. L.A. County Public Health recommends you get tested (whether symptomatic or not) if you've been in close contact with someone who is confirmed positive. Gov. Gavin Gavin Newsom was more explicit: "I do not agree with the new CDC guidance. Full stop," he said. [CBS Los Angeles]