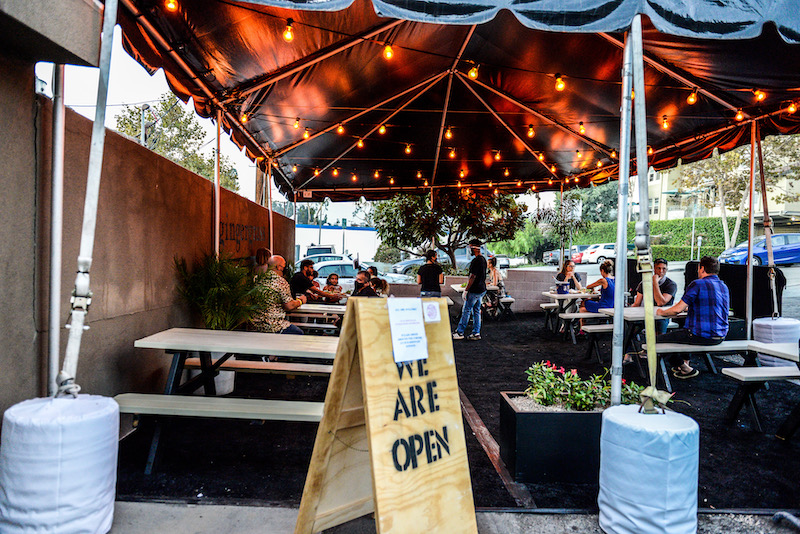 Today, Gov. Gavin Newsom lifted the statewide Stay at Home order, moving California back to the tiered reopening system. While many counties will remain under the strictest Purple Tier restrictions, many sectors—including outdoor dining—will reopen in L.A. County this week.

The state's regional Stay at Home order is based on ICU capacity projections, kicking in when a region's anticipated ICU capacity drops below 15%. Right now, the Southern California region's ICU capacity is still listed at 0% and hospitals are still under tremendous strain. The reason Newsom lifted orders is due to projections four weeks from now. Southern California's projected ICU capacity is 33% compared to 30% statewide.

In no way does this indicate we're out of the woods. During a media briefing today, L.A. County Public Health Director Dr. Barbara Ferrer said moving forward depends on everyone's behaviors.
"If…people aren't able to adhere to the rules and we have a lot of problems and increases in outbreaks, we'll be in the horrible position to once again backtrack, so this is up to all of us," she said.

As of right now, L.A. County is operating under the health officer order enacted on Nov. 25. The following may reopen now.
Private gatherings: Three households (15 people max), outdoor only
Family entertainment centers: Outdoor only at 50% capacity
Outdoor museums, zoos, aquariums
Cardrooms: Outdoor only, 50% capacity
Mini-golf, go-karts, batting cages: Outdoor only, 50% capacity
Hotels, motels: Open for tourism and travel
Fitness facilities: Outdoor only
Personal care services: Indoor at 25% capacity
Indoor malls, shopping centers, and lower-risk retail: Indoor at 25% capacity, common areas and food courts closed
Outdoor recreational activities
Faith-based services: Outdoor only
On Friday, Jan. 29, L.A. County will issue a new order that will allow restaurants to reopen for outdoor dining with safety modifications. According to Ferrer, that is the largest difference between the County's order issued on Nov. 25—which shut down outdoor dining the day before Thanksgiving—and what will be allowed this week.

Ferrer said the County will work with labor partners and restaurants to ensure safety modifications are in place to protect employees and customers.

However, Newsom also announced changes to the state's vaccine rollout today. After seniors 65 and older, healthcare workers, and some essential workers are vaccinated, the state will move to an age-based system, which Newsom said would "allow us to scale up much more quickly and get vaccines to impacted communities, much more expeditiously with a framework always on equity."

It's not clear which essential workers will be included in the earlier phase. Food and agriculture employees are listed, but not hospitality. This could mean younger restaurant workers will now be exposed to mask-free customers, but remain ineligible for the vaccine for months. California is already lagging behind every other state and is facing a vaccine supply shortage.

For now, residents are advised to continue to follow rules like wearing masks, washing hands, and avoiding crowds. If a bunch of people decide to have mask-free Super Bowl parties, for example, we may find ourselves right back where we started.

Meanwhile, L.A. County reported 8,243 new cases and 98 deaths yesterday, bringing the local death total to 15,260.