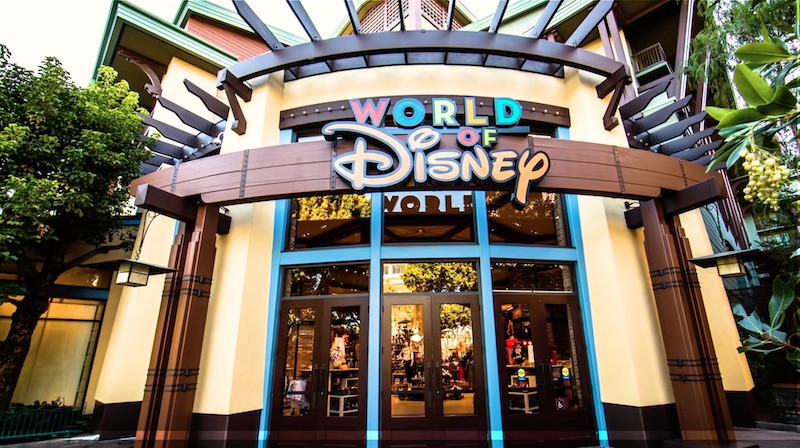 Downtown Disney reopened today and, despite rising cases of COVID-19 across the state, drew long lines of fans eager to return. Some guests even showed up hours early and waited overnight for the outdoor mall to open at 10 a.m. One guest told KTLA she'd been waiting since 11 p.m.
Much like everything else that's reopened since the pandemic began, guests must get a temperature check upon arrival and wear masks and practice social distancing. There are also several new places where you can wash or sanitize your hands, which we're all encouraged to do frequently. 
Downtown Disney is also operating with reduced hours, and only one parking lot—the Simba Lot—is open. A complete list of safety measures can be found here.
It's unclear how well this opening day is going from a health and safety perspective. A tweet from Disneyland News Today claimed the World of Disney store was "a mess" with guests not following the distancing measures. A cast member told the Orange County Register that there were 1,000 people on an online waitlist to get into the store.
Other images show a bit more spacing outdoors, which is a safer place to be than indoors when it comes to COVID-19.
Disneyland and California Adventure were previously slated to reopen on July 17, but both reopenings are currently on hold. At the time, Disney said it would not have time to implement state guidelines, which hadn't been released. Both unions and a petition had asked Disney to delay opening the parks, arguing it was too soon to do so safely.
Meanwhile, Orange County recently broke 20,000 confirmed cases of COVID-19, citing 1,333 new cases on Wednesday. That's the highest daily total for the county yet, according to NBC Los Angeles.