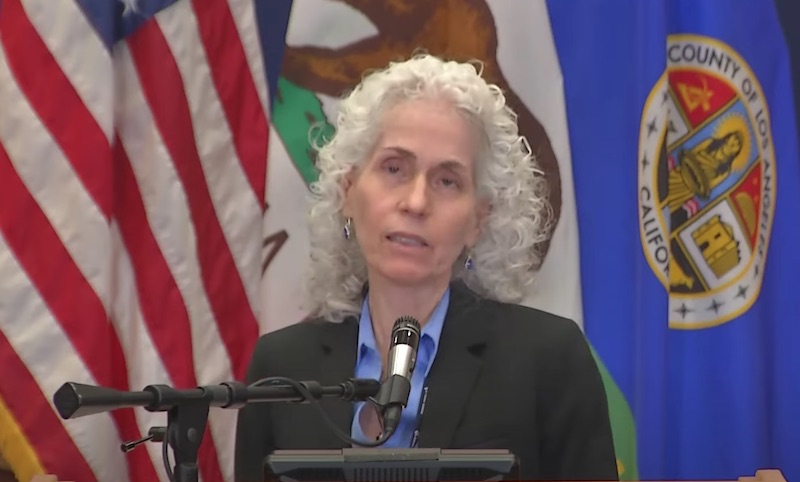 Health officials in Southern California have been receiving death threats from residents angry about having to stay home, wear masks, and social distance during a global pandemic. Today, L.A. County Public Health Director Dr. Barbara Ferrer released a statement on the matter.

Ferrer has been hosting briefings about COVID-19 and how it's impacting Los Angeles County since the onset of the pandemic. For a while, those briefings were daily and now, they're typically on Monday afternoons only. Ferrer said she's been personally receiving death threats since last month when a commenter on Facebook Live said she should be shot. 
"I didn't immediately see the message, but my husband did, my children did, and so did my colleagues," Ferrer said via the statement. "One reason I handle these briefings myself is to shield the extraordinary team at L.A. County Public Health from these attacks which have been going on, via emails, public postings, and letters—since March. It is deeply worrisome to imagine that our hardworking infectious disease physicians, nurses, epidemiologists and environmental health specialists or any of our other team members would have to face this level of hatred."
If you've logged into any COVID-19 briefing where the general public is allowed to leave comments—be it on Facebook Live or YouTube—then you know exactly what Ferrer is talking about. Some people chime in with questions or helpful comments. But the comment sections are also littered with people telling health and government officials to "shut up," criticizing their appearance, claiming the virus has been a hoax all along, and otherwise regurgitating strings of profanity and, sometimes, hate speech and threats.
In Orange County, former Chief Health Officer Dr. Nichole Quick resigned due to the backlash and threats. After Quick ordered Orange County residents to wear face coverings to help prevent the spread of COVID-19, protestors said they were going to prove masks are unsafe to wear by exercising on her doorstep and made banners depicting her as a Nazi. 
Last week, Gov. Gavin Newsom said it's mandatory for all Californians to wear face coverings when in public and around others. It's not clear yet how that order will be enforced. According to ABC7, Orange County Sheriff Don Barnes said he did not plan to enforce it, saying "it is each person's responsibility" to follow safeguards, but not law enforcement's responsibility to make them. 
In her statement, Ferrer expressed sympathy for everyone struggling with job loss and the other frustrations of living during COVID-19. But she also stressed one obvious point: health officials didn't create the virus and they don't decide how it works or spreads. They do use science, data, and years of education, training, and experience to decide how best to navigate the pandemic. Ferrer also recalled the initial pushback against wearing seatbelts. 
"But the data proves that seatbelts save lives, and the data also proves that wearing a face covering will help stop transmission of COVID-19, which will save lives," she said.