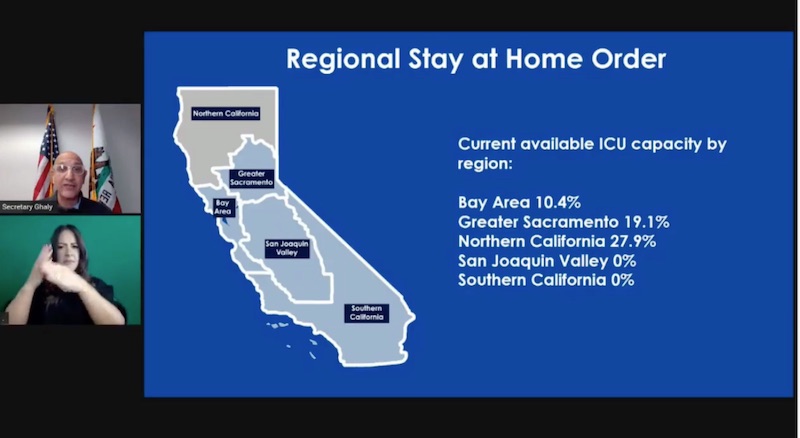 As expected, the Regional Stay at Home order will remain in effect until Southern California's ICU capacity meets or exceeds a projected 15%. Right now, it is at 0%.

The unsurprising news comes via Dr. Mark Ghaly, Secretary of the California Health and Human Services, who gave a briefing today about how ICU capacity is determined and what hospitals will be forced to do if the situation worsens.

Among the state's five regions, current ICU projections are as follows:
Bay Area – 10.4%
Greater Sacramento – 19.1%
Northern California – 27.9%
San Joaquin Valley – 0%
Southern California – 0%
All of these regions except Northern California are currently under Stay at Home orders. Regions in which the ICU capacity dips below 15% must remain under those orders for at least three weeks, but ultimately until ICU projections are at or above 15%. This means that both the San Joaquin Valley and Southern California regions will, obviously, remain under orders.
ICU capacity projections are based on four factors: current ICU capacity, the 7-day average case rate, the current transmission rate, and the current rate of ICU admissions. An ICU capacity of 0% does not mean there isn't a single available bed in the entire region, Ghaly said, but a key factor is how much of a hospital's ICU is currently being used for COVID-19 patients versus how much remains available for other patients.

"When we see hospitals with an ICU capacity used up for COVID above 30%, we consider that ICU and that facility or that region's ICU capacity really ill-prepared to serve and support individuals with other urgent needs [such as] heart attacks, strokes, or other traumas," Ghaly said.
When resources, including beds and staff, are stretched this thin, things can get pretty grim. Ghaly compared it to a rubber band, which certainly has a lot of stretch, but will eventually snap. To illustrate what this might mean, here's a chart showing the three types of care a hospital can offer: conventional, contingency, and crisis.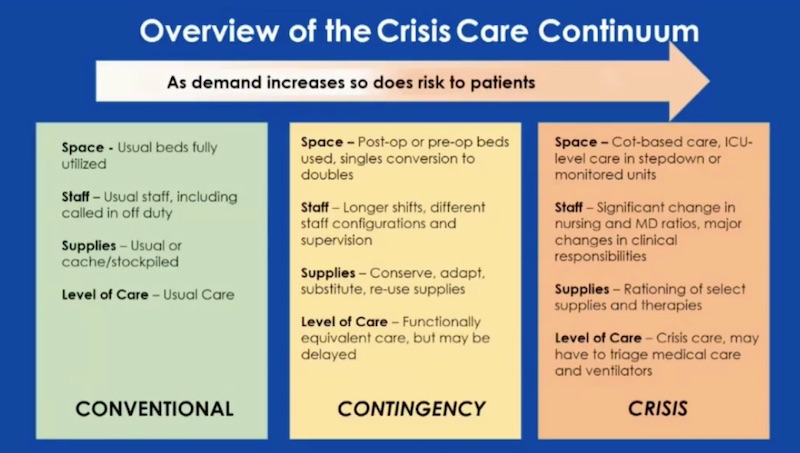 In a conventional situation, beds, resources, staff, and the level of care are what you'd expect when visiting a hospital.
In a contingency situation, pre-op and post-op beds may be used for other types of patients and single rooms may be converted into doubles. Supplies are conserved, substituted, adapted, or reused. The level of care is typically the same, but may be delayed. Ghaly said most hospitals are here now.

In crisis mode, you may see patients being treated on cots in other areas of the hospital, significant staffing changes, rationed supplies and therapies, and triaged patients. Patients don't get the same amount of attention that they ordinarily would and medical professionals are forced to make difficult decisions about how to allocate resources.
According to Kim McCoy Wade, director of the California Department of Aging, those decisions cannot be based on factors like race, gender, sexual orientation, socioeconomic status, weight, age, or incarceration status. It's all about how likely a patient is to survive in the near future. So if someone has a poor outlook, they may receive less care than someone who has a better outlook. It's practical, but disturbing.

These worst-case scenarios are already playing out at some hospitals in Southern California. Reports show some ambulances have patients they can't unload because there's nowhere to take them, while other patients are begin treated in gift shops and conference rooms.

As officials worry that Christmas travel and gatherings will only further fuel the surge that began over Thanksgiving, Ghaly asked residents to stay home for New Year's Eve.
If you traveled over the holidays, Public Health officials also ask that you quarantine for at least 10 days.