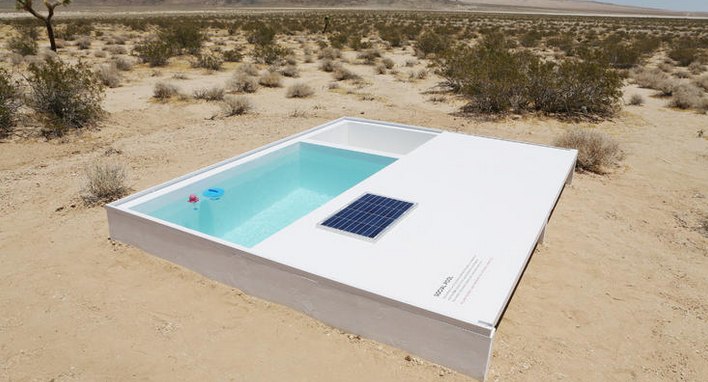 Ever wanted to go trekking through the desert on a journey to find a hidden watery oasis? Well now one man has made that experience possible.
Austrian artist Alfredo Barsuglia has recently completed this work, entitled "Social Pool" as an experiment in landscape, meditation, and social needs.
The tiny structure was completed just last week and resides in the southern Mojave Desert between Joshua Tree and Apple Valley. The exact location is not revealed until you access the key, which will unlock the pool for use.
According the the L.A. Times, Barsuglia says the inspiration for the Pool is:
"…about the effort people make to reach a luxury good… I'm interested in the way that these are often integrated into the architecture of a house. And, often, people will have a pool, but they don't event get into it. They just like to show that they have it. It shows they don't have to think about water."
We say, what an awesome excuse to head out to the desert and have a fun adventure with friends.
At the least, it goes on our list of fun and weird things to do in Los Angeles.
See more details below on how to make your way out there.
[Photo Credit: L.A. Times]
Things You Should Know
– The hidden Mojave Desert pool cannot be opened without a key.
– You have to pick up the key for the pool at the MAK Center for Art and Architecture.
– No reservations over the phone can be made. You show up, and if the key is there you can pick it up and have 24 hours to return. The artist say this is all part of the experience he wants adventurers to have.
– GPS coordinates are provided when you take the key.
– Depending on where you park off the highway, it may be a 30 minute to 2 hour hike to reach the destination. It is not advised to off-road it in your vehicle to drive to the location (lest you want to inflict serious damage on your car or get stuck).
– Bring a friend, stay hydrated!
– All guests are advised to bring an extra gallon of water to replenish the pool.
– The pool is set to stay open until Sep. 30th, 2014.
Location of the Hidden Pool
Somewhere in the Mojave Desert…