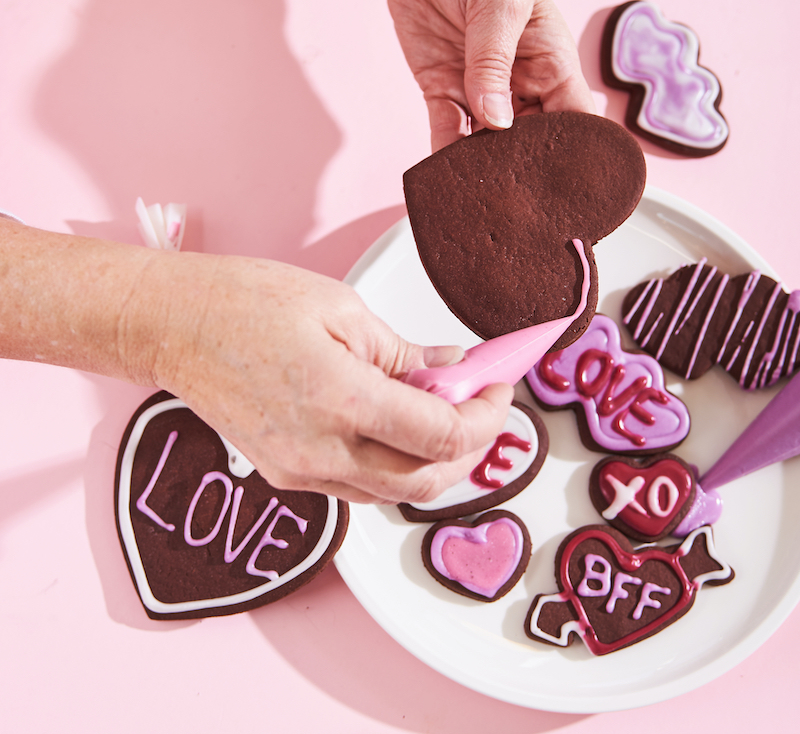 While we can't offer you romantic getaways or crowded singles parties this year, we can offer you some great V-Day menus, gift boxes, and even a DIY cookie kit to enjoy at home. We've also got cute pastries, lavish meals, cooking classes, wine pairings, coffee tastings, and an entire gift basket devoted to Prince. Order for a loved one or just for you!
Cafe Gratitude's Valentine's Day Chocolate Sugar Cookies Kit includes pre-baked, gluten-free, and plant-based dough and icing, allowing you to make and decorate cookies at home. Available via Cafe Gratitude's online store Feb. 1-14 for $25 plus shipping.
andSons' Chocolatier has partnered with local artist Abel Macias to create a limited edition Valentine's Day box inspired by the romantic hilltop views and sunset skies of Los Angeles. The box is filled with an assortment of seasonal heart-shaped bonbons, plus andSon's signature ganaches and pralines for $69 (24 pieces) or $99 (36 pieces.) A portion of the proceeds will benefit Colin Kaepernick's Know Your Rights Camp. The Valentine's Day box is available online now, along with a number of other gift ideas.
Tartine in Silver Lake has Valentine's Day pizza kits ($45) for pre-order starting Feb. 1. The kit includes Tartine's signature dough, toppings, salad, and a pastry, with the option to add on a bottle of wine. Pickups will be available all of Valentine's Day weekend.
Celebrate at home with a meal by Barton G. Los Angeles. The set menu, which serves two, includes a whole roast chicken with black truffle sourdough stuffing, salad, and two vegetable sides. For dessert, diners get to enjoy the "White Gold Smash," a home version of the restaurant's "Dolla Dolla Bills Y'all" dessert. Guests will use a mallet (included in the box) to smash open a chocolate treat. Upgrade your entree to a 12 oz. Chateaubriand filet for $19. Additional items are available a la carte, such as lobster pop tarts, cupcakes, and wine. Order for pickup on Open Table.
Shutters on the Beach and Hotel Casa del Mar have a three-course takeout menu that includes an appetizer, entrée, and dessert for $95 per person. Options include Maine Lobster Bisque, Colors of Salmon & Caviar, Grilled Wagyu Short Ribs, or Chilean Bass. For dessert, try the Valentine's Sweetart, featuring an almond frangipane on passion fruit coulis, topped with raspberries, edible gold leaf, and a puff pastry. Order on Tock.
Every weekend in February, the Hotel Figueroa hosts two pop-ups: Flouring LA and Vases to Vases. At Flouring LA, get an eight-piece box of pastries for $44, including strawberry cake bars, lavender lemon shortbread, meringue-topped brownies, and pink crumb cake donuts. Dessert charcuterie boards are also available for $120. Then, stop by Vases to Vases for a floral arrangement, starting at $30.
Chef Suzanne Tracht's JAR presents Valentine's Day Dinner on Feb. 14. Each meal includes a choice of appetizer, baby baguette, main, and dessert for $95 per person. Main dishes include Norwegian Halibut with Celery Root Purée, Baby Broccoli and Celery Leaf Butter; New York Steak with Pancetta, Weiser Amarosa Roasted Potatoes, Baby Broccoli and Cabernet Sauce; or Roasted Jidori Chicken with English Peas, Cippolinis, and Peewee Potatoes. Dessert choices include Red Velvet Raspberry Cake, Chocolate Delice with Chocolate Custard and Praline Crunch, or Chocolate-Covered Strawberries. Package dinners for four people are also available for $325, as are cocktails and wine. Order by Feb. 10 at 8 p.m. for pickup on Feb. 14 from 3-8 p.m.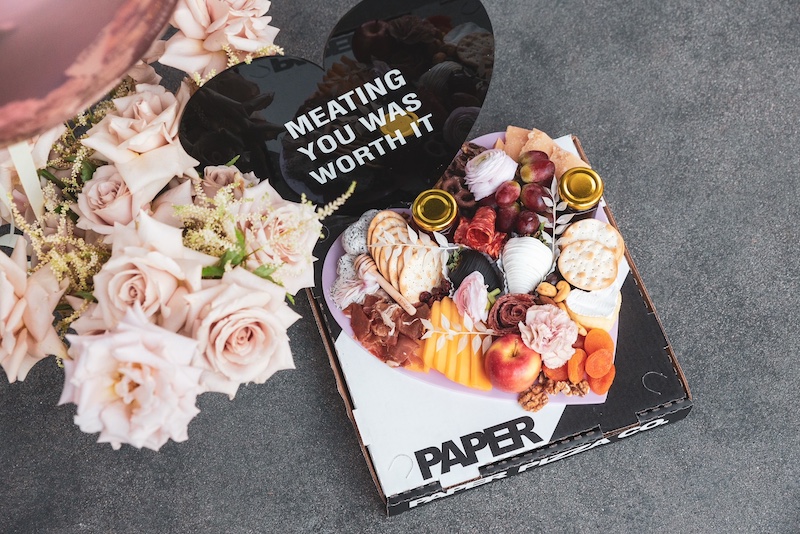 Paper Pizza Company in Downey is offering heart-shaped pizzas made with red dough (prices vary with toppings) and charcuterie boards ($85) that come with cute foodie pickup lines like "meating you was worth it" or "we're gouda together." Chocolate-covered strawberries, balloons, and flowers are also available for pickup and delivery Feb. 13-14. The charcuterie board is only offered for pick up. Outdoor dining is also available.
Bardonna has a Breakfast in Bed package ($42) for a cozy day in. The special includes two brunch entrees of your choice, any two beverages, and a chocolate heart filled with candy. You can tuck a personalized message into the heart if you order with 72 hours advance notice. Order in-person or over the phone for pickup at Bardonna in Santa Monica.
Uplifters Kitchen in Santa Monica has vegan chocolate-covered strawberries that come packed with ribbon and a heart-shaped card. Available for pre-sale online through Feb. 12 at 3 p.m for pickup Feb. 13 from noon to 3 p.m. or Feb. 14 from 8 a.m. to 3 p.m. You can also get a rose chai latte with tea from Chado while you're there.
STK Steakhouse is offering a variety of specials for the holiday. From Feb. 12-14, STK's Valentine's specials include a seafood platter for two ($69), seared sea scallops ($69), 28oz Porterhouse Surf & Turf ($169), and more. For takeout and delivery only, get the Surf, Turf & Vine special for two, which includes two 8oz filets, grilled prawns, a bottle of red or white wine, and chocolate lava marshmallow cake ($139). STK will also offer its Date Night Menu—which includes an appetizer, main, a side, and dessert—on Feb. 8-10 for $69 per person. Pre-orders open on Feb. 1.
a.o.c.'s Valentine's Day celebration dinner is available for takeout and delivery. It includes your choice of appetizer, main, and dessert for $75 per person. Options include Diver Scallops with Risotto Carbonara, Sugar Snaps, Pea Shoots, and Meyer Lemon; Slow-Roasted Wagyu Tenderloin with Chanterelles, Crispy Farro and Sauce au Poivre; or Chanterelles and Grilled Asparagus with Farro, Black Rice, Mustard Greens, and Meyer Lemon Crème Fraîche. Dessert is Chocolate Opera Cake for Two with Letterpress Dark Chocolate, Belize Cacao Ganache, Almond Praline, and Griottines Cherries. Optional add-on caviar service (pre-order by Feb. 7), cocktails, and wine are also available. Pre-order by Feb. 11. Use Tock for pickup, DoorDash for delivery.

Art of Tea is debuting its Rose Black blend for Valentine's Day. It comes from Master Tea Blender and founder Steve Schwartz and combines loose leaf black tea with notes of rose. You can prepare it hot or serve over ice.
Akasha's Valentine's menu is available for takeout, delivery, and outdoor dining Feb. 12-14. Options include small plates for two, holiday-themed cocktails for two, and special desserts to share. You can also leave with take-and-back scones to make and enjoy in the morning, or a gift basket featuring chocolates and wine pairings. Pre-order 24 hours in advance on Tock or by phone at (310) 845-1700.
The Front Yard has two take-out options for Feb. 13 & 14. The "Ain't No River Wide Enough" menu serves two and includes golden beet & baby spinach salad, filet mignon, lobster risotto, chocolate mousse cake, and a bottle of Mumm Napa Brut for $119. The "Ain't No Mountain High Enough" menu serves two and includes a golden beet & baby spinach salad, bacon-cured diver scallops, wagyu filet, lobster risotto, chocolate mousse cake, and a bottle of Veuve Clicquot for $179. Pre-order by Feb. 12 at 8 p.m.
Of the Night's latest decadent gift box is When Doves Cry, a Prince-themed experience you can enjoy at home. It includes Mulholland Distilling vodka, Corsa Co. tonic, Foria Sex Wellness products, Bijoux Indiscrets bedroom toys, Brew Glitter (edible glitter for cocktails), purple pancakes, a lava lamp, art supplies, a bath bomb, Kikoko adult tea, Prince-themed activities, a curated playlist, and more for $180. Only 40 baskets are available. Add-ons include a five-course meal from Chef Laurent Quienioux, theatrical delivery, and more. Order now for delivery on Feb. 14. 10% of proceeds benefit Harmony Project.
Bourbon Steak LA in Glendale has a steakhouse four-course dinner for two ($249) from Chef Michael Mina. It includes a Black River Caviar Parfait, followed by a Dashi Cured Kampachi Crudo. The main course is your choice of 8. Oz Black Angus Filet, Braised Boneless Short Rib, or a Faroe Island Salmon. For dessert, enjoy a Bourbon Bliss Bar. Available for pre-order until Feb. 9 at 9 p.m. for pickup on Feb. 13 & 14 from 4-7 p.m. Call (818) 839-4130 or email [email protected] to order. See the restaurant's website for additional meal options, cocktails, and more.
L'Antica Pizzeria da Michele has a curated menu available for takeout or outdoor dining that includes an appetizer, pasta or risotto, and dessert for $65 or an appetizer, choice of linguine or risotto, choice of fish or steak, and dessert for $100. Reservations required for dine-in. Order takeout online.
Pasta Sisters is offering chocolate heart-shaped ravioli ($17.95). The pasta uses cocoa powder to spice the dough, which is then stuffed with smoked prosciutto, walnuts, and ricotta. Available to-go or as fresh pasta to cook at home.
Openaire, located at LINE LA in Koreatown, has a Valentine's takeaway menu for two ($95/person). It includes smoked beet tartare, Dungeness crab dumplings, grilled filet mignon, Maine lobster salad with passion fruit dressing, chocolate tart, strawberry rose macaroons, and more. Order on Tock for pickup or on DoorDash for delivery. Available Feb. 12-21.
Eataly LA's Terra at Home kit includes everything you need for a multi-course Italian dinner at home. All items come refrigerated with simple instructions to reheat and serve in just 30-40 minutes. Order on Tock for $175 (serves two). Wine and other add-ons are available.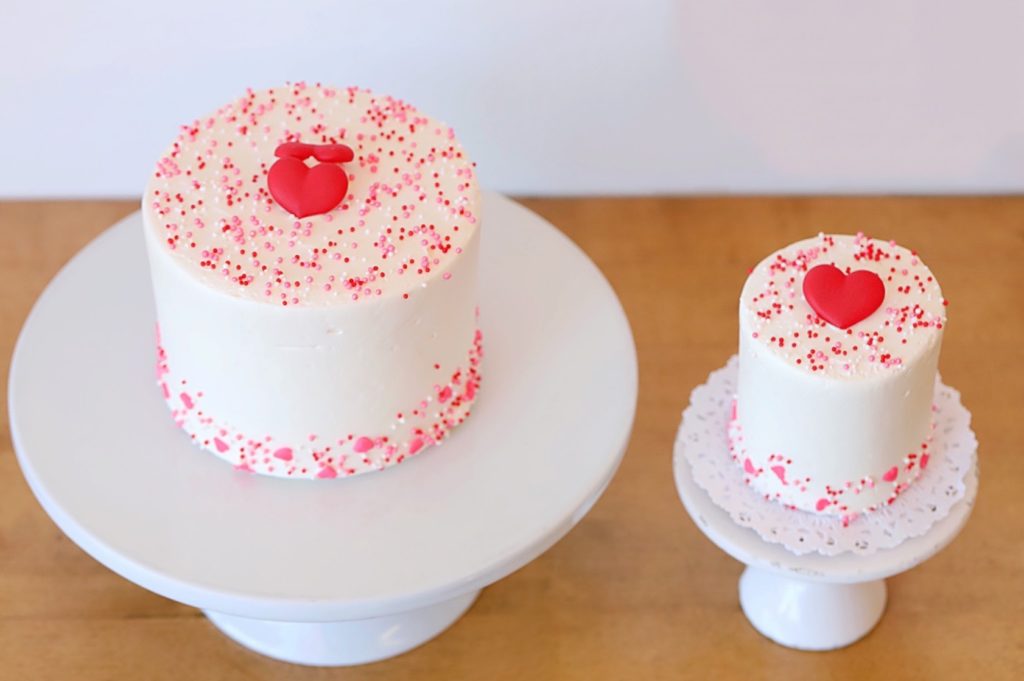 Valentine's Day treats at Cake Monkey Bakery include mini-layer cakes decorated with roses or heart-shaped sprinkles, heart-shaped chocolate raspberry cakewiches, Heart Grams (two Cakewiches) with customizable messages on each box, Pop Hearts, and sugar cookies with Valentine nonpareils. Pickup and local delivery are available at both the Fairfax and North Hollywood locations.
Tokyo Hot Chicken in Glendale is offering a "hot chicken bouquet" wrapped in a green tea waffle ($19.99) for takeout or delivery Feb. 12-14. A la carte items and cocktails are also available.
Rossoblu's seven-course Valentine's Day dinner is available for pickup Feb. 12-14. It includes baked oysters, shrimp tagliatelle, ossobuco terrine, duck breast, and more ($79). Order on Tock.
Goodboybob's Valentine's dinner for two includes "adult Lunchables," salad, coq au vin, and lavender pots de creme for $125. Available for pickup Feb. 12-14. Pre-order by Feb. 9 at 4 p.m.
Bianca's four-course "Sapori d'Amore" is a tasting experience for two that includes an antipasto, pasta, main, and dessert ($160 for two). Options include lobster bisque, filet mignon, chocolate espresso mousse, strawberries & cream tartelette, and more. Pre-order on or before Feb. 11 for pick up on Feb. 13 or 14. Bianca also has gifts available, including wine and sweets pairings, available for pickup. To pre-order those, give them a call!
Wine shop Vinovore in Silver Lake has gift boxes for significant others, friends, or even just you that include wine, sweets, books, and other curated gifts. Check them out here.
Sightglass Marketplace & Coffee Roastery serves as a one-stop-shop for Valentine's Day. Full meal options include a dry-aged ribeye special for two ($120) or black truffle vegetarian lasagna for two ($95). They've also got a selection of gift boxes, including a cheese box with wine pairings ($90) or the Mocha Box ($45) with Sightglass coffee beans, cocoa mix, and shortbread cookies. Pastries, sweets, and flowers are also available.
The Gourmandise School of Sweets and Savories has a few Valentine's Day cooking classes lined up. On Feb. 12, learn to make macarons in the morning, doughnuts in the afternoon, or sign up for the Valentine's Pasta Dinner for two in the evening. On Feb. 13, join a date-night class for two that teaches you how to make the perfect steak dinner, herb salad, and apple cake. To sign up, check out the school's online calendar.
Madre is offering dinner for two ($95) at its locations in Palms, West Hollywood, and Torrance. It includes two appetizers, two entrees, one dessert, and two cocktails, including Mole Verde, Coloradito, and Tarta de Nicuatole for dessert. Add the Besitos de Mezcal flight for an additional $28. Order by Feb. 13 at 9 p.m. via ChowNow, Tock, phone, or email for pickup on Feb. 14 from noon to 9 p.m. Outdoor dining is also available.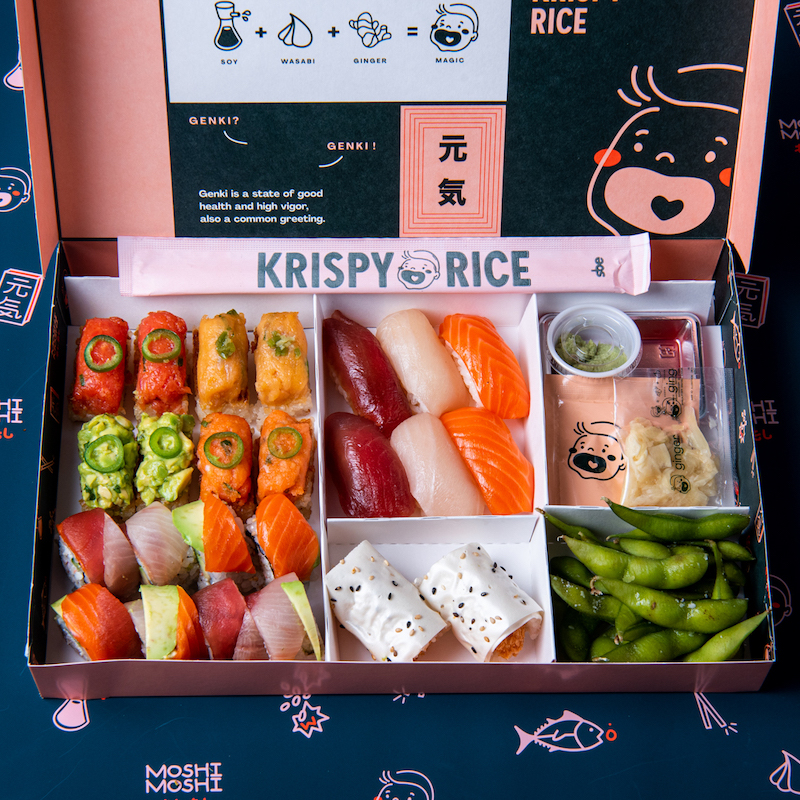 All month long, Krispy Rice will offer Valentine's Day-themed sushi boxes available via UberEats, Postmates, DoorDash, and GrubHub. Boxes include the Hold My Handroll Box ($45), which comes with five different handrolls, four different Krispy Rice dishes, plus edamame. The Plenty of Fish in the Sea Box ($40) includes one of each item (a selection of handrolls, cut rolls, Krispy Rices, nigiri, and edamame). The Soulmate Box ($55) includes two of each item (a selection of handrolls, cut rolls, Krispy Rices, nigiri, and edamame).
Hermanito's Valentine's Day special feeds two to three people and includes seafood ceviche, your choice of protein, and a tres leches cake ($99). A Lo Fi Spritz Kit is available for $50. Order on Hermanito's website or Toast in advance or day-of. Outdoor dining is also available.
Triple Coffee's virtual tasting series is available to the public for the first time on Valentine's Day. The tasting includes three gourmet Central American coffees that guests will receive by mail in advance, as well as an inside look at how the coffee is produced. Join on Feb. 14 at 10 a.m. Tickets are $40 for one, $60 for two.
If you're Valentine is a coffee lover, Verve's winter Wilder Blend boasts a raspberry tasting note with hints of fig. It's available now in 12oz bags ($19) or you can sign your Valentine up for a coffee subscription so they'll always have a fresh cup in the morning. Prices start at $16 per 12oz bag, and delivery is weekly, every other week, or monthly.
Donatsu in Little Tokyo has heart-shaped, hand-made vegan donuts available to order on Feb. 13 & 14. The shop's fun, everyday flavors include Apple Fritter, Mocha Latte, Samoa, Uba, Churro, and many more.
Mickey's Deli in Hermosa Beach is bringing back their heart shaped pizzas Feb 12-14 for $15.95 with additional toppings for $1.50. Call to order your heart-shaped pizza in advance, pick it up in-store to-go, or get it delivered through Mickey's website or third-party apps.
Tsurumaru Udon has DIY Valentine's Day meal kits that let you make Japanese udon at home. Udon kits for two are just $7.75 and contain uncooked udon, soup concentrate, seaweed, green onions, and tempura flakes. Order Feb. 12-14 at tsurumaruudon.com.

Lanea's Valentine's Day Kit for two includes a four-pack of the Santa Monica cocktail bar's Spicy Marg or Rose Quartz (Vodka, Honey, Jasmine Flower, Rosewater) canned cocktails, plus chocolates, for $20.
Salt & Straw's Valentine's Day special is everything you need for a candlelit dessert: two pints of ice cream, plus their Waffle Cone-scented candle. Available in scoops shops Feb. 8-14 for $49. Includes a card.
CropSwap, an app that allows people to buy produce directly from farms, and Golden State Papayas are offering a virtual pizza cooking class on Feb. 14 at 5 p.m. To attend, purchase the Golden State Papayas Goat Cheese Pizza Box ($40) or the Vegan Pizza Box ($37) on the CropSwap app. The Zoom link to the class will be provided upon purchase. Order by Feb. 12 at 9 a.m. for delivery on Feb. 13.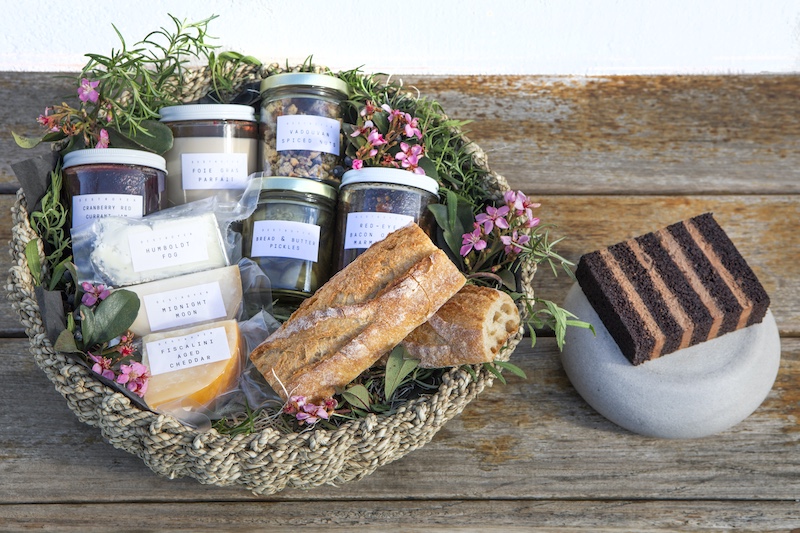 Destroyer in Culver City is offering a Valentine's Day Picnic Box ($55) that includes artisanal cheeses (Midnight Moon, Fiscalini Cheddar, and Humboldt Fog), lemon thyme elderflower honey, cranberry red currant jam, bread and butter pickles, mixed nuts, a baguette, and a slice of chocolate devil's food cake. Add-ons like a Bacon Onion Marmalade ($12) and Foie Gras Parfait with Green Gage Plum and Pink Peppercorn ($18) are also available. All orders can be placed via Destroyer's online store and will be available for pickup or local delivery Feb. 12-14.
Tacos Tu Madre in West Hollywood has boozy chocolate bombs for decadent hot chocolates. Each chocolate heart ($12) is filled with hot cocoa, mini marshmallows, and an infusion injector with your choice of Rumchata or Bailey's.
Cassia's is offering a Southeast Asian BBQ-themed Heat & Serve Dinner Package for Valentine's Day. The seven-course, family-style menu includes Smoked Short Ribs with Phu Quoc Island peppercorn spice rub & green curry, or a Smoked Cauliflower with lemongrass butter & green curry; Spicy Palm Sugar Baked Beans with bacon & Sichuan peppercorns; Green Papaya Slaw with jalapeños, seaweed, scallions & herbs, and more. Serves 1-6 people. Cocktails are also available. Order by Feb. 10 at 2 p.m. on Tock or by calling 310-393-6699.
Birdie G's has two 6-course menus available Feb. 12-14. The first menu includes a Cheese Puff with chicken liver & hoshigaki; Wood-Grilled Beef marinated with beet molasses; Rocky Road Risotto, and more ($89/person). The all-vegan menu includes Silken Tofu with marigold & kasha; Beets with lentil miso dressing; Whole Roasted Cauliflower with vadouvan, and more ($79/person). Ice cream, cakes, pies, wine, and other add-ones are also available. Order by Feb. 8 at 4:30 p.m. for curbside pickup Feb. 12-14, 4-8:30 p.m.
Milo & Olive's Valentine's Day Meal Kits start at $55 and include everything you need to make duck confit ravioli, cacio e pepe risotto, and other dishes. Each comes with a Milo & Olive tote containing a demi-baguette and gluten-free citrus cheesecake with a gingerbread crust. Wine pairings are available at $20-80 per bottle. Available for pre-order only until Feb. 10 at 6 p.m. Call the restaurant Wednesday-Sunday at 310-453-6776 or use this form to order. Pickup is Feb. 14 starting at 2 p.m.
Chef Uyen Kirshenbaum's Kirsh Baking Company's I 💗 Love Collection includes one dozen fresh-baked cookies available for nationwide shipping. The Valentine's box ($36) includes flavors like Oatmeal Cherry, Vanilla Rose, Chocolate Elvis, and Salted Chocolate Chip.
Savoca at the Ritz-Carlton, Los Angeles has a Valentine's menu available on its outdoor patio from Feb. 12-14, 5:30-9:30 p.m. It includes roasted prime filet ($65), risotto Milanese ($22), seared scallops ($32), and Valhrona chocolate passionfruit tarts ($16). More info here.
Greek restaurant Theía is offering a three-course meal for $85 per person on Valentine's Day. It includes six oysters; a surf and turf with an 8oz mignon, lobster tail, sweet potato mash, and pomegranate demi-glaze; and the Go Get a Room Pavlova with strawberry, Chantilly cream, pink meringue, and Grand Marnier. Available for outdoor dining.
BlueCut and chef Nik Sharma have partnered on an at-home cooking package ($175). It contains two of BlueCut's handmade linen aprons; a copy of Sharma's book, The Flavor Equation; and personal touches like a curated Spotify playlist, custom meal plans, suggested wine pairings, and more.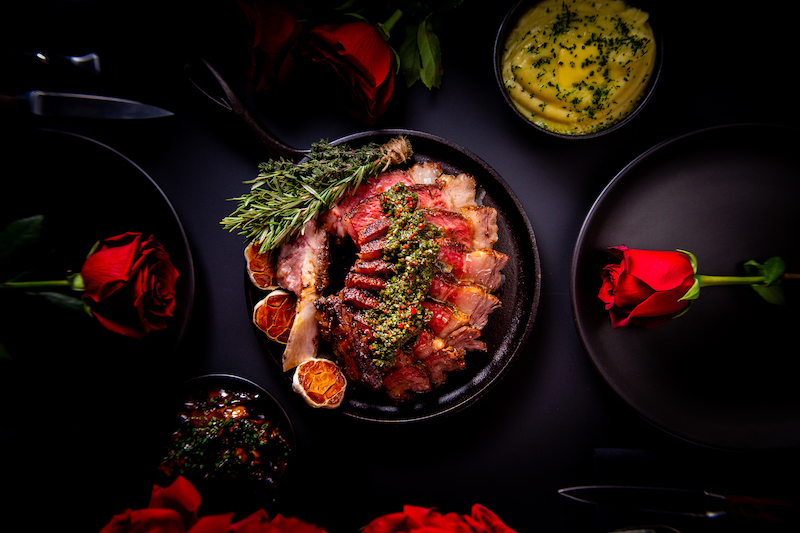 The Roguelike Tavern's Tillinghast Valentine's Day special combines a meal with an at-home puzzle game and spirits tasting. First, you'll choose two entrees. Options include short rib mushroom risotto, a burger and tots, pulled pork poutine, loaded vegan tots, and more. Then, you'll pick up your dinner along with a box that contains four liquor tastings, plus several objects you must rifle through to solve the mystery of the odd company that previously occupied Roguelike's space. The package is $120 and includes two dinners, the tasting flight, and the game with optional dessert add-ons. Use the code ONLYLOVE for a "sparking surprise" while supplies last. Pre-order now for pickup Feb. 13 & 14. Read our review of the game here.
Santa Monica Proper's Calabra has several V-Day specials for at-home or outdoor dining. Curated picnic baskets feature sparkling wine, tea sandwiches, snacks, and Vanilla Bakeshops sweets ($190, serves two), while a four-course dinner including Calabra Mezze, Santa Monica Market Salad, Filet with Peppercorn Jus, and a Half Lobster Tail is available to-go for $80 per person. Orders must be placed by Feb. 12 here.
Chado Tea Room has collaborated with Mignon Chocolates on a gorgeous collection of chocolates infused with Chado teas. Flavors include Matcha, White Champagne Raspberry, Lavender Earl Grey, Passion Fruit Oolong, Chai, and Butterscotch. Get a box of six for $20.
Art Delectables features handmade desserts using organic, non-GMO ingredients and a third less sugar than your typical sweets. For Valentine's Day, get a box of giant strawberries covered in chocolate combos like matcha & dark chocolate, cookies & cream, and 24K gold leaf milk chocolate ($29.94 for six). Or, try a box of six brownie truffles spiked with scotch ($29.99).
The Finishing Gourmet's Valentine's Day menu for two is available Feb. 11-14. The menu includes a shrimp cocktail, salad, a 39 oz. ribeye steak with a trio of sauces, sautéed market mushrooms, mashed potatoes, a pavlova with blood orange curd and red rose petals, and chocolate-dipped strawberries ($295, serves two).