*** The following is a sponsored collaboration between Hilton and We Like L.A. ***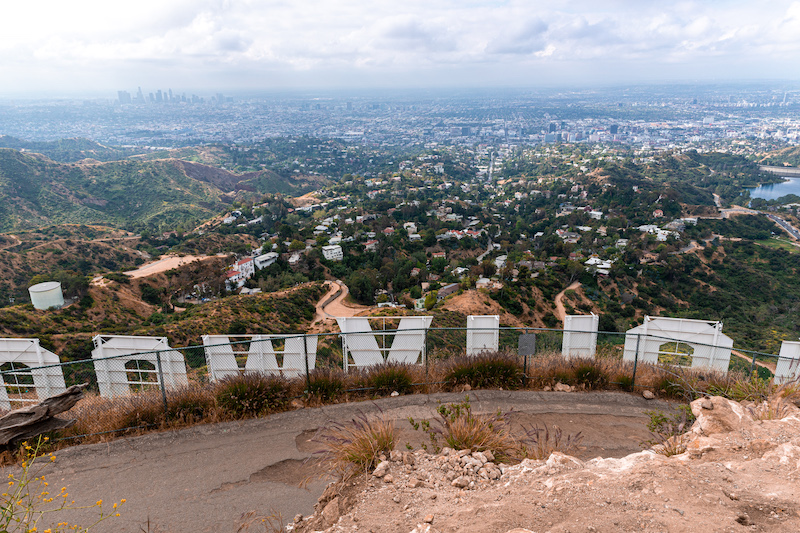 When you look for things to do in Los Angeles, the sheer size and scope of the region can be intimidating. It's so big, and there's so much to do, where does one even start?
The good news? We Like L.A. + Hilton have teamed up to create a sort of 'cheat sheet' for fast-tracking a few fun adventures in the city of angels. This collection of signature landmarks, free museums, walkable areas, and hidden gems is perfect whether you're visiting for the first time, are a recent transplant, or maybe even lived here for a hot minute but just haven't yet really gotten to know L.A.
Our advice? Take a peak below, mark off a few to-dos, and most importantly, have fun!
Signature Attractions
Universal Studios Hollywood: Experience a theme park filled with one-of-kind attractions based on iconic films and T.V. Shows, including the Wizarding World of Harry Potter, The Simpsons ride, and a newly revamped Jurassic World ride (to open in summer 2019).
The Hollywood Sign: Hike to the top of Mt. Lee to see one of L.A.'s most famous icons up close and enjoy an incredible view of the city. There are several different routes through Griffith Park to get to the sign, but in each case it's going to take at least a couple of hours to get there and back, and the trails offer little shade, meaning we recommend this as an early morning activity (and that helps with the crowds too!).
The Griffith Observatory: See the stars, learn about our solar system, then take in a stunning view of Los Angeles at one of the most iconic structures in all of Southern California. The Observatory offers free admission Tuesday through Sunday (closed Monday) plus free monthly programming that includes star parties and live talks with expert astronomers. Plus, the landmark makes a great hub to access various trails within Griffith Park.
The Aquarium of the Pacific: Check out 11,000 animals in more than 50 exhibits at Southern California's largest aquarium. In spring of 2019 AOP opened its first major expansion called Pacific Visions. The new addition includes a 2,800-square-foot art gallery chock full of video projections and soundscapes plus a cutting edge 300-seat theater with a 36-foot-wide tilting floor projection disc. Once you fully explore the aquarium you can also head to the nearby Queen Mary if you're looking to add more to-dos to a Long Beach adventure.
Top Museums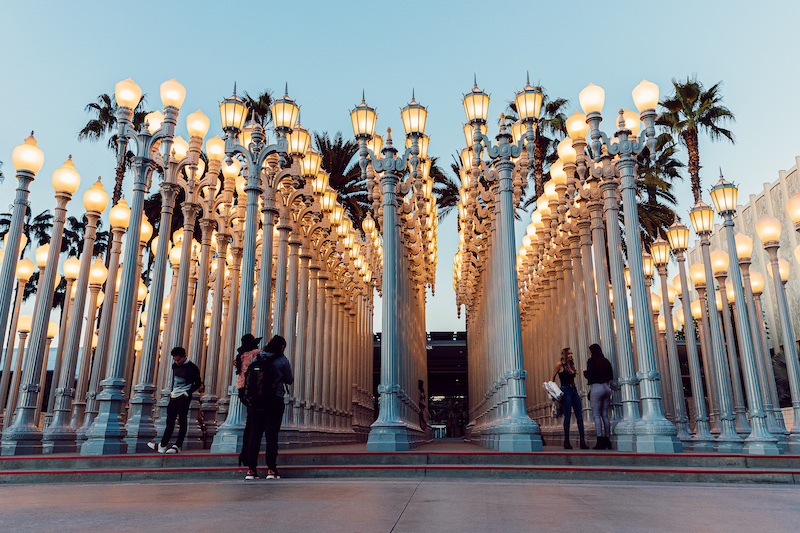 Getty Center (and the Getty Villa): The Getty features a stunning 134,000-square-foot Central Garden along with a world-renowned collection of art on display in the surrounding campus. Both The Getty and The Getty Villa offer free admission, but in the case of the latter a timed-entry ticket (available online) is required.
Los Angeles County Museum of Art: Snap a photo at the Instagram-fave Urban Light installation and explore the massive collection of nearly 140,000 works/objects covering some 6,000 years of art contained at LACMA. The museum is free to the public every second Tuesday, plus select holidays. Additionally, make sure to stop into the La Brea Tar Pits and Museum located across Hancock Park. And if you're into cars, the Peterson Automotive Museum is just down the street on Wilshire Blvd.
The Broad: Examine some of coolest modern art pieces in the city (and the world!), including an Infinity Mirrored Room created by Yayoi Kusama. Admission to the museum is free to the public, but reservations are recommended. A stand-by line is available for same-day visits, but the line shuts down about 60-90 minutes before the museum closes and may close earlier on busy days. Note that for some special exhibitions a paid ticket is required.
Natural History Museum: NHMLA is not only the largest natural and historical museum in the western United States, but it is probably the greatest single local resource for understanding the cultural development of the city of Los Angeles itself. Plus… dinosaurs! As a bonus if you plan to visit make sure to the check out the nearby California Science Center, which offers free admission year-round.
Shopping & Dining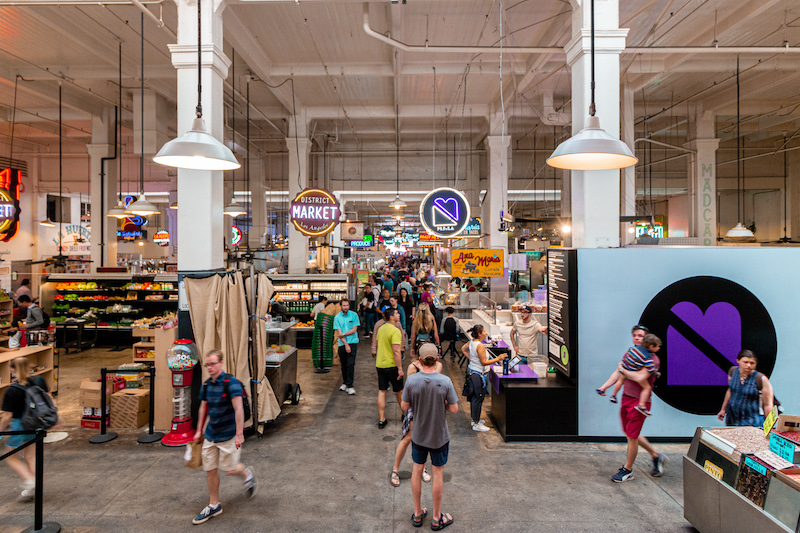 Grand Central Market: Sample bites at a historic open air arcade in DTLA featuring some of L.A.'s finest purveyors. Find delicious offerings ranging from breakfast sandwiches and BBQ to sweet treats and seafood. After you're done eating make sure to head across the street to take a ride on the historic Angels Flight Railway or poke your head inside the nearby Bradbury Building, which features of L.A.'s most unique architectural interiors.
Eataly L.A.: Explore the flavors of Italy right in Los Angeles! This Itailan marketplace houses a number of cafes, restaurants, food counters and shops with everything you can imagine from fresh house-made pasta to fine wines, cheeses and salumi. If the weather is nice (it usually is in L.A.!) head to Terra, their rooftop restaurant for a sunset dinner or an al fresco brunch. If you want to dive a little deeper, consider taking one of the many public culinary classes offered year round.
Smorgasborg LA / ROW DTLA: Smorgasburg is a New York transplant making a big time L.A. impression. This open-air food market pops up every Sunday from 10 a.m. to 4 p.m. at ROW DTLA. Vendors at Smorgasburg L.A. include rising chefs and some famous faces in the culinary world. There are also a row of lifestyle vendors selling flowers, jewelry, vintage and more for those who need a foodie break. Even if it's not a Sunday you can find a host of shops and restaurants at ROW to explore or you can pop over to the nearby Arts District.
Rodeo Drive: Shop for luxury goods on one of the most fabulous streets in the world. The two-mile long stretch in Beverly Hills is home to fashion houses Louis Vuitton, Prada, Versace, Hermès and Chanel.
Beachside Fun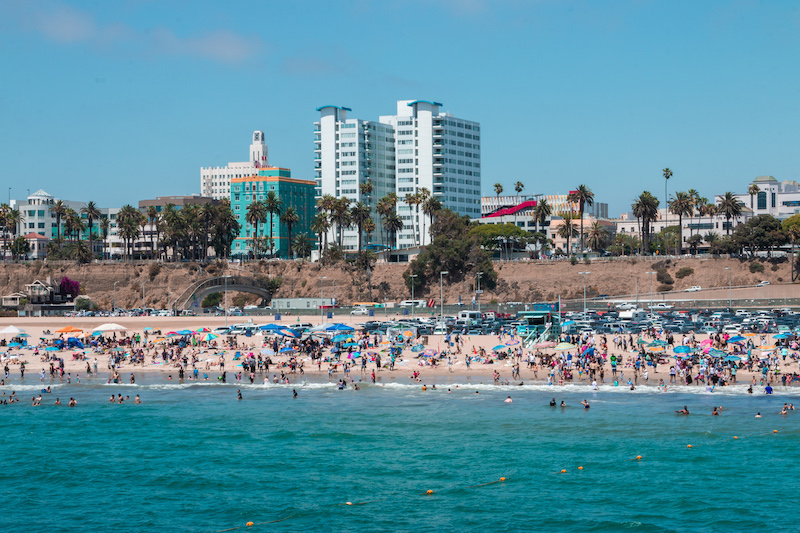 Santa Monica Pier: Savor the sights and sounds of the pier, ride a coaster at Pacific Park, or just head down to the beach to enjoy the sun. For more fun, rent a Bird scooter and zoom over to 3rd Street Promenade for sights and sounds, plus a bevy of shopping and dining options.
Venice Boardwalk: The sights and sounds of the Venice Boardwalk make it an experience unto itself. Strolling along the boardwalk you'll find street performers, vendors, mimes, musicians, and more. Plus, be sure to get a look at the world famous Muscle Beach.
The Beaches of Malibu: Take a drive up Pacific Coast Highway into Malibu to explore some of L.A. County's most beautiful beaches, including El Matador Beach (a favorite of We Like L.A.), which is one of the smaller pocket beaches that make up the Robert H. Meyer State Beaches.
The Beaches of South Bay: If you're closer to the southern reaches of L.A. County, then the South Bay is a great option for exploring close to the water or spending a day in the sun. The coastal cities of Redondo Beach, Manhattan Beach, and Hermosa Beach each offer beach-adjacent shopping and dining, and numerous options for surf and sand adventures.
World Class Music Venues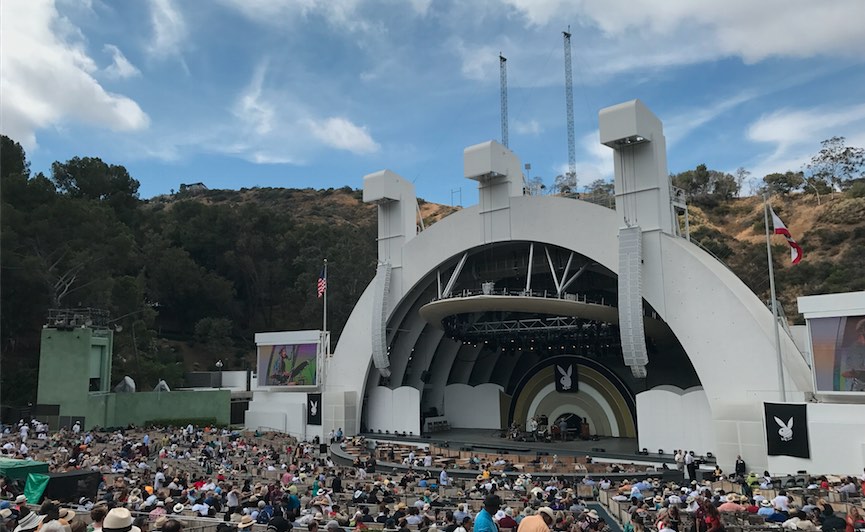 The Forum: This historic indoor arena located in Inglewood underwent a major renovation in 2014 and has transformed back into one of the top premier musical venues in the entire city. Over the years it has attracted some of the biggest acts in the world including David Bowie, Prince and The Rolling Stones. Today new school artists such as Travis Scott and Anderson .Paak thrill crowds inside the five star entertainment venue. PLUS: Hilton has a special offer right now where if you book a stay for the night of your concert you'll receive a $25 Lyft credit to the Forum, on-site parking at the hotel, two premium drinks at the hotel lobby bar (not available for Hampton Inn & Suites) and breakfast for two the next morning.
Hollywood Bowl: The largest natural outdoor amphitheater in the United States is probably the most popular venue for outdoor concerts in Los Angeles. However, you might not know that the Hollywood Bowl is also a public park open during the day. If you show up on the right day during the summer you may be able to sneak a listen to the LA Phil (for free!) as they rehearse for an upcoming concert.
The Greek Theatre: Listen to live music at this award winning outdoor amphitheater. Built in 1929 the theatre is hidden away inside Griffith Park which happens to provide great natural acoustics thanks to the parks surrounding canyons.
The Wiltern: The art deco style theater was built in 1931 for vaudeville acts. In the 80's the Wiltern was turned into a music venue. Today a variety of performances including concerts, stand up shows and themed film screenings keep the iconic theatre more vibrant than ever.
Unique Experiences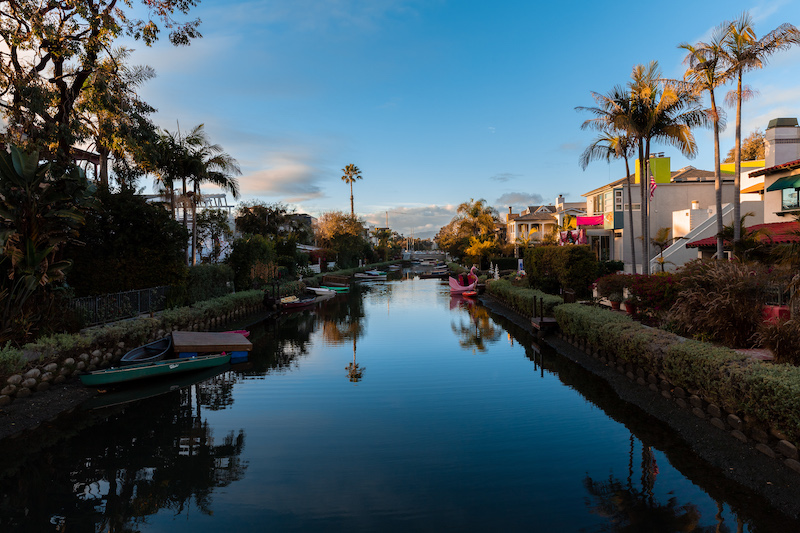 The Venice Canals: These man-made canals were built by developer Abbot Kinney in 1905 and modeled after the famous canals in Venice, Italy. Today they offer one of the most picturesque walks in all of Los Angeles, plus you're only steps away from the trendy Abbott Kinney Blvd., where you can shop boutiques and try more of L.A.'s best food.
The Magic Castle: The Magic Castle is home to a secret society where world class magicians perform for a lucky few. The castle is filled with hidden chambers, sliding bookcases, and mysterious stairwells, making it one of the most exciting buildings in the city. To gain entry you either have to be a member, get an invite from a member or magician, book a room at the Magic Castle Hotel or book a stay at one of over 40 Hilton locations in SoCal through their exclusive partnership. The special Magic Castle and Hilton package also includes access to the members-only clubhouse of the Academy of Magical Arts.
The Last Bookstore: This unique bookstore is not only the largest independent bookstore in all of California, but the upstairs space offers a one-of-a-kind labyrinth of books, including a book 'archway' that you'll be sure to want to snap a photo of.
Greystone Mansion: This Tudor style mansion and 18-acre surrounding site was originally developed by oil tycoon Edward L. Doheny in 1927, and formally dedicated as a historic landmark in 1976. The garden grounds are open to the public (including free parking) year-round, unless closed for filming or special events. A walk at Greystone Mansion offers not only a peaceful respite from city life, but a terrific viewpoint to see much of the city of Los Angeles.
---
Are you planning a trip to Southern California? Hilton is a leading global hospitality company with over 100 hotels to choose from in Los Angeles and Orange County across 17 brands. Be sure to visit Travel.Hilton.com/LA for more information on exclusive offers for your next trip to SoCal.
---
If you'd like to learn more about We Like L.A. sponsored posts and how we work with our partners, you can go here.