*** The following is a sponsored collaboration between Old Pasadena and We Like L.A. ***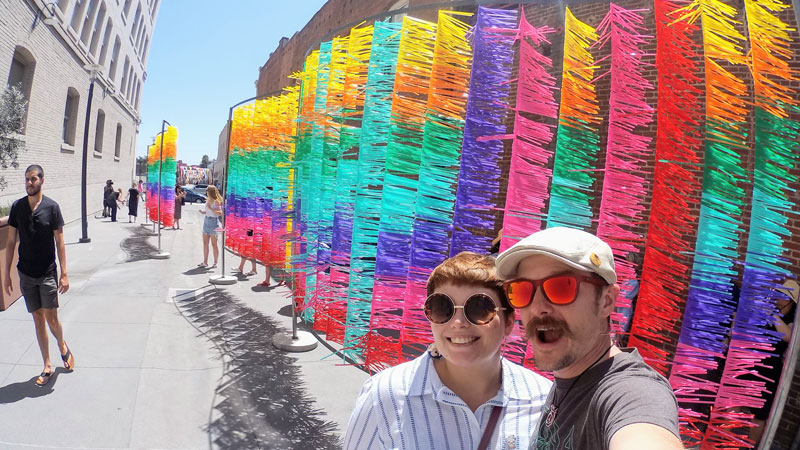 If you love art, you love exploring, and you love FREE… then we've got a 'thing to do' that absolutely needs to be on your radar.
Now in its third year, BoldPas: A Day of Art & Play in Old Pasadena returns this Saturday, June 8 for a massive, BOLD display of temporary street art and engaging public activities. The event, staged in Old Pasadena's historic 19th-century alleys, is free to the public and offers a one-day-only opportunity to encounter artistic, ephemeral interventions in unique urban spaces.
Guests of BoldPas can explore all of 17 site-specific art installations spread throughout the 22-block historic district of Old Pasadena. And this year it's all about being hands-on and interactive! Walk under a 60-foot canvas suspended high above one alley. Meander through a giant sea of balloons. Manipulate a serpentine tube made of beach balls. Watch live painters transform walls and canvases with graffiti and street art. Behold a massive parking garage wall shimmering with a cascading curtain of gold.
PLUS: Attendees can check out three Merchant Art Stops, take part in free instructor-led art activities and hands-on art making at multiple locations, or go to sp[a]ce gallery at Ayzenberg for early access to Robot Remix and printmaking demos by artist Sean StarWars.
This year's BoldPas event also runs concurrently with the annual Playhouse District Block Party (running from noon to 10 p.m.), giving your even more reason to make a day of it!
BoldPas takes place on Saturday, June 8 from noon to 8 p.m. Make sure to visit Old Pasadena's official website for more information on attending the event, including a downloadable map, information on accessible public transit, and full descriptions of all of the day's activities.
Enjoy!
---
If you'd like to learn more about We Like L.A. sponsored posts and how we work with our partners, you can go here.