The following is a sponsored collaboration between San Bernardino County and We Like L.A.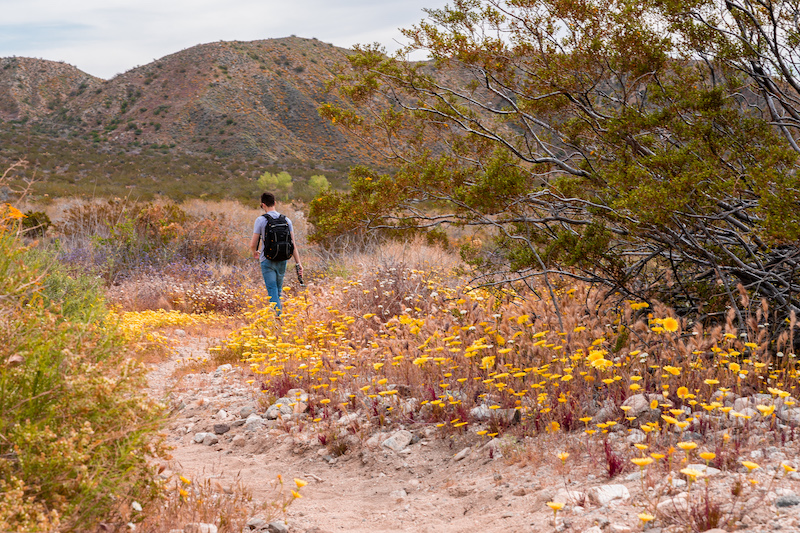 So far through our ongoing series of content produced in partnership with the County of San Bernardino we've had some terrific experiences. Back in February we played in the snow of the SBC mountains, and then to kick off the spring we spent a week in Joshua Tree and Twentynine Palms researching things to do in the area.
For our third installment we're back in the Morongo Basin exploring some of the not-quite-as-well known communities including Morongo Valley, Yucca Valley, Pioneertown, and Landers. Time and again what we've come to recognize is there are A LOT to do that you've probably never heard about, or probably driven right past and not even realized (this was true for us, at least).
With Joshua Tree National Park claiming much the attention from visitors to the local area, the communities listed above can make for great getaway destinations if you're looking for an alternative desert road trip where crowds won't have as big an impact on your experience. That's especially the case for peak tourist seasons during the springtime and holidays (and it helps combat over-tourism too!)
That said, we think we've got more than a few gems that you'll want to check out for yourself, so let's dive in!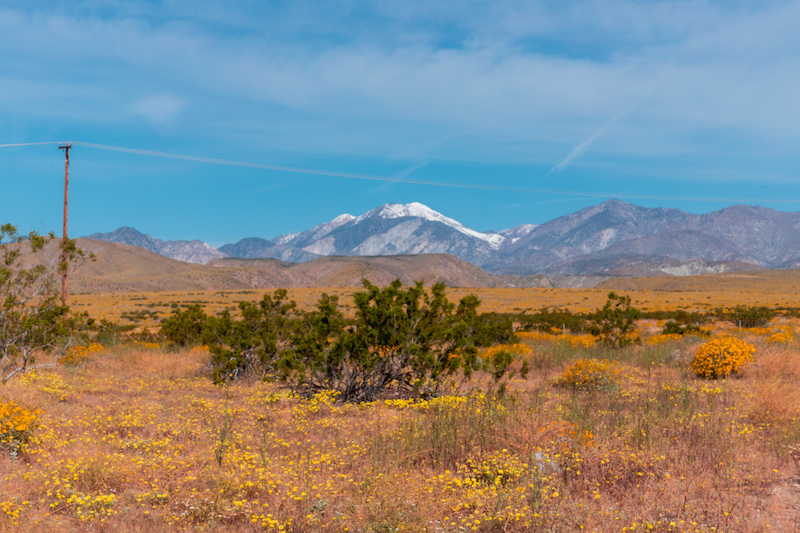 Morongo Valley
Drive the 10 freeway out toward Palm Springs, exit the 62 north and in about 10 miles you've crossed the Riverside County line and entered Morongo Valley. If you're just on your way out to J-Tree you'll probably drive right through and not even notice there are a couple of excellent hiking spots along the route that deserve your attention.
Mission Creek Preserve: Part of the Wildlands Conservacy, the largest nonprofit nature preserve system in California, the Mission Creek Preserve is well maintained and has limited foot traffic. At times you might be the only ones around for miles (make sure you sign in at the trailhead!) You can enter MCP at the intersection of Mission Creek Road and Highway 62. You'll drive on a dirt road until you reach a locked gate and parking area. You can walk through the gate and down the road about a mile to get to a second parking lot (Stone Creek Parking Area) where the trailhead is, or if you want to bypass the extra walking, get in touch with The Wildlands Conservancy ahead of time to get a code to open the lock so you can drive through. A short walk from the trailhead leads to Mission Creek, which depending on the time of year and annual rainfall may provide more or less of an obstacle (plan on getting your feet at least puddle-deep wet). Once you hop through the creek you can head up about 2 miles through a winding, unshaded trail to get a glimpse of the Pacific Crest Trail. There are plenty of flowers in bloom during the springtime, and lots of lizards and birds about. This is a great morning walk, but on a sweltering summer afternoon may not be as enjoyable for obvious reasons. Either way, make sure to bring your sunscreen, hat and water. → More information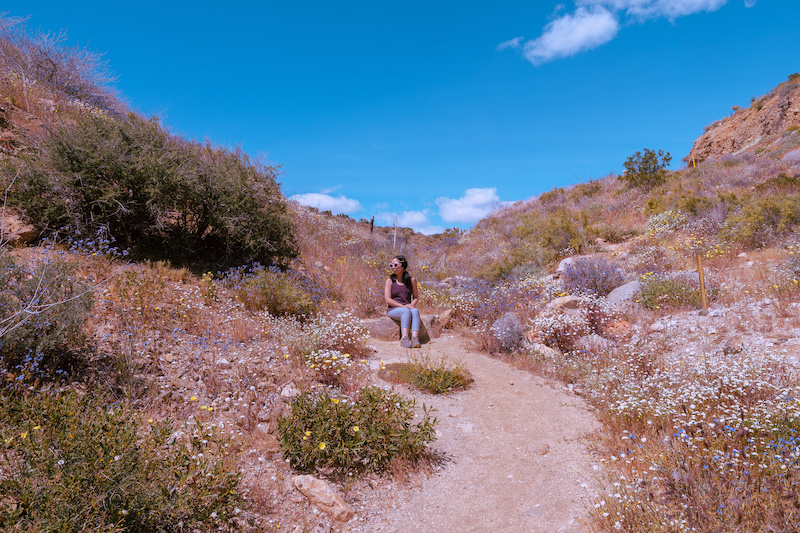 Big Morongo Canyon Preserve: Part of the Sand to Snow Monument, BMCP offers a variety of hiking trails of various lengths. You could do as little as a 20 minute stroll on a boardwalk or go on a 9 mile up and back hike on Canyon Trail. Springtime brings wildflowers and if you slow down and look closely you might get a glimpse of wildlife in the marsh habitat or up in the trees (we saw a Gilbert's Skink for the first time while on the boardwalk!) The BMCP is also internationally recognized as a bird-watching site where several rare species nest and stop by during migration seasons. So far BMCP has managed to record 254 species in the Morongo Valley alone. → More information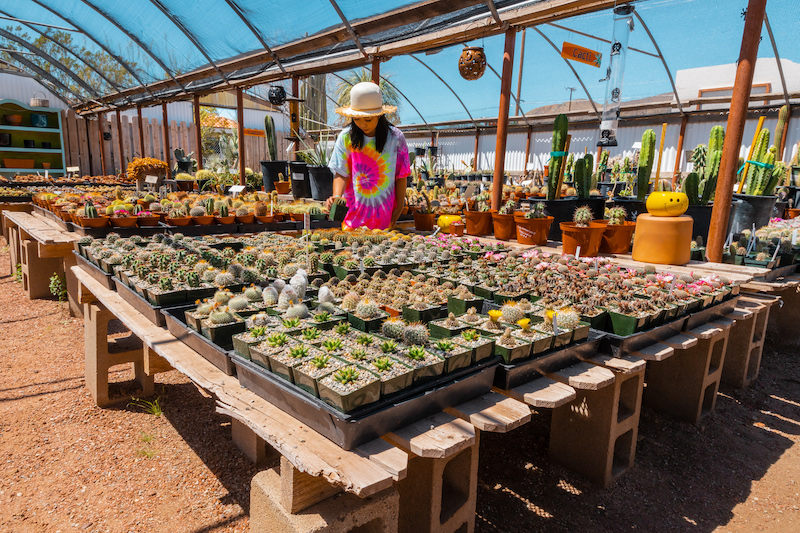 Cactus Mart: Desert plant lovers need to stop by Cactus Mart a plant emporium housing a variety of cacti, succulents and other native plants. The main attraction is their "Dig Your Own" cactus for the modest price of 59 cents. → More information
Yucca Valley
Yucca Valley is the second largest (by population) community in the Morongo Basin. Here you'll find a unique variety of shops, a couple of excellent cafes, and central access to the adjacent Morongo Basin communities. Town center is about 20 miles from the west entrance station of Joshua Tree National Park.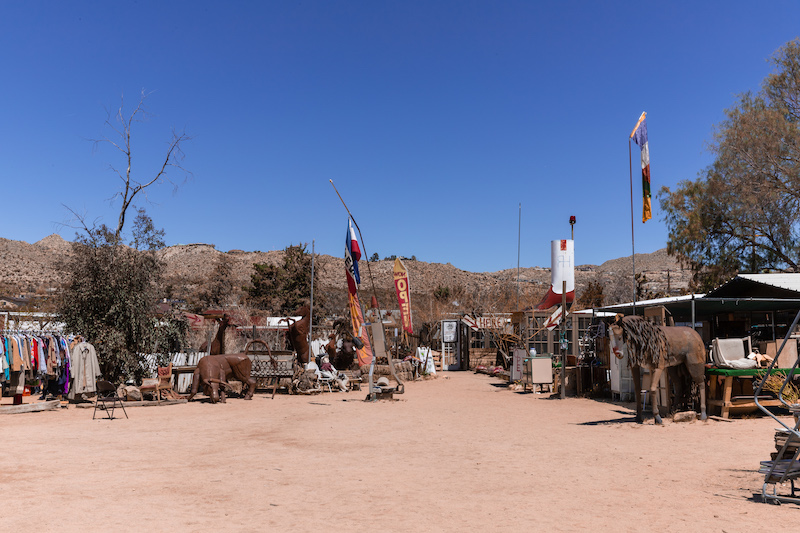 Sky Village Market Place: Open on weekends, the outdoor shopping space operates like a flea market with outdoor vendors selling used items that range from vintage hats to art and furniture on seven acres of land. Make sure to stop by brick and mortar shop Dakota Bob's near the entrance, it's the premier spot with a huge selection of "broken-in" western wear. → More information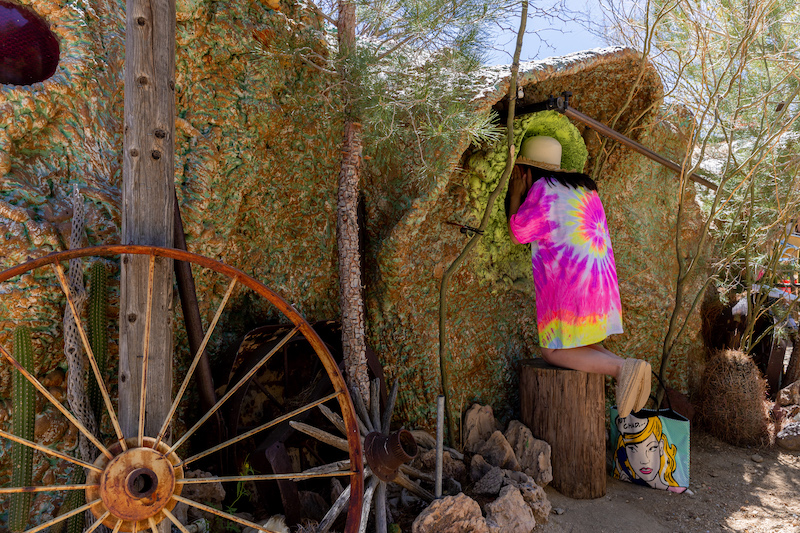 Bob's Crystal Cave: Located on the grounds of The Sky Village Market Place in Yucca Valley, the Crystal Cave a psychedelic meditative space created with spray foam and thousands of crystals, shells and porcelain each arranged by hand can be found near the Sky Village Cafe. You can't go inside the cave but port holes surround the cave from the outside allowing visitors to to peer into the trippy creation. Bob's Crystal Cave is open only on the weekends. → More information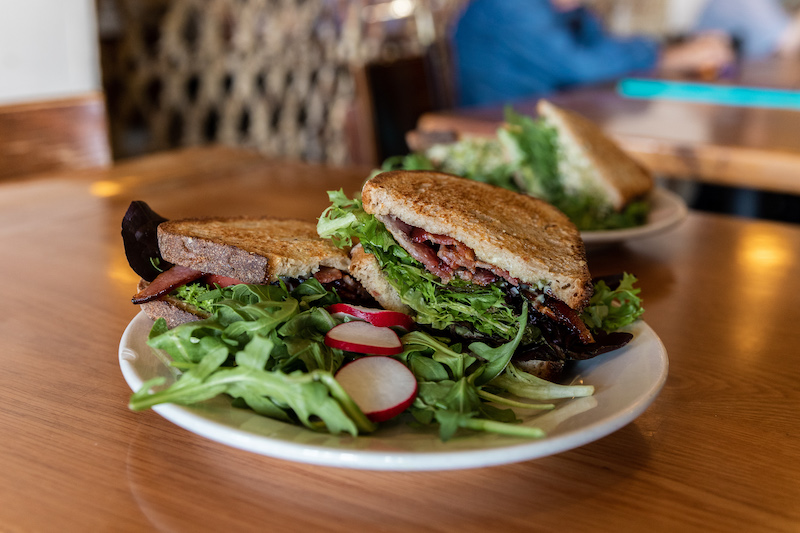 Frontier Café: Being back in Yucca Valley for the second time, and now having visited Frontier Café about a half dozen times, it's safe to say this is one of the most popular spots in town. Everything we've had on the menu has been solid (salads, BLT, breakfast sandwich, and more) so you can't go wrong there. If in need of somewhere to do a little work while you're in town that has WiFi, this will be your go-to. Just be sure to get there early to snag a table. → More information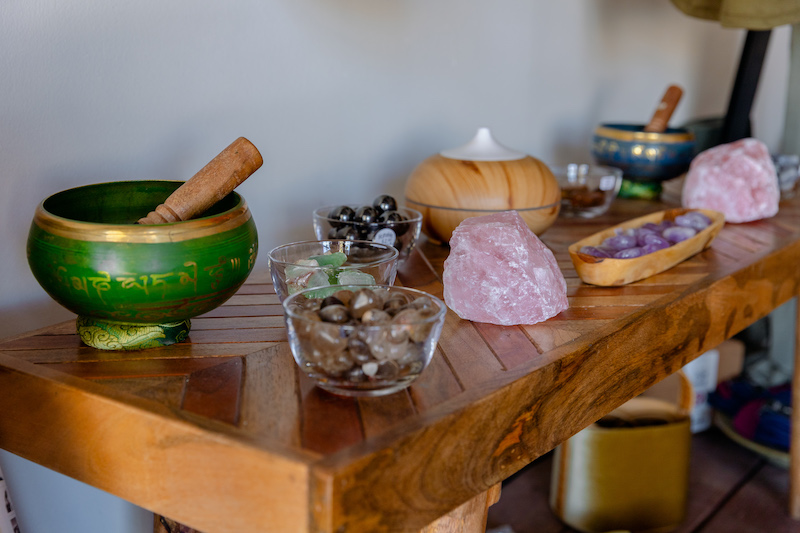 Cedar & Sage Wellness Studio: Right across from Frontier Cafe, Cedar & Sage offers a variety of yoga classes, sound bath meditations as well as community hikes, wellness workshops and more. On our visit we enjoyed the Saturday Morning Power Hour yoga class and felt invigorated for the rest of the day. Classes are suitable for advanced and beginners, call ahead to see which class best suits your needs. → More information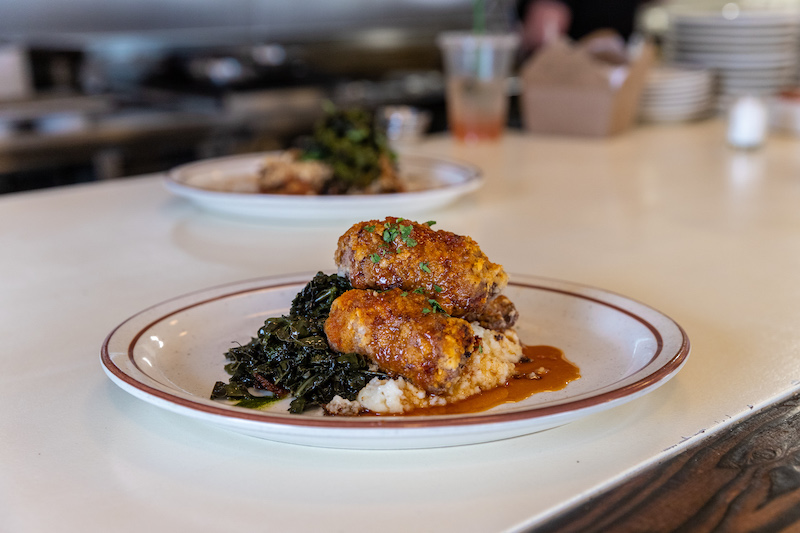 La Copine: Located in Flamingo Heights (north part of Yucca Valley) the New-American restaurant is one of the most popular and hip places to eat in the area. On the menu is a mishmash of Italian to Southern, French and even South Asian inspired dishes. Personally we couldn't get enough of the wild caught shrimp ceviche, Eggplant Al Forno and the Crispy Blackened Chicken with cheese grits. La Copine is open Wednesdays through Sundays from 2 to 7 p.m. we suggest coming early to secure a table or be prepared to wait. Luckily the friendly staff will happily serve you beer and wine while you hang out. Peek around the corner of the deck and you'll find Teocali, a shop inside an Airstream promoting handmade, fair trade, sustainable textiles and accessories. → More information
Larry's & Milt Western Cafe: This western cafe serves heaps of biscuits and gravy, hearty breakfast plates and omelets that will keep you full for the entire day. A great spot for breakfast lovers and folks who need to fuel up for a big hike. → More information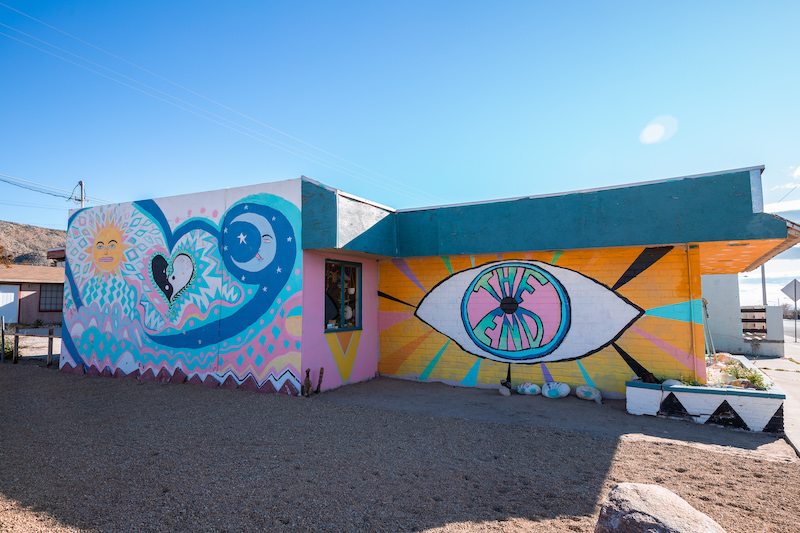 Additional Shopping in Yucca Valley: On the stretch of Twentynine Palms highway in Yucca Valley you'll find your pick of cute stores. From hand selected vintage at Funky & Darn Near New and The End to trendy hipster desert wear at Hoof & the Horn.

Pioneertown
Following Pioneertown Rd. northwest from Yucca Valley for about 15 minutes and you'll hit Pioneertown, an unincorporated community originally built in 1946 for film and television westerns. What was once a set for movies and TV is now a tourism draw where visitors can explore local shops operating in select buildings, and watch Old Western reenactments happen on Mane Street (yes, that's how it's spelled) during the weekend from April through October at 2:30 p.m.

Pappy + Harriet's Pioneertown Palace: Operating since 1982, they are best known for their live music events and Santa Maria style mesquite bbq. Many famous faces have played there including Sir Paul McCartney. Bands play Thursday through Sunday evenings. Mondays are open mic nights. Keep in mind they are closed Tuesdays and Wednesdays. → More information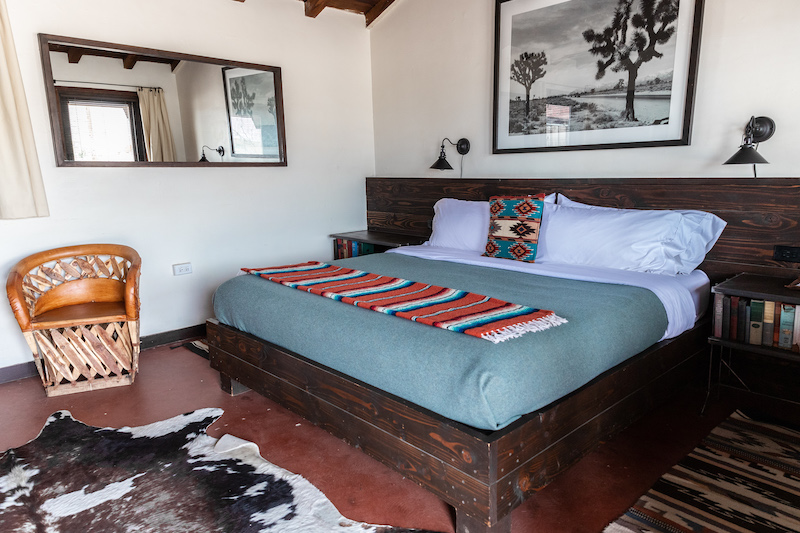 Pioneertown Motel: Located a short walk from Pappy's is the Pioneertown Motel, which was our home away from home on our most recent visit. We found it to be a convenient and peaceful spot to rest your head as you explore the Morongo Basin and its surrounding area. Rooms have a rustic western chic appeal with extremely comfy beds. Amenities are limited but they have serviceable (though not lightning fast) WiFi and a main lodge with coffee, tea and water available 24/7. The motel's backyard is the desert with towering Joshua Trees and other local plants. It's the perfect place to relax on hammocks and do some stargazing, or even try your hand at a little astro photography (see our attempt below). → More information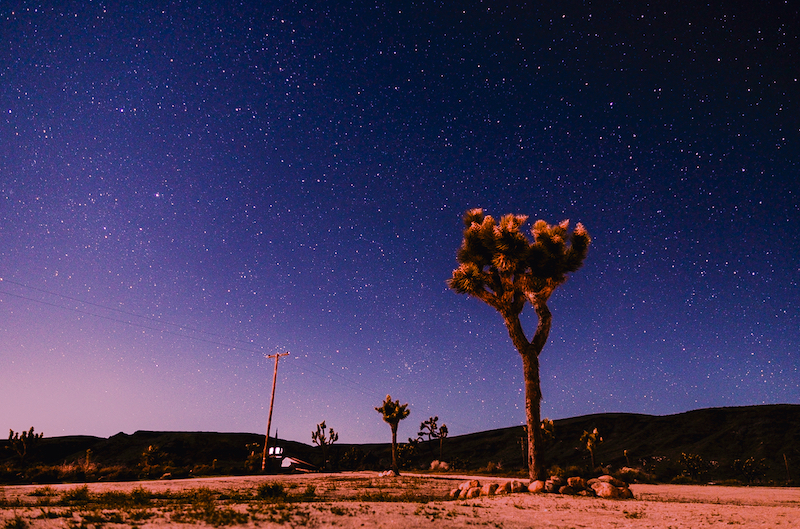 Pioneertown Mountain Preserve: This 25,500 acre wilderness preserve offers some terrific moderate level hikes and walks, including a route to the ruins of the Olsen homestead, and an out-and-back 7 mile hike to Chapposa Peak, which will put you over 5,000 feet above sea level. The terrain is rocky you won't find shade, so make sure to take your time, bring a hat, sunscreen, and plenty of water. -> More information
Landers
Head north on the 247 past Flamingo Heights and you'll enter Landers, an unincorporated area with strong ties to the UFO culture that developed mid 20th century.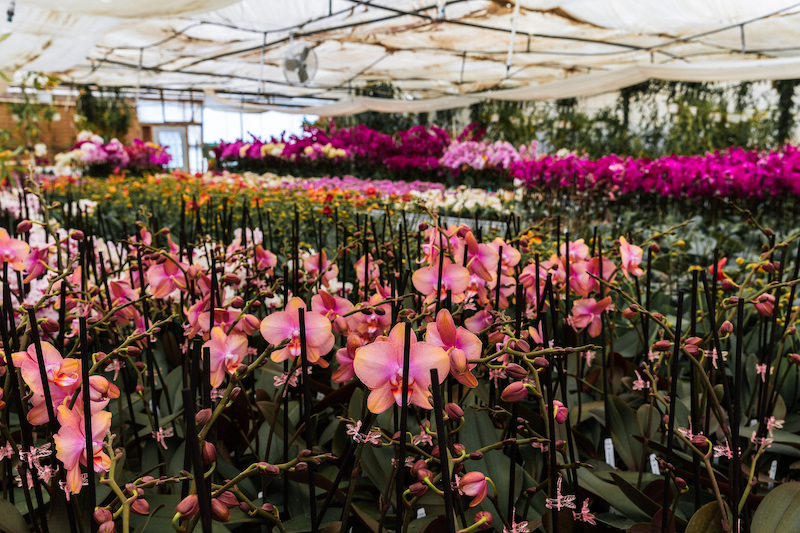 Gubler Orchid Farm: The nursery cultivates a stunning variety of orchids as well as carnivorous plants. Open Monday through Saturday from 10 a.m. to 3:30 p.m. the farm offers tours of their nursery every 30 minutes. Closed toed shoes are required for the tour. Gubler Orchid Farm is a great place to pick up a few house plants as gifts and for yourself. The Orchid farm is just a stone's throw from the Integratron, so if you're lucky enough to make a reservation for the sound bath, definitely stop by the orchid farm on your way in or out. → More information
Integratron: The 38-ft tall domed structure designed by George Van Tassel has reputed powers of rejuvenation, anti-gravity and time travel (we'll let you judge that for itself). The signature experience here would be a hour-long sound bath inside the dome. Public reservations fill up fast, so you'll likely need to book some weeks in advance if you want to partake. It's about a 40-minute drive from Twentynine Palms, or 20 minutes from Joshua Tree. → More information
Giant Rock: The seven-story high Giant Rock is purported (though unverified) to be the largest freestanding rock in the world. It was certainly enough to impress the aforementioned Van Tassel, who, after taking over the property in 1947 eventually dug out a structure underneath the rock and held UFO conventions in its shadow that helped fund the eventual construction of the Integratron. We weren't able to make it up to see Giant Rock because locals recommended a 4-wheel drive vehicle to tackle the soft dirt road that leads up there. Definitely something to keep in mind if you plan to visit. → More information
---
Helpful Reminders
Common sense: Bring lots of water with you, wear sunscreen and a hat if need be.
You can request gate access to Mission Creek by gong to this page on The Wildlands Conservancy website.
Hours for sound baths at the Integratron vary seasonally. We recommend making reservations months in advance if possible.
Some restaurants in the area have limited hours during the week (may be closed on Mondays or Tuesdays or close early Monday through Thursday) so always check hours and make reservations on weekends when possible.
---
If you'd like to learn more about We Like L.A. sponsored posts and how we work with our partners, you can go here.