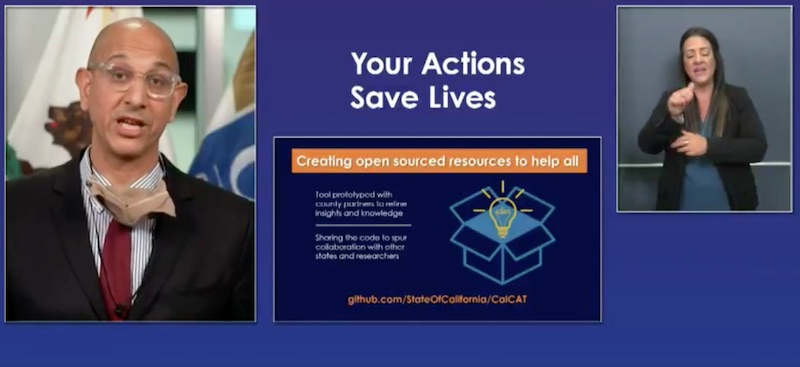 During yesterday's briefing, Governor Gavin Newsom and Dr. Mark Ghaly announced that the data they and county officials use to make decisions regarding COVID-19 will be available to everyone. The online California COVID Assessment Tool (CalCAT) is a "model of models" that researchers, "citizen scientists," and others can use to see nowcasts, forecasts, and model scenarios in what Newsom called "a deep dive and transparency for openness."

Per a release from the state:

The state is also making the source code of CalCAT available to the public. Additionally, the Governor has directed that the state's COVID-19 data be open and machine-readable by default, except to preserve privacy; that data be provided via dashboard, on California's open data portal; and that the data be available by direct connection to a database.
People can use this tool to help build the state's modeling capacity. But Newsom also said they're releasing this tool to "back up the health professionals whose decisions are questioned by pundits, some for good reasons, others for mischievous reasons."
Nowcasts show us the current spread of COVID-19, while forecasts show us what might happen in the coming weeks. According to Ghaly, both are built around the concept of R effective. This means that if R is 1, one infected person will go on to infect one other. If R is 2, that one person will infect two others. 
"What we really want to see is an R effective below 1," Ghaly said. "Each bit above one—1.1, 1.2—ends up growing our cases in quite dramatic levels and that's when you see those graphs or models that show the high, steep, almost like a hockey stick, arc up. That's what we want…to avoid." 
The nowcast as of press time shows an R effective, statewide, of 1.07.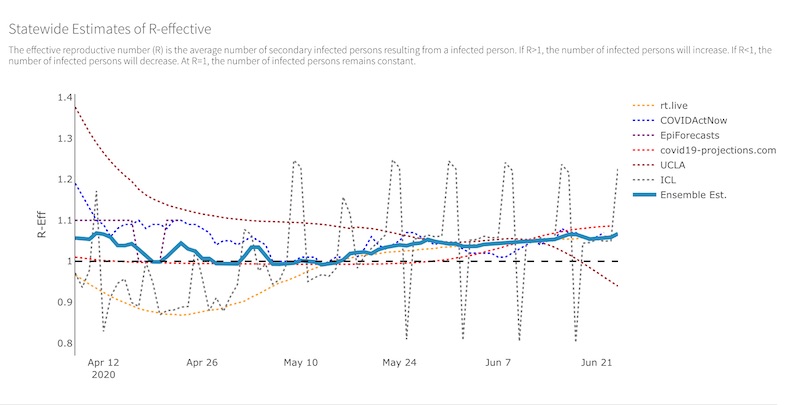 Scenarios show what might happen in the coming months based on what choices we make today. They could show potential hospitalization or case numbers, for example, and how actions like a fast reopening or continued Stay at Home orders would affect them.
"We believe that by inviting a number of new individuals to play with the tools, make them better, [and] challenge them that we will, as we increase our progress in our fight against COVID-19, have improved tools and make even better decisions in the future," Ghaly said. 
If models are your thing, you can experiment with CalCAT here. And you can find the source code here.