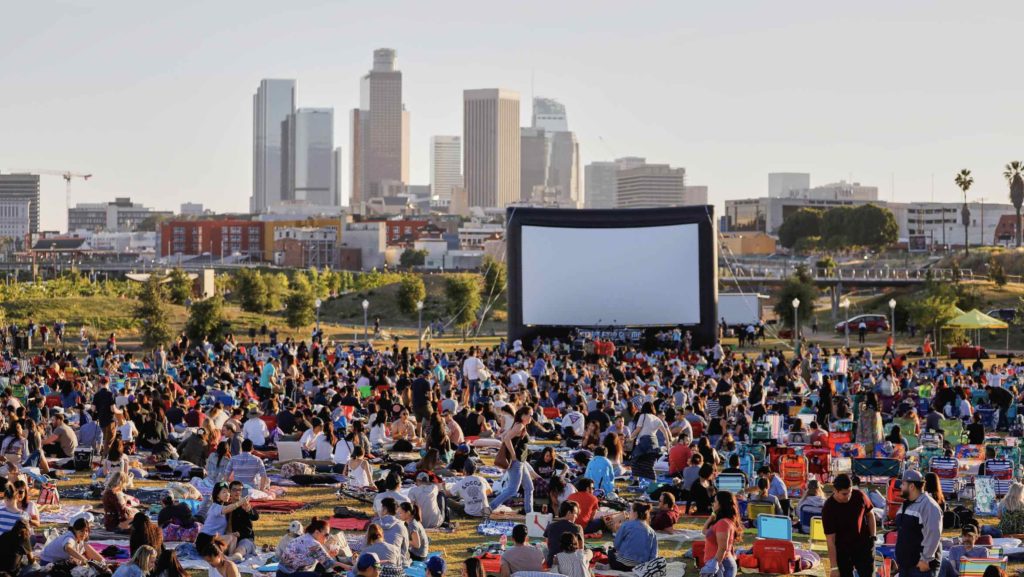 Street Food Cinema returns for its 9th outdoor season with over 50 screenings at 15 different parks throughout the Los Angeles area. The season runs April 25 through October.
If you've never been, Street Food Cinema combines a classic film or a new favorite with some of L.A.'s best street fare, plus performances from local bands and DJs. Vendors will offer hearty entrees, snacks, and desserts with options for both carnivores and vegans. Some trucks you can expect this year include Afters Ice Cream, Burger Monster, Oaxaca on Wheels, Wise Barbecue, Wings N Waffles, and more.
Adult tickets are $15 in advance ($18 at the door). Reserved section tickets are $20 in advance ($23 at the door). Children's tickets are $7 (6-12) or $12 for reserved seating. Children 5 and under are free. Some ticket prices vary by location.
You can check out the recently announced lineup below. To see musical guests and food options—and to check for possible changes to the schedule as the season progresses—visit streetfoodcinema.com. 
Street Food Cinema 2020 Schedule
April 25: Clueless (25th Anniversary) Opening Night at LA State Historic Park (Downtown)
May 2: Almost Famous (20th Anniversary) at LA State Historic Park (Downtown)
May 9: The Lion King (1994) at Victory Park (Pasadena)
May 16: Ferris Bueller's Day Off at Veterans Memorial Park (Culver City)
May 23: Scott Pilgrim vs. the World (10th Anniversary) at Poinsettia Rec Park (West Hollywood)
May 30: Bohemian Rhapsody at Victory Park (Pasadena)
June 6: The 40-Year-Old Virgin (15th Anniversary) at LA State Historic Park (Downtown)
June 6: The Sandlot at Will Rogers State Historic Park (Pacific Palisades)
June 13: Jurassic Park at Veterans Memorial Park (Culver City)
June 13: Moana at Park Center in Griffith Park
June 20: Catch Me If You Can at Victory Park (Pasadena)
June 20: Mrs. Doubtfire at Westdrift Golf Course (Manhattan Beach)
June 27: Pitch Perfect at Poinsettia Rec Park (West Hollywood)
June 27: Who Framed Roger Rabbit at Verdugo Park (Glendale)
July 3: Independence Day at Glendale Central Park (Glendale)
July 3: The Sandlot at Veterans Memorial Park (Culver City)
July 11: Back to the Future (35th Anniversary) at Will Rogers State Historic Park (Pacific Palisades)
July 11: Zoolander at Victory Park (Pasadena)
July 18: Toy Story (25th Anniversary) at Westdrift Golf Course (Manhattan Beach)
July 18: The Talented Mr. Ripley at Poinsettia Rec Park (West Hollywood)
July 25: Knives Out at Will Rogers State Historic Park (Pacific Palisades)
July 25: Pretty Woman (30th Anniversary) at LA State Historic Park (Downtown)
Aug 1: Space Jam at Victory Park (Pasadena)
Aug 8: 500 Days of Summer at Will Rogers State Historic Park (Pacific Palisades)
Aug 8: Enchanted at Verdugo Park (Glendale)
Aug 15: Dirty Dancing at Veterans Memorial Park (Culver City)
Aug 15: Jumanji (25th Anniversary) at Victory Park (Pasadena)
Aug 22: Old School at Pan Pacific Park (Beverly Hills)
Aug 22: The Goonies (35th Anniversary) at LA Arboretum (Arcadia)
Aug 29: Best in Show (20th Anniversary) at Brand Library Park (Glendale)
Aug 29: When Harry Met Sally… at Will Rogers State Historic Park (Pacific Palisades)
Sept 5: Sleeping Beauty at Glendale Central Park (Glendale)
Sept 5: Top Gun at Pan Pacific Park (Beverly Hills)
Sept 12: Seven (25th Anniversary) at LA State Historic Park (Downtown)
Sept 12: The Princess Bride at LA Arboretum (Arcadia)
Sept 19: Edward Scissorhands (30th Anniversary) at Will Rogers State Historic Park (Pacific Palisades)
Sept 19: Tangled (10th Anniversary) at Park Center Griffith Park
Sept 26: The Wedding Singer at Victory Park (Pasadena)
Sept 26: Avatar at Westdrift Golf Course (Manhattan Beach)
Oct 3: Hocus Pocus at Crystal Springs Picnic Area in Griffith Park
Oct 10: The Nightmare Before Christmas at Victory Park (Pasadena)
Oct 17: The Craft (1996) at LA State Historic Park (Downtown)
Oct 24: Beetlejuice at Veterans Memorial Park (Culver City)