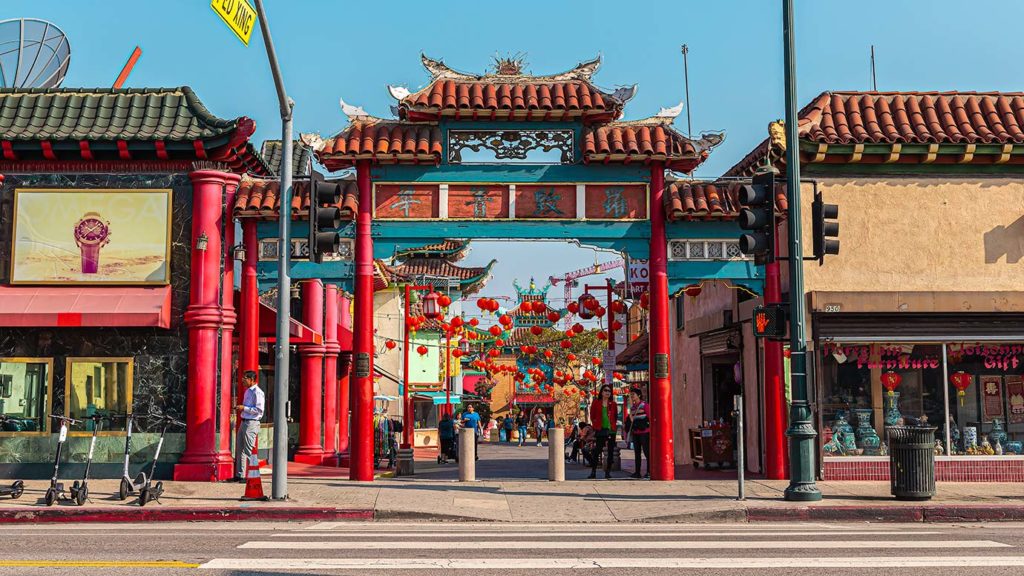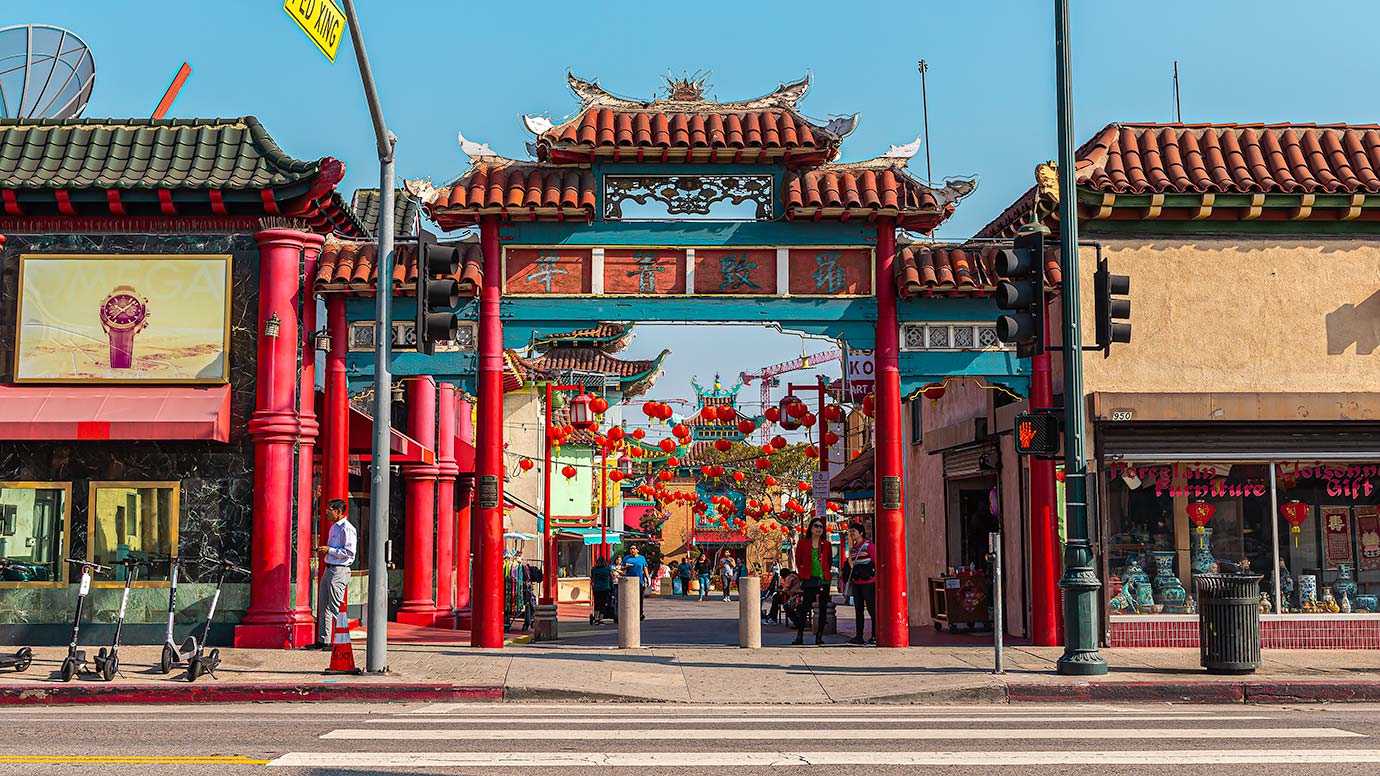 Every week in Los Angeles there are tons of great things to do (even before the weekend gets started) that we think you ought to have on your radar. With that in mind, we put together a list every Monday through Friday morning to keep you in the know about what's happening in the city you love (or maybe just like).
This week, from Monday, March 9 to Friday, March 13, features Cava Discovery Week, Clock Tower Comedy at Union Station, ArtNight Pasadena, PaleyFest, Noche de Estrellas at The Aquarium of the Pacific, an epic floral pop-up at Bar Fiorito and MUCH more. Check out the full list below.
*** SPECIAL NOTE: On March 4, 2020 Los Angeles County declared a local health emergency in response to new Novel Coronavirus Activity (COVID-19). Per LA County's press release, although individual risk of county residents contracting COVID-19 remains low, now is a good time to educate yourself on how the virus spreads and go over preparations you should make should the situation escalate, and more extreme measures (such as mandated social distancing) become a requirement. The County's website has many excellent resources, including an F.A.Q. on COVID-19, and general steps you can take to stop the spread of illness, including a guide on proper hand washing. ***
---
Keep in mind that while we retain complete editorial control of our content, for some of the ticketing options provided we utilize affiliate links and receive a commission if you purchase through our links.
---
Monday March 9th, 2020
1. The 22nd Annual NOIR CITY: HOLLYWOOD film festival returns for 10 nights March 6-15 of screenings. Egyptian Theatre in Hollywood, Aero Theatre and American Legion Post 43 will all take park in the festival.
2. Cava Discovery Week gives Angelenos a chance to taste and learn about the popular sparkling wine from Spain. Presented by D.O. Cava from March 9-15 a select number of bars and restaurants will be offer curated food pairings, wine flights, and happy hour specials all designed to introduce Cava to Angelenos. Cheers!
3. The Secret Show is a free comedy performance every second Monday of the month at The Blind Barber in Highland Park. FREE
4. Astronomy on Tap, hosted by Caltech Astronomy, happens once a month at Der Wolf in Pasadena. Professionals give informal talks about a variety of topics while enjoying German beers with the public.
5. Insight LA hosts their weekly evening Eastside/Hollywood Forever Cemetery Sitting Group.
6. Stop by La Luz De Jesus Gallery located inside the Soap Plant/Wacko complex for Everything but the Kitschen Sync an annual juried exhibit of over 160 pieces from 70 artists. The exhibit runs through March 29, 2020. FREE
7. Hot Tub With Kurt And Kristen at The Virgil is one of the most popular weekly variety shows happening on a Monday in Los Angeles.
Tuesday March 10th, 2020
8. Beyond Fest presents a free advance screening of new horror thriller The Hunt at The Egyptian Theatre. A discussion will follow with screenwriters Nick Cuse and Damon Lindelof. This is a first come first served event. Arrive early to try and secure seating. FREE
9. Noodle pop-up super star Bang Bang Noodles will be serving their handmade Biang Biang Mian at Chinatown's General Lee's this Tuesday. They'll be slinging noodles starting at 6 p.m. until they sell out (note: these guys are real famous and will sell out.) Stick around till 7 p.m. when Marie King of Tonga Hut Tiki Lounge will be shaking up refreshing tiki cocktails all night long.
10. The #SayCheeseShowcase at Grand Central Market pairs comedy with artisanal cheeses all for free! The event is hosted by a real life cheesemonger/comedian and features top funny guests ready to entertain. Show starts at 7 p.m. FREE
11. Arts District bar Here and Now presents Queer Tuesdays, a weekly series of live DJ's, games like Drag Queen Bingo, and more. Fun starts at 8 p.m. There is no cover.
12. FIDM Museum presents their annual "Art of Motion Picture Costume Design" exhibition from February 4 to March 21. Now in its 28th year the public can see costumes created by all five Academy Award nominees. Over 100 outstanding costume designs from 29 films in the past year will also be on display. FREE
13. Down some tacos, drink some locally brewed beers and test your trivia skills this Tuesday during Tacos & Trivia night at Angel City Brewery in DTLA.
14. Free Museum Day: Los Angeles County Museum of Art and Autry National Center of the American West
Wednesday March 11th, 2020
15. Legendary rapper Rakim stops by the California African American Museum to discuss his new book, Sweat the Technique: Revelations on Creativity from the Lyrical Genius, and Hip-Hop's role in current time activism. FREE
16. The Wizard's Den is an immersive pop-up where aspiring spell casters can concoct their own magical potions (aka cocktails) donning wizard's robes and using a variety of witchy props and ingredients. The pop-up opened Feb. 26 and runs on various dates through April 5.
17. Tame Impala takes over The Fabulous Forum to celebrate their latest album The Slow Rush. The event features opening support from Clairo.
18. Head to Hamburger Mary's for Legendary Bingo, the best gay bingo night in town. There will be celebrity guests and fabulous prize packages all benefiting local and national charities.
19. Alcove and Big Bar's BAM "Burgers and Martini" night is a weekly food special happening every Wednesday from 5 p.m. to close. $20 gets you a burger and martini pairing that features the Big Bar Burger and a Sipsmith Gin Martini. Non-meat eaters can get a vegetarian burger alternative for the weekly deal too.
20. Mixografia presents Wrong is Right: Remembering John Baldessari, an exhibition celebrating the late artist through his collaboration with local print publishers and Baldessari's 1970s video works. The exhibit is on view through April 4, 2020. FREE
Thursday March 12th, 2020
21. Union Station presents Clock Tower Comedy, an evening of improv and stand-up hosted by comic Cameron Esposito. The North Patio will be transformed into a comedy club with acclaimed international comedy ensemble Baby Wants Candy performing "Shamilton" an ad-libbed, hip-hop musical created around audience suggestion. FREE
22. OUE Skyspace host Yoga in the Sky an evening yoga class 1,000 feet above the city. Class begins at 6:30 p.m. and is taught by SoHo Yoga. Unlimited Skyslide rides and light refreshments will follow the class. Guests must bring their own mats.
23. The Hammer will host a conversation on the future of philanthropy titled "From Generosity to Justice" with Ford Foundation president Darren Walker and Ai-jen Poo, labor activist and director of the National Domestic Workers Alliance. FREE
24. The Downtown Art Walk brings art enthusiasts, art galleries and locals together every second Thursday of each month for a night of exploration.
25. Every year, Time Out LA presents their top 10 favorite local comedians for a night of LOL's. This year the comedy showcase will be held at Dynasty Typewriter.
26 Head to Eataly in Century City for an experiential "eatalian" walking tour where you'll taste through the Italian market place, get a behind the scenes tour of various departments and more.
27. Pasadena International Film Festival (March 12-19) at the Laemmle Playhouse 7 features panels and presentations with over 100 screenings from 15 countries.
28. Head down to Scum and Villainy Cantina in Hollywood for Cosmic Karaoke night. There is no cover for this event.
29. Therapeutic Thursdays at LA Historic Park is a wellness group that provides a safe space and a support system. Lead by Liza, a Promotorx member, and representatives of the L.A. County Department of Mental Health facilitate will discuss reducing stress strategies this week. FREE
30. Free Museum Day: Japanese American National Museum (from 5 to 8 p.m.), Skirball Cultural Center (noon to 5 p.m.), Long Beach Museum of Art (3 to 8 p.m.) and USC Pacific Asian Museum (5 to 8 p.m.)
Friday March 13th, 2020
31. ArtNight Pasadena returns on Friday for a free evening of art, music and entertainment. Participating institutions for 2020 include Armory Center for the Arts, The Gamble House, Kidspace, Norton Simon Museum, the Pasadena Museum of History, and more. FREE
32. PaleyFest returns to the Dolby Theatre March 13-22 for its 10-day television festival featuring some of the stars and creators from your favorite TV shows.
33. The Aquarium of the Pacific host Noche de Estrellas, an evening of Latin music, dancing, dinner and more while surrounded by stunning ocean life.
34. Asian AF presents: South Asian AF at UCB Sunset this Friday showcasing comedic Asian American talents in acting, stand-up, improv, sketch, music, dance and storytelling. The show has been featured on NBC, ABC, LA Times, NY Times, Gizmodo, Indiewire, and many more.
35. It's Millennial Lotería at Grand Central Market this Friday. Play this ironic and hilarious updated version of the classic "Mexican Bingo" with reimagined cards like the La Dama as "La Feminist", El Catrín as "El Hipster", Las Jaras as "La Hashtag" and more.
36. Don't Tell Comedy pops up in Culver City at a secret location with some of the biggest names in comedy. Performers are kept under wraps and the location will be emailed to all ticket holders. BYOB!
37. LA Plaza de Cultura y Artes latest exhibit "afroLAtinidad: mi casa, my city" helps visitors step into a recreated Afro-Latinx home and explore the personal objects of an Afrolatinidad family living in Los Angeles. The exhibit closes on July 20, 2020 FREE
38. The Groundlings recently debuted an extra rowdy all-new sketch comedy from the Main Company called Bar Fight. The show runs every Friday and Saturday.
39. The Annenberg Space For Photography is sharing four decades of Vanity Fair's celebrity portraits from their annual Hollywood issues as well as captures from past Oscar night parties in their latest exhibit Vanity Fair: Hollywood Calling. FREE
Food Pick for the Week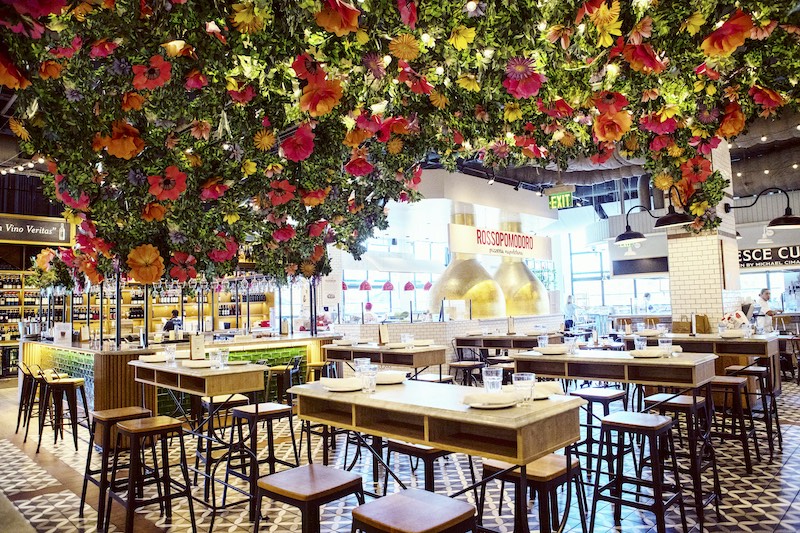 This week's pick by Christina Champlin, Co-Founder of We Like L.A.
Bar Fiorito has undergone a flower-filled makeover thanks to a new seasonal pop-up at Eataly L.A. Inspired by the flower fields of Italy, Angelenos can now sip on a spritz or mocktail while soaking in dangling bouquets and colorful flower treatments. There are nine different spritz creations to choose from and a brand new aperitivo menu has been designed just for the occasion. Items include Italian bites like Pinzimonio (Italian version of crudité) with ricotta dip and Fiori di Zucca (fried zucchini blossoms) served with sea salt and lemon. For now Eataly has not set a closing date for the pop-up but we think it will be here through summer. Salute!
Bar Fiorito is located inside Eataly's La Pizza & La Pasta restaurant at 10250 Santa Monica Blvd, Los Angeles, CA 90067.
---
Want to get our to-do lists straight to your inbox every week? Sign up for our email program. Have an upcoming event you'd like suggest for listing? Drop us a line at [email protected]