Angelenos love food… and so do we!
To help keep you on the pulse of the culinary scene we provide weekly rundown of the best food related news bites (get it?) through one easy-to-digest page of blurbs and links.
This week includes Election Day Specials, Prohibition Cocktails, a Cali Veggie Food Festival and LOTS more.
Your food news CliffsNotes start after the jump.
Bon Appétit!
Looking to be rewarded after heading to the polls on Election Day Nov. 8? Checkout our Best Election Night Food & Drink Specials in Los Angeles post.
Greenbar Distillery is hosting a cocktail class in Downtown LA. focused on Prohibition Era cocktails on Nov. 11. Classes are two hours long and cost $40.
Six L.A. culinary masterminds will gather at the Skirball Cultural Center on Nov. 13 for L.A. Food Studios for a day of cooking demos, q&a and food tastings. Chefs include Kwang Uh of Baroo, Steve Samson of Sotto, Top Chef winner Mei Lin, Wes Avila of Guerrilla Tacos, Pawan Mahendro of Badmaash, and Rose Lawrence of Red Bread. Tickets cost $25.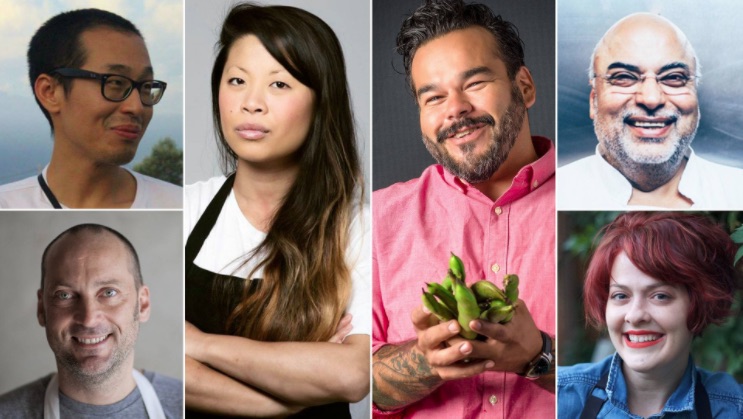 There's a Bob Ross Tribute Festival coming to Angel City Brewery on Nov. 13 The free event will include a Bob Ross lookalike Contest, live painting of "happy little trees", a Bob Ross inspired dance troupe and more. Bob Ross costumes are obviously strongly encouraged.
The inaugural California Vegetarian Food Festival heads to Raleigh Studios. Nov. 13 for a day of food tastings, speaking, demos and an Innovation Pavilion showcasing animal-free versions of animal products such as meat, dairy, eggs and leather.
Boneyard Bistro's 6th Annual Vintage & Epic Stout Festival is happening on Nov. 15. Stout menu includes a selection of 25 rare and vintage stouts. Pair them with menu specials such as house cured lardo and raspberry-chipotle glazed duck wings. See the massive list of brews and the food menu here.
Bar10 in West Hollywood will introduce several new dishes and cocktails to their menu starting today! To celebrate election night they'll be offering half off all of the new dishes and cocktails while they play the election results on their big screen televisions and projector. New items include: Grandma's Meatballs; Salmon Crudo; Build-Your-Own Flatbreads; and ground beef, chicken, veggie, or fish tacos.
Nibble+Squeak a Parent Dining Club arrives in Los Angeles on Nov. 11 at Jessica Biel's Au Fudge restaurant. Infants/toddlers and their carers are all welcome! Parents will enjoy a fine dining meal while meeting other families in a kid friendley environment. Covered in the NY Times, Zagat and Bon Appetit, the dining club hopes to make some waves in L.A. Tickets cost $68 for a three-course meal and glass of wine or soft drinks and all children eat free.
Brouwerij West is throwing their first annual Norwegian dinner honoring the winter holidays featuring lutefisk and lefse, two traditional dishes from Scandinavia. The dinner will include lutefisk (a cured whitefish), lefse (a Norwegian unleavened bread), rømmegraut (a sour cream porridge) and other native Scandinavian fare, like meatballs, lingonberry sauce, and boiled potatoes. Tickets are $39 per person, and includes two pints of Brouwerij West's popular unfiltered pilsner, Popfuji.
In honor of Election Day TART restaurant in the Farmer's Daughter Hotel will be running a two for one drink deal for anyone who presents their "voted" sticker starting at 5 p.m.
Northern Italian restaurant Officine BRERA is hosting a Cascina Val del Prete wine dinner Thursday, Nov. 10. Guests will enjoy a four course meal with wine pairings by second-generation winemaker Mario Roagna of Piedmonte. Menu highlights include Beef Cheek Raviolacci and a carving table featuring a spit roasted leg of lamb. Reservations are $150 per person.
FYI …
Hopdoddy Burger Bar's November specials are all about Thanksgiving. For the rest of this month you can sink your teeth into the "Thanksgiving on a Bun Burger" a turkey patty topped with sage pesto, jalapeno cornbread stuffing, ginger cranberry chutney, gouda cheese & a bacon Brussels sprouts salad on a house-baked bun. Wash it down with a Cranberry Sangria AND if you still have room, order the Butter Pecan Shake made with sweet butter pecan syrup & house-made candied pecan pieces swirled into spiced vanilla ice cream.
BONUS: On Nov. 11, Hopdoddy will offer 50% off the entire bill for all parties joined by a veteran, active or inactive member of the armed forces.
Must hit up place of the week goes to…
Sushi Roku at One Colorado in Pasadena celebrates their 16th anniversary with half off ALL food items during dinner. From Nov. 13 through 16 guest can dine on signature dishes like "Hanabi" spicy tuna over crispy rice and new dishes like Tuna Tartare in Phyllo Cups and Seabass Sliders. The promotion is only valid during dinner and guest must mention the anniversary to receive the discount. Discount is not valid towards alcohol and other promotions including happy hour.
Finally, just a quick snapshot of the best thing we've eaten in the past week…
The Cubano at Tabula Rasa Bar in Thai Town is legit. House made pickles, mustard and sliced pork sandwiched between bolillo bread.