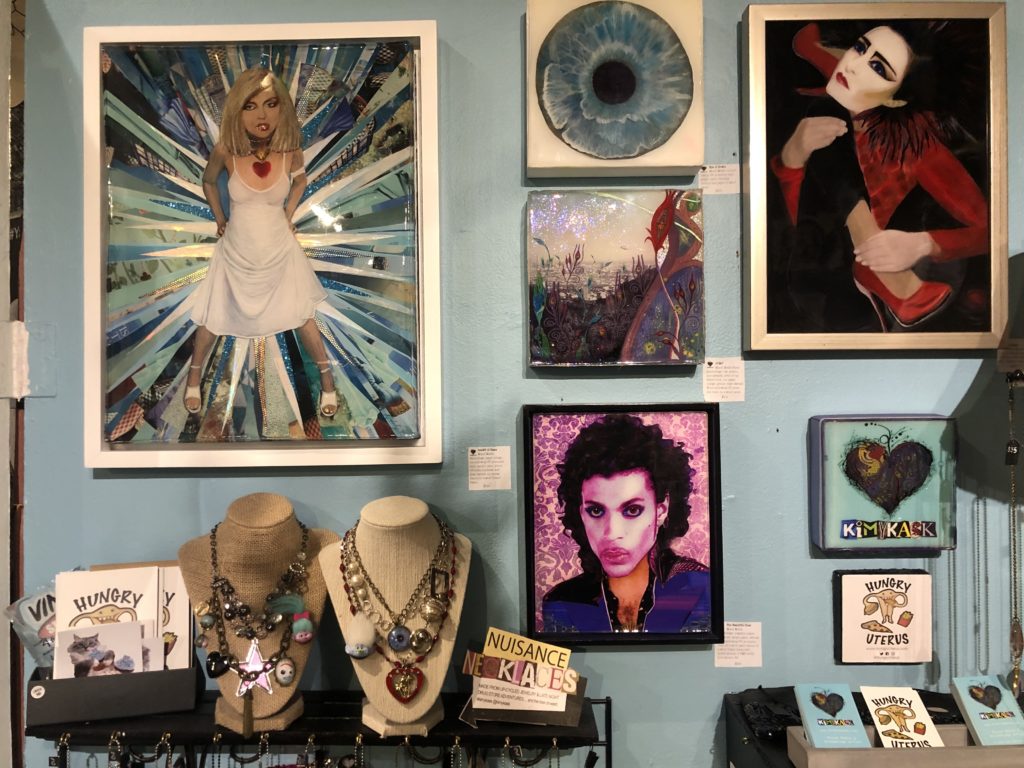 Downtown Los Angeles teems with spooky haunts; long shuttered theaters reopened, abandoned warehouses turned into rave dungeons, and myriad one way streets. Miss a turn, lose your day! It's only fitting that a haunted gallery pops up during this, the spookiest of months. Picture it:
It's Saturday night and DTLA pulses. A small line forms on a bustling Spring St. sidewalk. Shuffle in and you're surrounded by kitschy and super-freaky art from floor to ceiling. You're not sure what to make of it, but your senses are instantly engaged. This is the The Haunted 2: Welcome Foolish Mortals, a fully engrossing and ghastly walk-through experience at The Hive Gallery.
Offerings at The Haunted 2 run the gamut. Artist Cody Doran's work is intense as hell; his painting of a mouse with its face-skin pulled back to reveal a gaping and grisly maw will live in my nightmares for some time.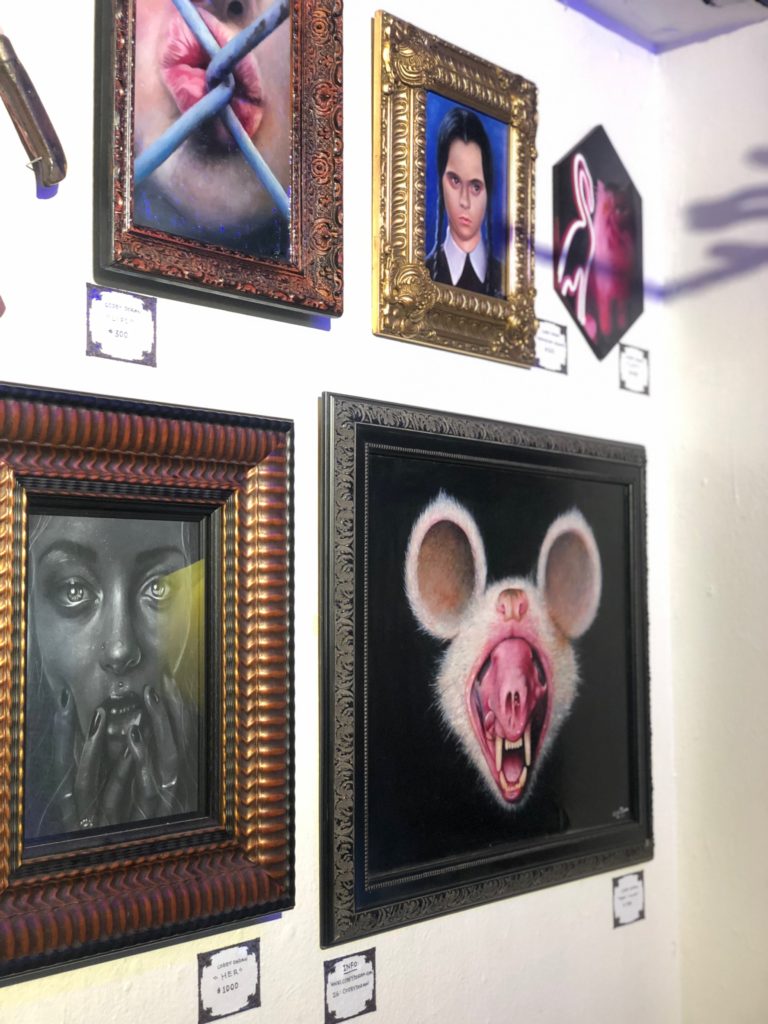 Gray Oddities showcases some particularly well done and esoteric work, these handcrafted horror figurines that are at once lifelike and otherworldly. Arachnikita, which looks like the woman from The Ring with like, 12 legs, was a standout, and a relative steal at $100. That's a conversation piece if there ever was one.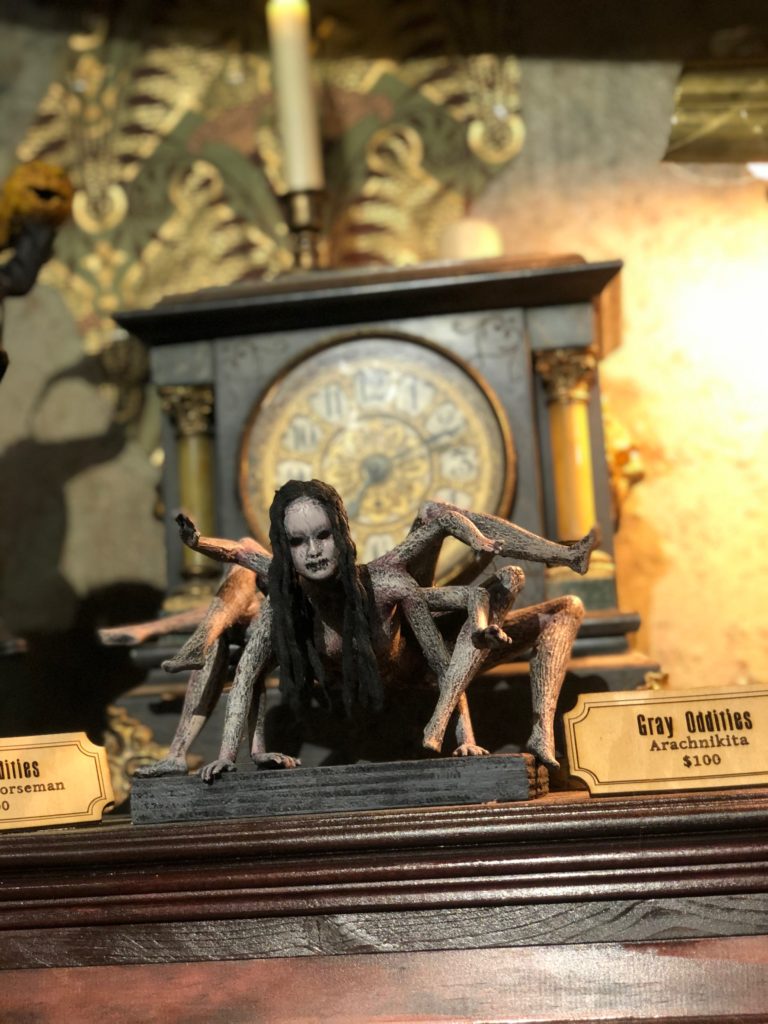 It's not all spooky stuff, though. Artist Kate Laird's work is poppy and bright. Her painting of Ilana from Broad City captures the spirit of that offbeat TV show, a wacky inflatable arm man dancing next to the show's famous morphine induced hallucination of a purple dinosaur, next to a cheeseburger. 
Kimy Kask's work leans heavy on 80's pop music iconography, with Debbie Harry and Prince prominently featured in her diverse, mixed-media presentation. There's real joy and slight unease in her art, and if you ask, she'll talk to you with real passion about the process and emotion behind the pieces. She's rad.
For gallery owner and curator Nathan Cartwright, this is both old hat and a very-exciting new pop-up. He's impossibly cordial and sarcastic as hell, a reluctant promoter who'd rather talk about the nuts and bolts of the show.
"There's all the cheesy shit like, see what all the buzz is about at The Hive. We've been doing this for 15 years, or I've been involved for 15 years. This was made just for this show," Cartwright told We Like L.A., pointing to a sturdy and imposing installation. 
He wants folks to get the full experience, which on opening night includes Ghost Host tours and tarot readings by Seraphime Angelis. The space is inspired by haunted houses, with big, cryptic pieces providing the jump scares. The website specifically cites the Haunted Mansion at Disneyland as an inspiration, which you can totally see in the whimsy-meets-terror vibe permeating the space. 
Pengu Labs, an animatronic media house, designed the environment, and totally went all in. Their ghost fly was a big hit, a piece that at first looks static until you notice the, well, ghost fly, floating through the glitchy frame. They also brought an imposing coffin rocking chair, a gnarly and gorgeous piece in a gallery mostly filled with paintings.
As an aside, I must mention the fantastic shaved ice on hand for the opening, a lovely treat in this extended L..A Summer. Also, shoutout to DJs Big Epoch and The One and Only Super Bee! for keeping the room ghoulish and poppin.
The Hive Gallery is located 29 S Spring St, Los Angeles, CA. The exhibit runs now now through Nov. 3, open Wednesday to Saturday from 1 to 6 p.m. It is pretty easy to get to via train or bus.