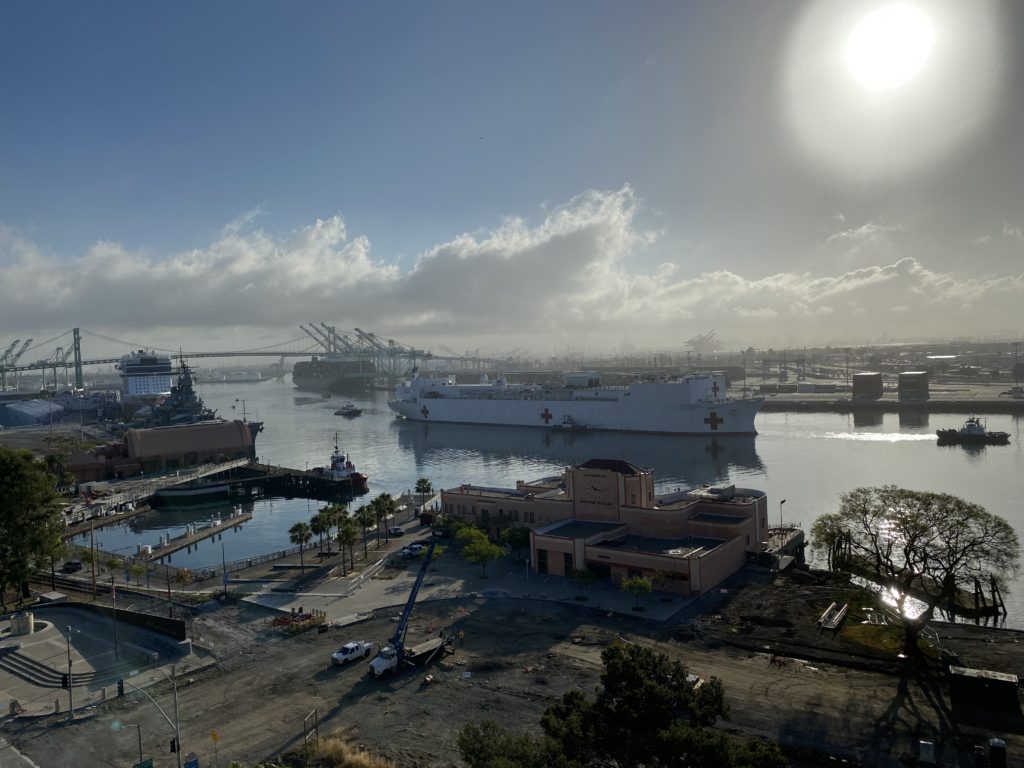 The USNS Mercy left the Port of Los Angeles this morning. The Navy ship arrived on March 27 from San Diego to provide support to our local hospitals.
According to a release from the California Office of Emergency Services, some of the ship's medical personnel will stay behind, including four 5-member medical support teams who will serve skilled nursing facilities and 40 others who will stay at a state-operated alternative care site in Costa Mesa.
"The medical professionals aboard Mercy are proud and humbled to have assisted FEMA, the State of California, Los Angeles County, and the City of Los Angeles while serving as a 'relief valve' to the community during the ongoing COVID-19 pandemic. Every patient brought aboard created one more available bed in a local hospital," Capt. John Rotruck, commanding officer, Medical Treatment Facility USNS Mercy (T-AH 19), said in a statement.
The ship's stay in Los Angeles was not without trouble. Though it was meant to be "a COVID-free bubble" that treated non-COVID patients, several sailors did become infected with the virus. A train engineer was also arrested after allegedly attempting to ram the vessel with a train because he said he didn't believe the USNS Mercy had docked for its stated purpose. The ship suffered no damage.
Ultimately, the ship's departure is good news because it means our hospitals haven't been overwhelmed to the point where we still need it. We have successfully flattened the curve, as officials like to say, and avoided a much more severe spread of infection. (For a more in-depth look at how that all works, check out our recap of yesterday's Los Angeles County briefing.)
"We owe a debt of gratitude to the sailors and medical staff of the USNS Mercy for their selfless service," Mayor Eric Garcetti via a release from the Port of Los Angeles. "This crisis is far from over and we will continue to work with our local, state, and federal partners to deliver resources that will save lives."