Ugh… so much for the Dodgers. Thankfully, if you're looking for a quick turn of focus, there's plenty going on this week!
From October 17-21 in Los Angeles, catch Astronomy on Tap, a Literary Death Match, free botanical garden days, a Teen Science Cafe at the Aquarium of the Pacific, Cemetery Lane at Heritage Square, the Forget About Spaghetti comedy festival, a new Bob Baker Marionettes retrospective, and more. Rundown starts below. Time to start ticking off those to-dos!
Things To Do This Week
Astronomy on Tap -> On Monday, Astronomy on Tap brings an evening of astronomically-themed pub trivia, live music, science talks, and telescope viewing to Dog Haus Biergarten in Old Pasadena. The event includes talks by CalTech researcher Spiros Michalakis on "The Lost Dialogue of Plato aend the Fundamental Nature of Gravity" and from astrophysicist Abigail Polin on "Stars That Go Boom in the Night." Free to attend, no RSVP required. More info here.
Carved at Descanso Gardens -> Descanso Gardens' latest version of the family-friendly Carved includes brand new UV light installations by Belgian artists Tom&Lien Dekyvere, alongside a hay maze, pumpkin house, and hundreds of carved pumpkins inside the Camellia Forest. Tickets run $32-$38 for non-members. Carved runs nightly through October 31. Get more info here.
Literary Death Match -> Combat by reading comes to The Hammer this Tuesday, as authors Amelia Gray, Jean Chen Ho, and Prince Shakur will have exactly five minutes a piece to win the favor of judges Zach Anner, Viet Thanh Nguyen, and Kristina Wong. Admission is free. Seats are assigned on a first come, first served basis starting at 6:30 p.m. More info here.
Free Garden Days -> The South Coast Botanic Garden, L.A. Arboretum, and Descanso Gardens all offer free admission on the third Tuesday of every month. Note that all three required advance reservations, and space is limited. If you miss this Tuesday's free days, make sure to check out our big list of free museum days to see other upcoming options.
Funny or Die Lab -> On Tuesday, Funny or Die Lab comes to Dynasty Typewriter for a comedy variety / stand-up show packed with local up-and-comers, all looking to test out brand new material Tickets are $10 in advance, or $15 on the day-off. Show starts at 7 p.m. Get more info here.
Wellness Wednesday: Ancestor Portraits -> As part of Self Help Graphics ongoing Dia de los Muertos programming, the gallery hosts a special workshop this Wednesday which invites guests to join a guided meditation and then create (with some artist guidance) an ancestor portrait. The portraits can then be taken home or left to display at SHG's community altar. The 90-minute program starts at 6 p.m. and is free to attend with RSVP. More info here.
Teen Science Cafe -> The Aquarium of the Pacific's Teen Science Café is a free, nine-party event series that offers High school and middle school students to learn directly from scientists who research and work in Antarctica. This Thursday, Margaret Amsler leads a hands-on session focused on Antarctica's benthic zone, which is the lowest ecological environment in a waterbody. Open to ages 13-19, but you have to RSVP in advance. More info here.
Cemetery Lane -> Starting this Wednesday, the victorian homes at Heritage Square Museum get a haunted makeover at this throw back trick-or-treat experience. Cemetery Lane features 13 themed trick-or-treat stops in all, and tickets are $27-$32 depending on time of entry. The haunt runs from October 19-23, then October 26-31. More info here.
Bob Baker Marionette Theater: 60 Years of Joy & Wonder -> This Thursday, Forest Lawn Museum in Glendale hosts an opening reception for a new exhibition that traces the six decade history of the iconic Bob Baker Marionette Theater. The retrospective features close to 100 artifacts, including hand-crafted marionettes, original concept art, archival photographs, an animatronic band, and more. Forest Lawn is free to visit Tuesday to Sunday from 10 a.m. to 5 p.m. Joy & Wonder remains on view through March 19, 2023. More info here.
Forget About Spaghetti Festival > Starting this Thursday, The Elysian Theater's new comedy festival celebrates the theater's one-year anniversary with ten nights of performances, including 17 new, original works and 6 free secret shows. The festival runs from October 20-30. Guests can purchase individual show performances, or a festival pass for $49. Get more info here.
One Colorado Halloween -> Old Pasadena's One Colorado kicks off a run of family-friendly Halloween events (October 20-31) this Thursday with a comedy/magic performance by Buster Balloon. The show runs one hour, from 4:30 to 5:30 p.m. Get more info and RSVP here.
Binge Free Festival -> Continuing this Thursday to Sunday, Santa Monica's version of Fringe Festival offers three-plus weeks of free performances workshops, readings, music and poetry to the Santa Monica Playhouse. All shows are free, but tickets must be reserved in advance. Runs through November 6. Get more info here.
BODYTRAFFIC -> BODYTRAFFIC returns to The Wallis for a two-evening performance this Friday and Saturday that offers guests an electric, joyous evening of contemporary dance, including the West Coast premiere of Baye & Asa's The One to Stay With, plus an encore performance of Matthew Neenan's whimsical and joyous A Million Voices.Tickets range between $39-$99. Get more info here.
PCH Movies & Moonlight -> PCH Movies & Moonlight in Long Breach opens a fall version of their outdoor movie programming this Friday with a free screening. Coco. The event includes pre-show entertainment and free face-painting before the movie screens. More info here.
Movies on the Roof Halloween Series -> Continuing this Friday and Saturday, Movies on the Roof returns to the Westfield Fashion Square with two nights of spooky films, all supported by live games, comfy seating, and plenty of food options for purchase. Tickets are just $5, and proceeds go to support Hope of the Valley. Get more info here.
Urban Death Tour of Terror -> Zombie Joe's Underground Theatre's annual tradition of Urban Death is back with a brand new series of terrifying vignettes, bookended by walks through a creepy maze. Performances continue on Fridays and Saturdays through October 29, with two bonus shows on Sunday, October 30 and Halloween Monday, October 31. Advance tickets are $20 per person. More info here.
Reign of Terror Haunted House -> This award-winning haunted house and walkthrough experience located in Thousand Oaks is now in its 22nd season. The 2022 edition features 135 (!) rooms in 10 different, inter-connected sections within 28,000 square feet of floor space. Standards tickets are $30. Available on select dates through Nov. 5, including this Friday and Saturday. More info here.
Oktoberfest at Fairplex -> Now through October 22, Pomona Fairplex transforms into a fantastical Bavarian Oktoberfest every Friday and Saturday with live oompah bands, DJs and even a No Doubt tribute band plus German food and plenty of beers to go around. Tickets cost $10 – $15. 21+ only. More info here.
Dining & Drinking
(picks by Christina Champlin)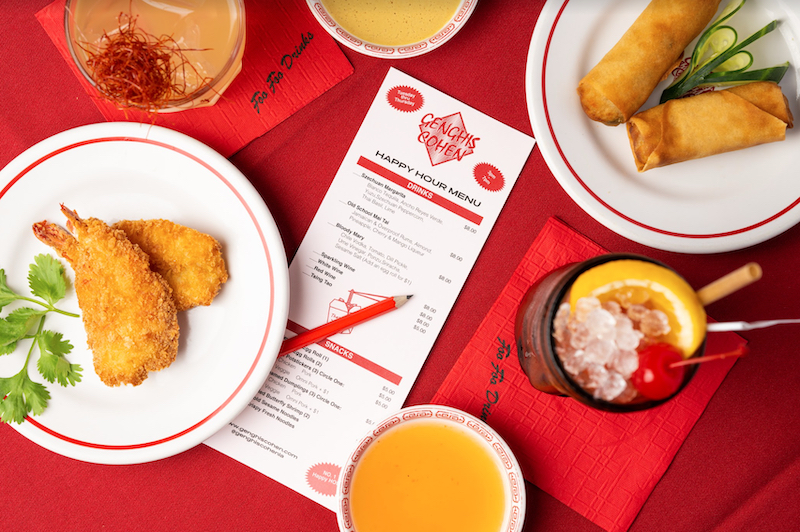 New Happy Hour at Genghis Cohen -> Iconic New York-style Chinese restaurant Genghis Cohen is launches a happy hour this Tuesday offering guests a selection of $8 cocktails such as the Szechuan Margarita or Bloody Mary (add an eggroll garnish for $1) alongside $5 Tsing Tao beer and a special menu of $5 snacks like egg rolls, dumplings, butterfly shrimp and cold sesame noodles. Happy hour will be available every Tuesday through Thursday from 3 to 7 p.m. More info here.
Somali Fried Chicken at Flavors From Afar -> Dine L.A. is happening now until October 28 and some restaurants recently announced their specials. Most notable is a bucket of Somali Fried Chicken at Flavors From Afar that feeds three people for $70. The meal also comes with french fries, half a loaf of cornbread, Somali salad and drinks.
The Cat & Fiddle Celebrates 40 Years -> L.A.'s beloved British pub, The Cat & Fiddle turns 40 this month. To commemorate the anniversary, the Hollywood icon host a weekend-long celebration this Friday to Sunday that includes live music and entertainment, as well as anniversary specials such as Shepherd's Pie ($12) and Fish & Chips ($16). More info here.
---
Want to get the best things to do in L.A. sent straight to your inbox? Join over 60,000 Angelenos who subscriber to our twice weekly email newsletter!
By subscribing, you agree to our terms of use and privacy policy and consent to receive emails from We Like L.A. about news, events, offers, and partner promotions.