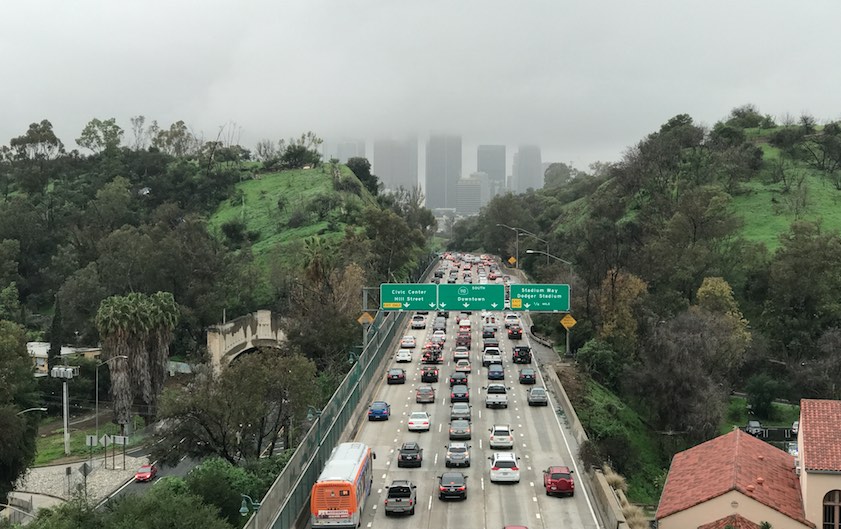 Every week in Los Angeles there are tons of great things to do (even before the weekend gets started) that we think you ought to have on your radar. With that in mind, we put together a list every Monday through Friday morning to keep you in the know about what's happening in the city you love (or maybe just like).
This week, from Monday, January 14 to Friday, January 18, features Dreamscape Immersive, Grunge Shop Tavern, a Women's Beer Forum, Chinese spirits tasting, the Short Shorts Film Festival, Cats on Glass Gallery experience and MUCH more.
Remember you can always go to our L.A. events calendar page to get an updated rundown of what's happening around the city.
Hope you find the rundown useful and, as always, enjoy your week!
Keep in mind that while we retain complete editorial control of our content, for some of the ticketing options provided we utilize affiliate links and receive a commission if you purchase through our links.
---
Monday January 14th, 2019
1.Dreamscape Immersive, the latest contender in location-based virtual reality, has opened in the Westfield Century City mall with three unique adventures that include an alien zoo, a deep ocean dive and an action packed adventure to find a powerful jewel. Open seven days a week.
2. dineL.A. returns Jan. 11-25 for two weeks of exclusive lunch and dinner menus at a laundry list of the city's finest eateries. Check out our favorite menus for dineL.A. in our latest post The 17 Top dineL.A. Menus for January 2019.
3. There's a five day pop-up of Ed Ruscha Films on view at the Verle Annis Gallery. FREE
4. There's a themed pop-up called Grunge Shop Tavern where you'll be transported to 1991, a time where Nirvana, flannel shirts and combat boots ruled. It's an interactive experience, expect atmospheric actors, a fictitious bar owner called "Old Doug" and loads of grunge music throughout the night.
5. Monday at the Regent Theatre there is a free screening of the first two episodes of the new dark comedy series from YouTube Originals, WAYNE.
6. Monday is Trivia Night at Saved By The Max, the Saved By The Bell Pop Up Shop Diner & Bar.
Tuesday January 15th, 2019
7. LA Phil's Green Umbrella series will feature world premiere performances with concerts curated by Andrew Norman, Susanna Mälkki, Herbie Hancock, and John Adams as part of the music halls centennial celebration. DISCOUNTED (via Goldstar)
8. Head down to Scum and Villainy Cantina this Tuesday in Hollywood for a Disney themed trivia night.
9. Down some tacos, drink some locally brewed beers and test your trivia skills this Tuesday during Tacos & Trivia night at Angel City Brewery in DTLA.
10. Free museum day: Los Angeles County Arboretum, South Coast Botanic Garden and Descanso Gardens
Wednesday January 16th, 2019
11. Eagle Rock Brewery will once again host a Women's Beer Forum where you'll get to try a flight of five beers from different breweries for $15.
12. Griffith Observatory offers a Sunset Walk & Talk one evening a month led by a Park Ranger and museum guide. FREE
13. Join The Museum of the American Cocktail and author Derek Sandhaus for a tour through Chinese spirits, and learn about the history of alcohol and Chinese culture. You'll enjoy a guided tasting of five traditional baijiu expressions, three baijiu cocktails and gourmet bites. Happening at The Edison in DTLA.
14.The Super Serious Show is a comedy event produced by CleftClips featuring both established and up-and-coming talent performing an array of stand-up, sketch and musical comedy. Happening at The Virgil.
15. Stop by Salazar every first and third Wednesday now till February for a Mezcal Tasting Series with select mezcal brands. You'll hear the history and culture of each brand and taste different expressions paired with snacks.
16. See comedians recreate Forrest Gump live onstage while drunk at Black Rabbit Rose in Hollywood.
17. The folks behind the Museum of Failure presents The Disgusting Food Museum (Dec. 9, 2018 through Feb. 17, 2019.) Some of the 'delicacies' include maggot infested cheese, bull testicles, and sheep eyeballs. If you're brave enough, visitors will also get to smell and taste some of the creations at the end of the exhibit over at a tasting bar. Check for discounted tickets before making your purchase. DISCOUNTED (via Goldstar)
18. It's trivia night at Grand Central Market this Wednesday on the Broadway side of the food hall.
Thursday January 17th, 2019
19.The Short Shorts Film Festival in Hollywood comes to the TCL Chinese 6 Theatres in Hollywood thanks to Japan House Los Angeles. This one-day film festival aims to showcase the world of Japanese and international short films through free screenings, live discussions, and presentations by industry leaders. FREE
20. Pod Save America cohost Jon Favreau and Kandist Mallett, politics editor at Blavity will discuss the short- and long-term implications of November's election this Thursday at The Hammer museum. Moderated by Shaniqua McClendon, political director for Crooked Media. FREE
21. Every first and third Thursday of the month Brennan's in Marina Del Rey hosts their famous turtle races. Since 1974, this tradition brings these little speedsters out of their sanctuary (located in the bar) for an exciting game that support charities. Race starts at 9 p.m.
22. Live After 5 presented by the Downtown Long Beach Alliance takes place on the Third Thursday of every month from 5-9 p.m. with rotating downtown districts in the LBC being featured. Highlights include live music, art activations, entertainment for both adults and kids. FREE
23. There's an opening reception for Women of Vision: National Geographic Photographers on Assignment at the Forest Lawn Museum in Glendale from 5-8 p.m. The traveling exhibition is on view until April 7, 2019. FREE
24.Don't Tell Comedy pops up in Venice this Thursday for a comedy show with secret performers in a secret location. Location will be emailed to ticket holders and it's BYOB.
25. Free museum day: MOCA Grand & MOCA Geffen (from 5 to 8 p.m.), Skirball Cultural Center (noon to 5 p.m.), Japanese American National Museum (5 to 8 p.m.), Long Beach Museum of Art (3 to 8 p.m,) and USC Pacific Asian Museum (5 to 8 p.m.)
Friday January 18th, 2019
26. Cats On Glass Gallery is a pop-up from January 18-27 with a purpose, presented by Fresh Step Clean Paws. The "gallery" will feature a cat-lebrity Walk of Fame, a larger-than-life cat display, a yarn pom-pom room, a "me-owm" meditation room, and adoptable cats from spcaLA on view from a glass playhouse. FREE
27. DEEP-LA & BENDER presents "City Lights" at SKYSPACE a dance party 1,000 feet above the shining lights of DTLA. The evening will also include a sonic sound bath, free rides on the "Skyslide," tarot/astrology readings and more.
28. Odd Nights At The Autry feature a collection of vendors, gourmet food trucks, children activities, guests DJ's, a full bar and access to The Autry Gallery until 9 p.m. happening every third Friday of the month until October 2019.
29. Greenbar Distillery will open up their facility for a tour of their organic distillery. The tour allows guests to learn about the process of spirit making and taste some of Greenbar Distillery's portfolio. Happening every Friday through Sunday of this month.2
30. The City of Pasadena will host a Family Astronomy Night this Friday with scientists from the Carnegie Observatories. Stargaze with the team and see the moon, Mars and more through their telescopes. FREE
31. Beautycon is offering a pop up experience titled Beautycon POP happening Friday through Sunday featuring immersive galleries, makeup brands, vendors, a salon and other beauty related activities.
32.The Groundlings: The Completely Different Late Show is a hilarious improv show by the cast of the Groundlings' Main Company. Audience shout suggestions throughout the night for improvisational scenes performed by some of the best in the business. It's also a testing ground for brand new material for the Groundlings' main show. DISCOUNTED (via Goldstar)
Food Pick for the Week
This week's pick by Christina Champlin, Co-Founder of We Like L.A.
Award winning chef, author and television personality Graham Elliot steps into the kitchen of Atrium in Los Feliz tonight for a special dinner service. From 6-8:30 p.m. three exclusive menu items will be offered to diners. This includes Graham's signature Caesar salad ($15), a short rib stroganoff with spaetzle, wild mushrooms, and peppered sour cream ($30) and a bananas foster crème brulée ($12). Reservations are strongly encouraged by OpenTable or calling 323-607-6944.
Want to get our to-do lists straight to your inbox every week? Sign up for our email program. Have an upcoming event you'd like suggest for listing? Drop us a line at [email protected]