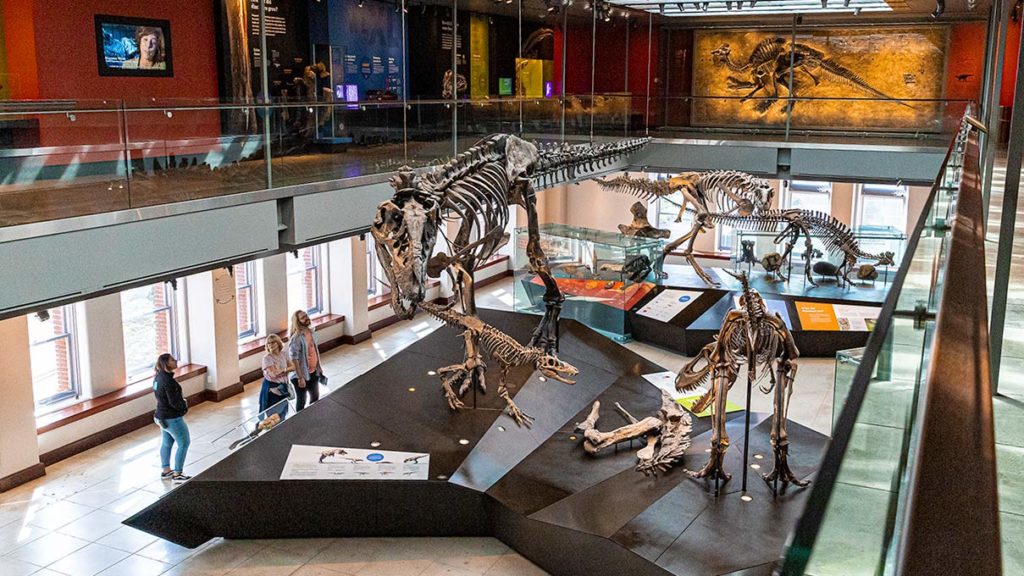 Every week in Los Angeles there are tons of great things to do (even before the weekend gets started) that we think you ought to have on your radar. With that in mind, we put together a list every Monday through Friday morning to keep you in the know about what's happening in the city you love (or maybe just like).
This week, from Monday, March 2 to Friday, March 6, features Sidewalk Astronomers, Super Tuesday Bash 2020, a Hike to Red Rock Canyon, Wizard's Den Pop-Up Bar, San Pedro Art Walk, First Fridays at NHM and MUCH more.
Remember you can always go to our L.A. events calendar page to get an updated rundown of what's happening around the city.
Hope you find the rundown useful and, as always, enjoy your week!
---
Keep in mind that while we retain complete editorial control of our content, for some of the ticketing options provided we utilize affiliate links and receive a commission if you purchase through our links.
---
Monday March 2nd, 2020
1. California African American Museum hosts a Town Hall For Freedoms Congress, curated by Sankofa.org to unites artists and activists for discussions on freedom of speech in anticipation of the 2020 Presidential Election. FREE
2. The Sidewalk Astronomers returns to the Central Library in Burbank on Monday night with telescopes outside the library for the public to get a close-up look at the moon and other visible planets. They'll also stop by with the same set-up on Tuesday at the Buena Vista Library. FREE
3. The Business LA is a free comedy show at Little Joy featuring some of the best local comics in town. FREE
4. LA Plaza de Cultura y Artes latest exhibit "afroLAtinidad: mi casa, my city" helps visitors step into a recreated Afro-Latinx home and explore the personal objects of a Afrolatinidad family living in Los Angeles. The exhibit closes on July 20, 2020 FREE
Tuesday March 3rd, 2020
5. Raise a glass to democracy alongside political junkies when you catch the Super Tuesday election results at The Hammer museum on March 3, 2020 starting at 5:30 p.m. They'll be following the polls and pundits on giant screens. FREE
6. Frankenstein, the classic novel by Mary Shelley, gets a modern facelift in the latest show commissioned by The Wallis Annenberg Center of Performing Arts in Beverly Hills. The show's run has been extended to March 7.
7. The Walt Disney Concert Hall will host Chamber Music & Wine Tasting with The LA Philharmonic. (DISCOUNTED) via Goldstar
8. Hike to Red Rock Canyon in the Santa Monica Mountains during a moderately paced four mile trek. Hike up a fire road and then down into hidden Red Rock Canyon to see the bright brick colored rock formations. This hike starts at 8:30 a.m. at Stunt Road trailhead. Rain cancels the hike. FREE
9. Arts District bar Here and Now presents Queer Tuesdays a weekly series of live DJ's, games like Drag Queen Bingo, and more. Fun starts at 8 p.m. there is no cover.
10. The Group Rep at The Lonny Chapman Theatre in North Hollywood presents a free staged reading of the musical A Beating Heart, inspired by Oscar Wilde's The Picture of Dorian Gray. No reservations are needed, it's a first come, first served deal. The free reading takes place on Tuesday, March 3 and Wednesday, March 4 both at 8 p.m. FREE
11. FIDM Museum presents their annual "Art of Motion Picture Costume Design" exhibition from February 4 to March 21. Now in its 28th year the public can see costumes created by all five Academy Award nominees. Over 100 outstanding costume designs from 29 films in the past year will also be on display. FREE
12. Escuela de Mezcal (Mezcal School) at Bar Calo in Echo Park is an opportunity for guests to discover, learn and taste different mezcals. Happening every Tuesday a different mezcal brand will be featured at half-off from 6-9 p.m.
13. Free Museum Day: Kidspace's Free Family Night (4 to 8 p.m.), Natural History Museum and La Brea Tarpits Museum.
Wednesday March 4th, 2020
14. The Wizard's Den is an immersive pop-up where aspiring spell casters can concoct their own magical potions (aka cocktails) donning wizard's robes and using a variety of witchy props and ingredients. The pop-up opened Feb. 26 and runs on various dates through April 5. -> More information
15. Film Independent Live Reads are staged readings of film scripts with a guest director reading stage directions while images from the film are projected behind the cast. Charlie Kaufman's Eternal Sunshine of the Spotless Mind will be read. The guest director is Brett Haley and the cast of actors include Tessa Thompson, Kumail Nanjiani and more. There will also be a special musical performance by Miya Folick.
16. Head to Hamburger Mary's for Legendary Bingo the best gay bingo night in town. There will be celebrity guests, fabulous prize packages and more all benefiting local and national charities.
17. Griffith Observatory offers a Sunset Walk & Talk one evening a month led by a Park Ranger and museum guide. FREE
18. NPR's successful weekly music program From the Top stops by The Wallis to celebrate the talents and voices of virtuosic young musicians with MacArthur "Genius" Grant recipient Vijay Gupta as the shows guest host.
19. Go Get em Tiger in Highland Park is hosting a free cupping of their latest coffee lineup at 1 p.m. this Monday. FREE
20. Risk!, the show where people tell true stories they never thought they'd dare to share, stops by The Virgil this Wednesday with jaw-dropping and hilarious stories.
21. Take an afternoon yoga class in beautiful Grand Park. The 45 minute workout is complimentary to the public every. After yoga, checkout the many food trucks lining the park and grab lunch al fresco style. FREE
Thursday March 5th, 2020
22. First Thursday Art-walk in San Pedro features over 40 galleries and studios hosting public receptions in the evening plus food trucks and live music at several local many venues. An official tour starts at 6:30 p.m. at the San Pedro Chamber of Commerce. FREE
23. Head to Eataly in Century City for an experiential "eatalian" walking tour where you'll taste through the Italian market place, get a behind the scenes tour of various departments and more.
24. The Laugh Factory welcomes Pete Holmes and a star-studded lineup for a night of LOL's. DISCOUNTED (via Goldstar)
25. Every first and third Thursday of the month Brennan's in Marina Del Rey hosts their famous turtle races. Since 1974, this tradition brings these little speedsters out of their sanctuary (located in the bar) for an exciting game that support charities. Race starts at 9 p.m.
26. L.A. Arboretum hosts Yoga in the Garden the class is a gentle and soothing one in tranquil location.
27. Free Museum Day: Japanese American National Museum (from 5 to 8 p.m.), Skirball Cultural Center (noon to 5 p.m.), Long Beach Museum of Art (3 to 8 p.m.) and USC Pacific Asian Museum (5 to 8 p.m.)
Friday March 6th, 2020
28. Natural History Museum's First Fridays offer after-hours access to Museum Galleries combined with themed discussions, live performances, DJ sets, and food trucks.
29. Grand Central Market hosts Friday Night Flights every Friday starting at noon. The special includes a flight of drinks or bites from GCM vendors and a round trip ticket on the historic Angels Flight Railway right across the street for $15.
30. The Los Angeles Marathon (March 8) is sold out but you can still check out the free Health & Fitness Expo (March 6-7.) Taking place at the L.A. Convention Center, over 120 athletic and nutrition exhibitors will be there.
31. The 22nd Annual NOIR CITY: HOLLYWOOD film festival returns for 10 nights March 6-15 of screenings. Egyptian Theatre in Hollywood, Aero Theatre and American Legion Post 43 will all take park in the festival.
32. Never been to LACMA? First-time Fridays is catered to new visitors to the museum. Simply let the ticket office know you're a newbie and you'll receive a free poster, discounts and a welcome gift. Stop by after 3 p.m. with an ID showing L.A. County residency and get free admission too.
33. Skyspace Nights returns with a special night with DJ Lani Love & Dial Jess and access to all three floors of the space. Your first drink is free with admission!
34. Patti Smith and her band will perform at the Walt Disney Concert Hall.
35. The New Beverly Cinemas Freaky Fridays matinee this Friday will be Starship Troopers in 35mm.
36. Jonathan Wilson performs live at the Masonic Lodge at the Hollywood Forever Cemetery March 6-7.
37. Gay Asstrology, an LGBTQIA+ Dance Party happening on the first Friday of every month invites queer energy, community, and a love of astrology to The Satellite in Silver Lake. It's Pieces month so everyone under that sign gets free admission to the party.
38. The Griffith Observatory hosts a monthly forum where some of the most amazing phenomena in the known universe are explained and discussed. It's called All Space Considered and it takes place on the first Friday of every month. FREE
39. Break out that extra black eyeliner because Emo Nite is back at the Echo and Echoplex this Friday with DJ's spinning the best emo tunes all night long.
40. Mixografia presents Wrong is Right: Remembering John Baldessari, an exhibition celebrating the late artist through his collaboration with local print publishers and Baldessari's 1970s video works. The exhibit is on view through April 4, 2020. FREE
41. Metro Art presents the soulful sounds of the Healing Gems in a special rush-hour concert this Thursday, from 4-6 p.m. in the Waiting Room of Union Station. FREE
42. Don't Tell Comedy pops up in Santa Monica at a secret location with some of the biggest names in comedy. Performers are kept under wraps and the location will be emailed to all ticket holders. BYOB!
43. The Annenberg Space For Photography is sharing four decades of Vanity Fair's celebrity portraits from their annual Hollywood issues as well as captures from past Oscar night parties in their latest exhibit Vanity Fair: Hollywood Calling. FREE
44. It's First Fridays at The Village in Redondo Beach. Merchants and art galleries will stay open till 8 p.m. offering discounts, drinks, food and live entertainment.
45. Free Museum Day: Norton Simon Museum (5 to 8 p.m). FREE
Food Pick for the Week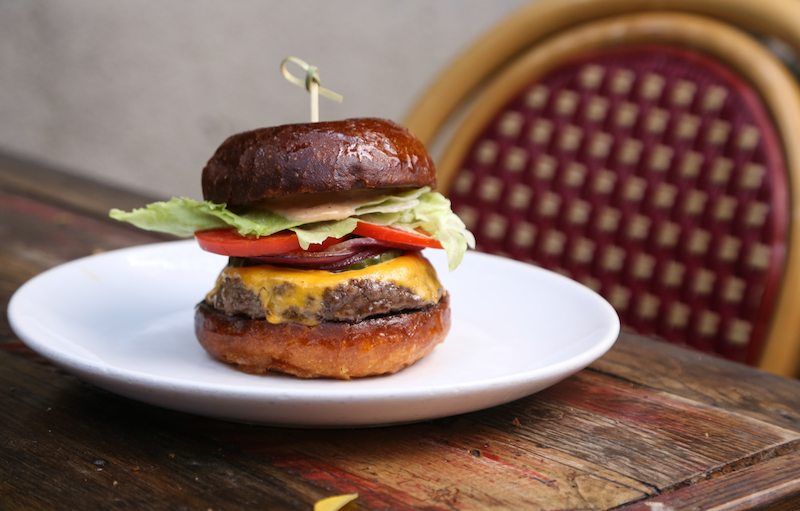 This week's pick by Christina Champlin, Co-Founder of We Like L.A.
This week Alcove and Big Bar launches BAM "Burgers and Martini" night, a weekly food special to take place every Wednesday from 5 p.m. to close. For $20 you'll get a burger and martini pairing that features the Big Bar Burger made with Oakland's Cream Co. Beef and a Sipsmith Gin Martini. Non-meat eaters can get a vegetarian burger alternative for the weekly deal too.
Alcove and Big Bar are located at 1929 Hillhurst Ave, Los Angeles, CA 90027
---
Want to get our to-do lists straight to your inbox every week? Sign up for our email program. Have an upcoming event you'd like suggest for listing? Drop us a line at [email protected]