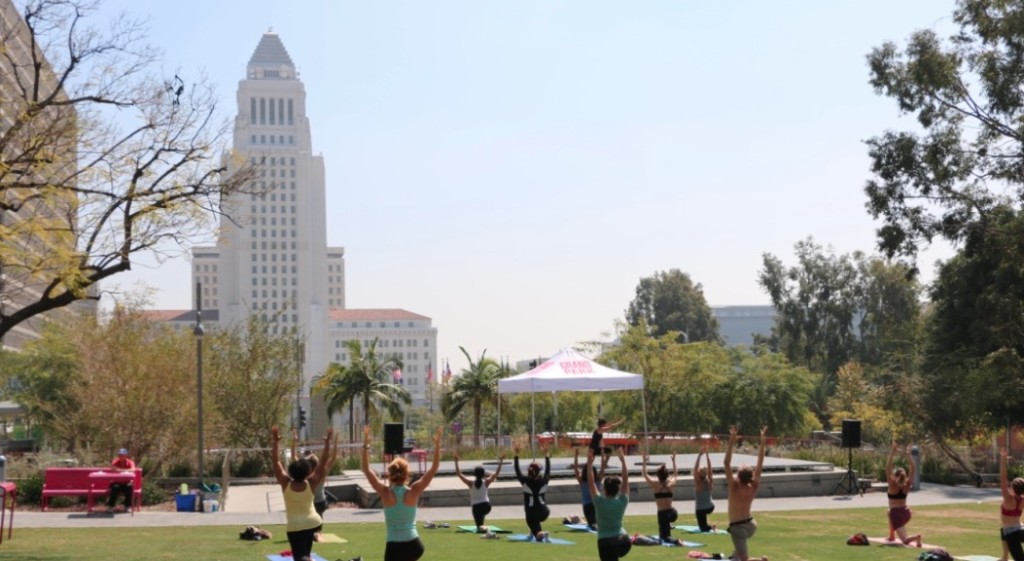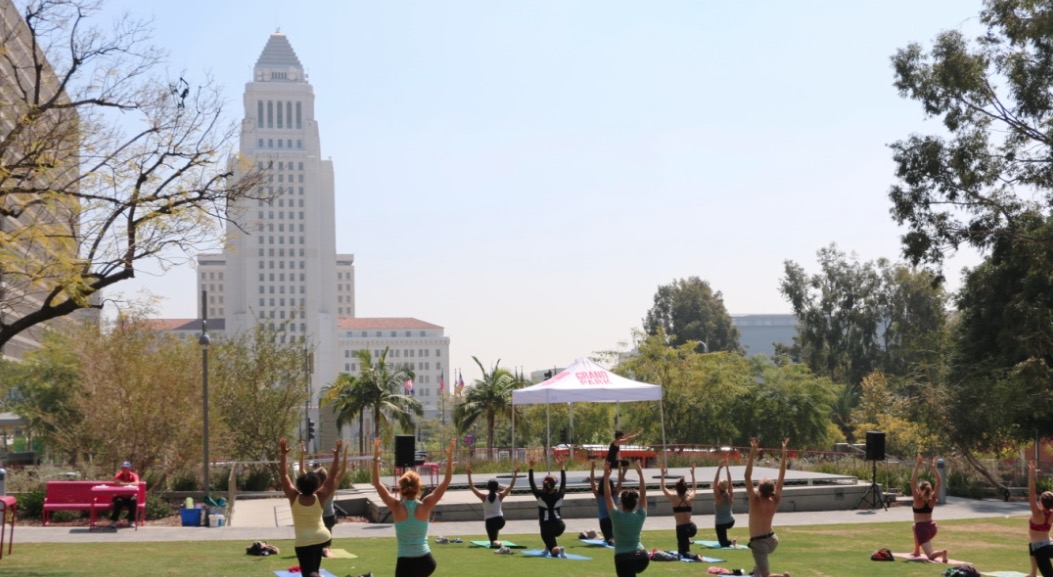 Today is tax day. Hopefully that isn't a newsflash to you, otherwise we recommend you insta-close this list and immediately navigate over to your tax software of choice. Now… assuming we're all on the same page here with our filing requirements, let's move on to the to-dos.
This week in Los Angeles, from April 18-22, you'll find new art at Forest Lawn Museum, the opening of the Pan African Film & Arts Festival, tax day food specials, a 4/20 movie drive-in, the return of lunch-time yoga at Grand Park, a Record Store Day discussion at the GRAMMY Museum, and the TCM Classic Film Festival. Check out those options, and more, all below.
Things to Do
Your (Un)natural Garden -> A new installation experience at Descanso Gardens created by artist Adam Schwerner. Your (Un)Natural Garden offers colorful, interactive pop-up works and installations located inside the Sturt Haaga Gallery, Boddy House. Touching the art is definitely encouraged. Runs through Jan. 8, 2023. Included with garden admission. More info here.
A Culver City Amble -> The latest in Brian's L.A. on Foot series is a walk in Culver City that takes you from the Ballona Creek through Downtown to the Hobbit Houses and back.
Pan African Film & Arts Festival –> The 30th annual Pan African Film & Arts Festival runs from April 19 to May 1, with a lineup featuring more than 190 films originating from over 40 countries, with tickets for individual screenings starting at $12. Programming for this year's PAFF also includes an ArtFEST featuring over 100 artists and craftsmen taking place this Thursday at the Baldwin Hills Crenshaw Mall, along with free Children's Festivals on April 23 and April 30. Get more info on the entire schedule here.
Moments of Reflection -> A new multi-sensory installation at UCLA's Franklin D. Murphy Sculpture Garden opens this Tuesday with an unveiling ceremony scheduled for 7 p.m. The garden is free to view through April 24, and viewing hours are 6 to 10 a.m. and 4 to 10 p.m. daily. More info here.
Venice Family Clinic Art Walk + Auction -> Now through May 1, check out (and bid on) over 200 artworks at the Venice Art Walk Gallery (395 Santa Monica Place) as part of the benefit auction for Venice Family Clinic. The gallery is open daily from noon to 6 p.m. Admission is free. More info here.
Free Garden Admission -> The South Coast Botanic Garden offers free admission on the third Tuesday of every month, and tickets for this Tuesday are still available. More info here. (A quick note: both the L.A. Arboretum and Descanso Gardens also offer free admission on the third Tuesday, but they're already sold out. Plan ahead for next month!).
New at Skirball –> Two new exhibitions are now open at the Skirball Cultural Center, both firmly rooted in the immigrant experience. "I'll Have What She's Having": The Jewish Deli traces the Jewish immigrant experience in America through the lens of the delicatessen, while Talking Back to Power: Projects by Aram Han Sifuentes centers on stories of immigrant garment workers in the United States. Skirball is open Tuesday through Sunday. General admission is $12, and free on Thursdays. You can find a photo preview of the new exhibitions here.
Record Store Day Discussion at the GRAMMY Museum-> The 15th annual Record Store Day is this Saturday, April 23, and GRAMMY Museum celebrates it early on Tuesday through a discussion panel hosted by Variety's Chris Willman, and featuring Linda Perry, Kirk Hammett and Robert Trujillo of Metallica, The Sound Garden owner Bryan Burkert, and Record Store Day Co-Founder Michael Kurtz. The panel will be followed by a performance from singer/songwriter Nilüfer Yanya. Tickets are $25. Get more info here.
Art on Montana Avenue -> Looking for an evening walk destination? Illuminated art has taken over the Montana Business District this month, with ficus trees along Montana Avenue transformed (one per block) into pop-up art installations. Scope works that everything from whimsical butterflies and flowers to hanging lanterns, chandeliers, and colored panes. The installations will remain in place through September, so you've got plenty of time to plan a summer stroll. More info here.
Lunch Time Yoga –> This Wednesday, Grand Park brings back weekly yoga with the Lunch À La Park Yoga reTREAT, a free 45-minute session starting at noon. Get more info here.
Pipilotti Rist: Big Heartedness, Be My Neighbor at MOCA -> Now through June 5, head to the Geffen Contemporary at MOCA for "Pipilotti Rist: Big Heartedness, Be My Neighbor." The immersive, sensory-heavy works of Zürich-based artist Pipilotti Rist feature large-scale installations with hypnotic musical scores; video art; and sculptures. Special exhibitions at MOCA cost $18 for adults; $10 for students with I.D. and seniors (+65); and free for children under 12 and jurors with I.D. In addition, tickets allow for a free second visit to the exhibition within 72 hours of initial visit. Open Wednesday to Sunday.
Treasure of Armenian Music -> This Wednesday, the Hammer Museum highlights the musical history of Armenia with works by famed Armenian composers performed live by the UCLA VEM Ensemble. The event starts at 7 p.m. Free to attend with RSVP. More info here.
Harold and Kumar at Electric Dusk -> If you're feeling extra 4/20 friendly this Wednesday, roll on over to Electric Dusk Drive-in for a very timely showing of the stoner comedy Harold & Kumar Go to White Castle. Early bird tickets start at $28 per vehicle, and $8 per additional (not the driver) person attending. More info here.
Lovett or Leave It -> On Thursday, Crooked Media co-founder, and former Obama speechwriter, Jon Lovett is back at the The Dynasty Typewriter with another live edition of his podcast Lovett or Leave It. Get the skinny on the latest in the world of news and politics through as seen through Lovett's acerbic perspective, and paired with panels discussing the latest issues. Tickets are $25. More info here.
John Scofield Live -> Legendary jazz guitarist and composer John Scofield comes to the Theatre Raymond Kabbaz on Pico Boulevard this Thursday with a performance of his latest project, Yankee Go Home. There will be two sets, 7 and 9:30 p.m., and general admission tickets start at $40. More info here.
TCM Classic Film Festival -> A four-day (April 21-24) slate of classic films shown on the big screen at a range of historic Los Angels theaters. Kicks off this Thursday. For the full schedule and more info go here.
Light & Matter: The Art of Matthew Brandt -> A new retrospective exhibition at Forest Lawn museum features more than 100 photographs and multi-media artworks from artist Matthew Brandt. Light & Matter opens with a public reception on Thursday (check the link for details on how to RSVP for that). The exhibition runs through Sep. 4. Admission is free. More info here.
Daisy Days in Concert -> This Friday, Oxy Arts hosts a special musical performance to close out the exhibition EJ Hill: Wherever We will to root. Free, and no RSVP required. More info here. UPDATE: This event has been cancelled due to a positive COVID-19 test result from one of the performers.
Santa Monica Bead & Design Show -> Starting Friday, The Fairmont in Santa Monica hosts a three-day (April 22-24) event featuring an array of artisans showcasing jewelry, artwear, and antiquities, as well as being a source for makers and designers with artisan suppliers selling gems, beads and more. Tickets are $8, or $10 at the door. More info here.
[Do you read the We Like L.A. newsletter? Every Monday and Thursday we send the best things to do in Los Angeles straight to your inbox! Sign-up here.]
Dining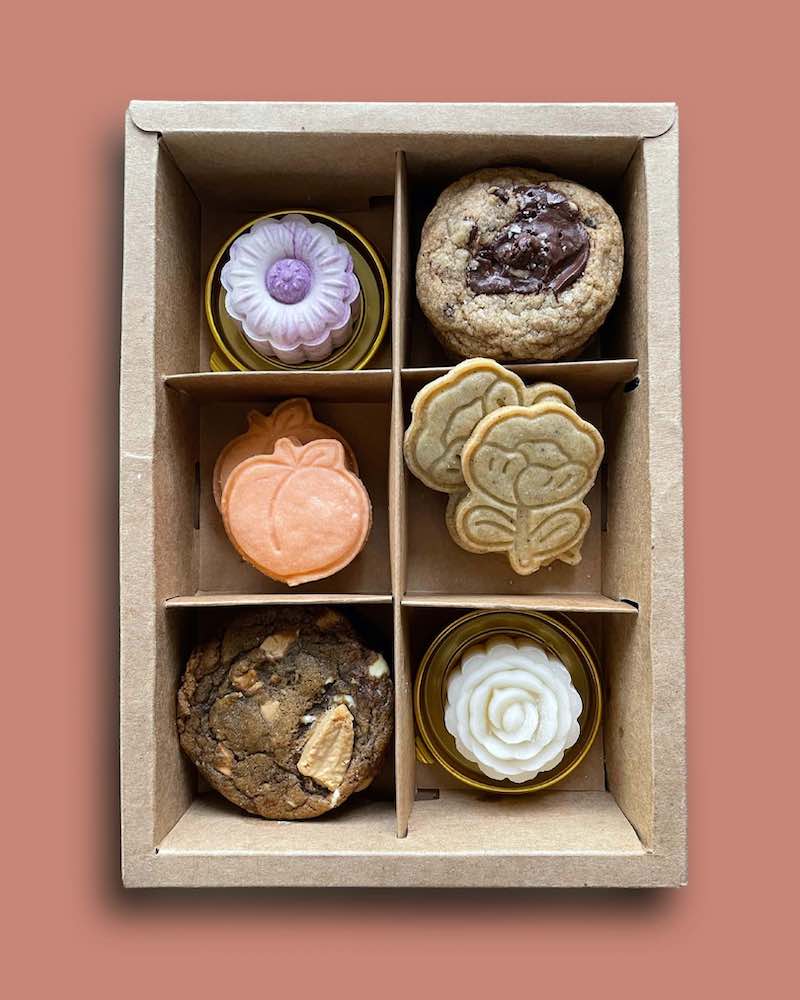 Combap Mart + BA KỲ bakedgoods Cookie Set for AAPIH Month -> Combap Mart has teamed up with Vietnamese American baker Jenny Huynh of BA KỲ bakedgoods on a sweets box set to celebrate Asian American Pacific Islander Heritage Month. The box includes a number of beautiful sweets creations like a Mini Snowskin Strawberry Mooncake, Peaches and Cream "Oreos" and Vietnamese Coffee Cookies. The box cost $32 and can be reserved online for pick up on May 7 during Combap Mart's monthly mini market pop-up at Blossom Market Hall in San Gabriel Valley. There will only be 22 boxes made, advance purchases are highly recommended.
Kiva Confections + Yeastie Boys Bagels For 4/20 -> Cannabis edibles brand Kiva Confections and Yeastie Boys Bagels have teamed up for a limited edition Everything Bagel Seasoning Munchies Bar. Made with Yeastie Boys classic seasoning sprinkled on hash-infused dark chocolate, the bar is dosed at 100 mg of THC per bar with 5 mg THC serving sizes. To celebrate the collaboration, Kiva and Yeastie Boys will be popping up at four dispensaries for the ultimate munchies relief on April 20 a.k.a. 4/20. From 9 a.m to noon people can stop by Sweet Flower (DTLA & Westwood), Mota or Wonderbrett for a free Yeastie Boys Signature Sandwich with the purchase of a Kiva x Yeastie Boys Everything Bagel Munchies bar.
Bar Ilegal -> Ilegal Mezcal stops in Los Angeles for one night with a Bar Ilegal popup at Las Perlas in West Hollywood on Monday, April 18. Open to the public (no reservations needed), the party includes food and Ilegal cocktails, free flash tattoos, DJs, and a performance by the band SUSU. The fun starts at 7 p.m.
Gusto Green 420 Happy Hour -> Gusto Green in Downtown Los Angeles has a new happy hour Tuesday through Friday from 4:20 to 6 p.m. where you can get a sourdough pizza and a pint of beer for $20.
STK -> For tax day on April 18, all guests at STK can take advantage of $10.40 Specialty Cocktails all day long, available at the bar and on the patio. Cheers to that!
Pie Hole Tax Day Promo -> Monday, April 18 is tax day and The Pie Hole is making things suck less by giving away a free Pie Hole Blend drip or iced coffee with any purchase at all locations of the shop. The one catch is that The Pie Hole wants to keep things sustainable by asking customers to bring in their own coffee cup to redeem the promo runs. The deal runs through Earth Day Friday, April 22.
Perilla x OTOTO -> On Monday sake bar OTOTO in Echo Park will welcome Perilla for a Korean banchan and soju party featuring set meals meant to serve two to three people for $88. Highlights include Kalbi Jjim, Onigiri stuffed with aged Napa cabbage kimchi and a Walnut Financier a la Mode for dessert. The special menu is available on a dine in and first-come, first-served basis.
Tam O'Shanter Celebrates 100 Years -> The Tam O'Shanter is celebrating its 100th anniversary with ongoing festivities and events all through 2022. On Thursday, April 21 the historic restaurant offers a whisky tasting that costs $100 per person and features four one-of-a-kind whiskies from independent bottlers from Scotch Malt Whisky Society (SMWS), Gordon & MacPhail, Duncan Taylor and Single Cask Nation. Light snacks will accompany the tasting and each participant receives 20% off dinner before or after the tasting. The tastings take place at 6:30 p.m. on the third Thursday of every month this year and reservations can be made by calling the restaurant at (323) 664-0228.
Looking ahead…
Taste of Home -> People Assisting the Homeless (PATH) is hosting an inaugural food fundraiser, Taste of Home, at Sunset Las Palmas Studios in Hollywood on Saturday, April 30. Chef Wes Avila will host a cooking demo and guests can enjoy tastings from over 25 local food vendors, including Broad Street Oyster Co.Hotville Chicken, and Saucy Chick Rotisserie. Beverages from Loft & Bear Vodka and Modern Times beer will also be flowing that day as well. Guests can also stop by volunteer stations to help put together hygiene kits for PATH. Tickets start at $45. Proceeds from ticket sales will support PATH's mission in ending homelessness in Los Angeles.
---
Any notes or corrections? Want to suggest an event we should add to an upcoming list? Hit us up at [email protected].