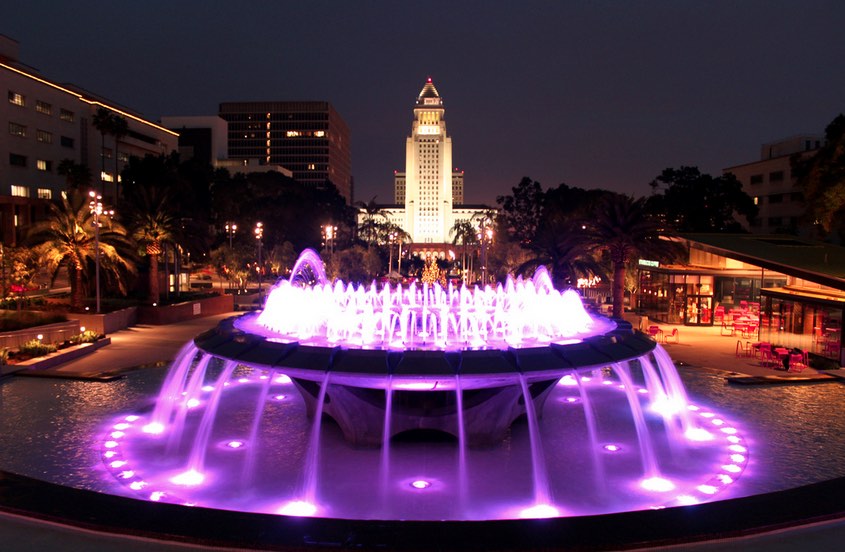 Every week in Los Angeles there are tons of great things to do (even before the weekend gets started) that we think you ought to have on your radar. With that in mind, we put together a list every Monday through Friday morning to keep you in the know about what's happening in the city you love (or maybe just like).
This week, from Monday, May 6 to Friday, May 10, features L.A. Times Food Bowl Night Market, Dandelions art experience, Night Market at Yamashiro, Downtown Art Walk, Summer of Salsa, Echo Park Craft Fair and MUCH more.
Remember you can always go to our L.A. events calendar page to get an updated rundown of what's happening around the city.
Hope you find the rundown useful and, as always, enjoy your week!
---
Keep in mind that while we retain complete editorial control of our content, for some of the ticketing options provided we utilize affiliate links and receive a commission if you purchase through our links.
---
Monday May 6th, 2019
1. It's Pasadena Restaurant Week (May 6-10) diners can expect dozens of restaurants in participation offering special prix-fixe lunch and dinner menus.
2. Culina & Vinoteca's Second Annual MAMMA MIA! week long celebration of moms includes a "Movies Moms Love" dinner series from May 8-10 and a special MAMMA MIA! dinner menu featuring Chef de Cuisine Luca Moriconi's very own mother Grazia's authentic Tuscan specialties all week long. On Sunday a lavish Mother's Day brunch buffet will take place.
3. Head to Dodger Stadium for a number of games this week. See the Boys in Blue take on the Atlanta Braves and the Washington Nationals. There are also games happening all weekend. (DISCOUNTED) via Goldstar
4. E.P. & L.P. in West Hollywood continues their stylish cinema series Melrose Rooftop Theatre with several screenings this week including Green Book, 10 Things I Hate About You and more.
5. Live Talks Los Angeles presents An Evening with Moby at Aratani Japan America Theater.
6. Dan Harmon's Harmontown podcast will tape live at Dynasty Typewriter with guests Hayes Davenport + Sean Clements.
Tuesday May 7th, 2019
7. The Southeast European Film Festival a.k.a. SEEfest will showcase filmmakers and films from south east Europe and Eurasia from May 1-8.
8. Museum of Illusions has recently launched a brand new experience. Guests can walk through eye popping 3D exhibits inspired by cartoons, art, current events, pop culture and more. The museum is open daily. Check for discounted tickets before your purchase. DISCOUNTED (via Goldstar
9.260LA will host a Maje sample sale from May 7-12 in their Beverly Hills location.
10. As part of the Los Angeles Time Food Bowl, Bacari W. 3rd will host a Backyard BBQ where a whole lamb will be roasted and turned into tacos. Your ticket gets you unlimited lamb tacos, toppings of your choosing, a salad, two sides and open bar.
11. Free museum days: Free Family Night at Kidspace Children's Museum (from 4 to 8 p.m.), Natural History Museum (also note that L.A. County residents receive free Museum admission Monday through Friday from 3 to 5 pm. Bring a valid ID or utility bill the day of your visit) and La Brea Tarpits Museum
Wednesday May 8th, 2019
12. L.A. Times Food Bowl Night Market comes to Grand Park May 8 – 12 for an outdoor celebration of Los Angeles' deliciously diverse food scene. Each of the five nights feature a specific theme, an array of food vendors, pop-ups, chef collaborations, art installations and live music all in one space.
13. The formerly anonymous art collective now known as The Art Department first captured Angelenos attention when they created the Griffith Park Teahouse in 2015. Now they're back again with a new installation called Dandelions, which promises surreal factory of flowers somewhere south of Downtown L.A. (details are intentionally vague). The installation will be free to the public and the location will be announced on May 8 (Wednesday) via the link above or by calling a hotline at (323) 905-4574. Dandelions will be open for walk-ins May 9, 11, and 12. We expect crowds, so be prepared! FREE
14. USC Games Expo is back with another year of showcasing the most innovative games and interactive projects. Over 60 video, board, card and VR games will be available to play. Admission is free and the event is open to all ages. FREE
15. Alcove in Los Feliz will take a few lucky guests on a journey to Westeros for a feast fit for kings, queens, knights, lords and ladies. The special menu prepared by executive chef Matt Sieger will be paired with official Game of Thrones single malt scotches and wines.
16. Hollywood Heritage and The Hollywood Foreign Press Association hosts Evening at The Barn a night focused on cartoonists Max Fleischer who created Koko the Clown, Betty Boop, Bimbo, and Grampy and had a hand in the Popeye, and Superman cartoon movies.
17. The Los Angeles Asian Pacific Film Festival dedicated to showcasing films by and about Asians and Pacific Islanders, returns May 2-10 with a variety of screenings and activities.
18. Take an afternoon yoga class in beautiful Grand Park. The 45 minute workout is complimentary to the public. FREE
Thursday May 9th, 2019
19. Night Market is back on the hilltop of the iconic Yamashiro restaurant every Thursday all summer long. Angelenos can enjoy boutique vendors, food vendors, a concert series, cocktails at Yamashiro's Pagoda Bar and an unbeatable view of Hollywood. This event is also kid friendley. Please note this year the organizers are charging $10 to park at the shuttle location. Shuttles are free and so is admission.
20. Downtown Art Walk brings art enthusiasts and locals together every second Thursday of each month to take part in gallery tours, parties, food trucks, and and more in the heart of the Los Angeles Historic Core.
21. Nerd Nite is a monthly event held in 100+ cities across the globe including Busby's East in Los Angeles! Dubbed as "Discovery Channel with beer" folks will give fun and informative presentations about a variety of topics and the audience drinks along.
22. Japanese American Museum presents a free screening of Masters of Modern Design: The Art of the Japanese American Experience. A Q&A with the filmmakers and people interviewed plus a light reception will follow the screening. FREE
23. There's a immersive horror experience at Zombie Joe's Underground theater in North Hollywood titled "I want to live in your mouth." It's a 20 minute show for one single guest that transports them inside a child's nightmare. You'll navigate through corridors, opening doors and meeting creatures, some you wish you had avoided. The show runs Thursday through Sunday through May 19 and tends to sell out fast.
24. The American Cinematheque and the European Union presents the sixth annual Starring Europe, New Films from the EU (May 9-13) a film festival to celebrate and discover new films from across the European Union.
25. The Pasadena Showcase House of Design will take place at the Boddy House on the grounds of Descanso Gardens in La Cañada Flintridge from April 21 through May 19.
26. If Halloween and horror movies are your favorite topics then I Like Scary Movies Experience will be just what you're looking for. Guests can expect to see, hear, feel, and smell recreations of iconic moments from IT (2017), Beetlejuice, The Shining, The Lost Boys, and A Nightmare on Elm Street. There won't be costumed actors jumping out trying to startle but there will be multi-sensory surprises along your winding path. The pop-up experience runs April 4 through June 16 Thursday through Sunday.
27. Free museum days: Japanese American National Museum (from 5 to 8 p.m.), MOCA Grand (from 5 to 8 p.m.), Skirball Cultural Center (noon to 5 p.m.), USC Pacific Asian Museum (5 to 8 p.m.) and Long Beach Museum of Art (3 to 8 p.m.)
Friday May 10th, 2019
28. Friday Night Block Party at L.A. LIVE presented by Absolut features 20+ pop-up shops, live art and street performers and select $5 food and drink menus at participating L.A. LIVE restaurants. FREE
29. LA Plaza de Cultura y Artes in Downtown Los Angeles brings back their Summer of Salsa concert series this Friday. Dance to the sounds of some of the city's best salsa and Cuban bands one Friday evening each month through summer. FREE
30. One Friday a month, we open our doors and provide a free 30 minute public lecture followed by a 90-minute stargazing session featuring a Q&A panel with world-class scientists. This month's theme will be A Star is Born, with lecture by Mike Grudic. No reservations are necessary, but stargazing is weather dependent. Lecture starts at 8 p.m. FREE
31. Echo Park Craft Fair's Spring Edition at Mack Sennett Studios (May 10-12) features over 120 artists with various ceramic, jewelry, clothing, woodworking and textile design booths. Friday night features a limited ticket preview party, with the main event happening Saturday and Sunday.
32. There's a midnight screening of Office Space at The Vista in celebration of their 20th anniversary. Guests are encouraged to dress up as their favorite characters.
33. Yann Tiersen the composer famous for the music in the french film Amélie will embark on a North American tour that kicks off at the Orpheum Theatre in Los Angeles this Friday.
34. The NoMad Los Angeles recently launched a new food series titled 'For A Limited Time Only' transforming the hotel's coffee shop into a variety of themed pop-ups every Friday and Saturday evening. The second iteration The Kentucky Derby featuring mint juleps, hot chicken sandwiches, deviled eggs and Derby decor to match.
35. Get up close and personal with sharks at the Aquarium of the Pacific during Shark Lagoon Nights. Guests will have the opportunity to touch bamboo sharks and view large sharks in an after hours setting. FREE
36. Head to Marina Del Rey to shop the James Perse sample sale. Menswear, womenswear, home, accessories and footwear will all be discounted. Happening May 10-12.
37. Los Angeles County Museum of Art hosts free jazz performances on Fridays through November. Concerts take place at the main entrance. FREE
Food Pick for the Week
This week's pick by Christina Champlin, Co-Founder of We Like L.A.
May is National Burger Month and dine L.A. has launched a Burger Trek that features 32 of the best burgers across Los Angeles. This includes a whole spectrum of burgers from the iconic old school joint The Apple Pan and their Steakburger created in 1927 to vegan options like the Vegan Cheeseburger from Burgerlords. There's also burgers topped with pastrami, smothered in Bolognese red sauce and even one with a load of French Onion sauce. Try them all by going through the online post organized by establishment, photo and name of the burger to order. Real die hard burger fans can also pick up a limited edition dineL.A. Burger Trek guide map at select burger spots, while supplies last.
---
Want to get our to-do lists straight to your inbox every week? Sign up for our email program. Have an upcoming event you'd like suggest for listing? Drop us a line at [email protected]