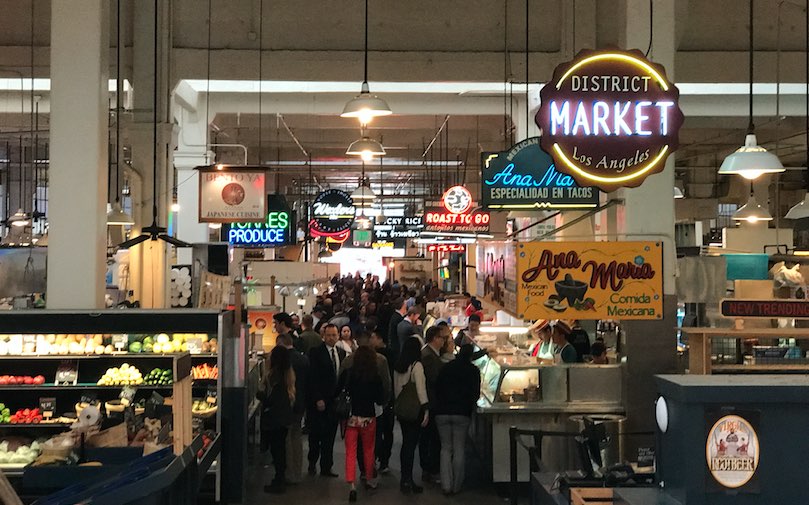 Every week in Los Angeles there are tons of great things to do (even before the weekend gets started) that we think you ought to have on your radar. With that in mind, we put together a list every Monday through Friday morning to keep you in the know about what's happening in the city you love (or maybe just like).
This week, from Monday, June 10 to Friday, June 14, features E3 Expo, Hollywood Fringe Fest, KTOWN Night Market, Last Whispers at The Ford, Summer of Salsa, and MUCH more.
Remember you can always go to our L.A. events calendar page to get an updated rundown of what's happening around the city.
Hope you find the rundown useful and, as always, enjoy your week!
---
Keep in mind that while we retain complete editorial control of our content, for some of the ticketing options provided we utilize affiliate links and receive a commission if you purchase through our links.
---
Monday June 10th, 2019
1. Urban Legends/UME is hosting a listening event and panel to celebrate the release of Miles Davis: The Complete Birth of the Cool at Downtown hi-fi vinyl bar, In Sheep's Clothing. FREE
2. FILM at LACMA presents an evening screening of 1934 flim L'Atalante at the Bing Theater.
3. E.P. & L.P. in West Hollywood continues their stylish cinema series Melrose Rooftop Theatre with screenings of Space Jam, Crazy Stupid Love, Grease and more.
4. Hot Tub With Kurt And Kristen at The Virgil is a variety show featuring some of the best comedians, music artists and the occasional oddity aimed to entertain.
6. PALATE BUILDER: Sensory Building Experience and blind wine tastings presented by wineLA.
7. Attention camera nerds! Stop by Canon Burbank on Monday for a free look at and demonstration of Canon's new EOS R, and EOS RP mirrorless full frame cameras. FREE
Tuesday June 11th, 2019
8. E3 Expo, the world's premier event for computer and video games and related products, comes to the Los Angeles Convention Center this week from June 11-13. Go here to view the hours for industry professionals and gamers.
9. Mr. C's Poolside Cinema is back for the sixth year in a row. From June 11 through August 27 Angelenos can indulge in a luxury outdoor movie experience by the pool with a Cipriani menu, classic movie snacks and Peroni Nastro Azzurro. A Star is Born will be screened this week.
10. Eagle Rock Brewery brings together Valerie Confections and Milkfarm for a night of Beer, Cheese & Chocolate. The tasting expereince includes four types of beers, cheeses and chocolates.
11. The Skirball museum will host a free afternoon screening of The Gospel According to Andre . FREE
12. GameSpot Base Station happening June 11-13 will activate an outdoor experience perfect for all game players. There will be vintage arcade games, celebrity meet and greets, swag, competitive gameplay and other surprises. FREE
13. See comedians recreate Labyrinth live onstage while drunk at Black Rabbit Rose in Hollywood.1
14. Rooftop Cinema Club returns to the rooftops of LEVEL in DTLA and NeueHouse in Hollywood with multiple screenings this week that include 500 Days of Summer, Baby Boy and more.
15. Free admission at: Los Angeles County Museum of Art (also free for L.A. County residents with valid I.D. after 3:00pm on Mondays, Tuesdays, Thursdays & Fridays all month long) and Autry Museum of the American West. FREE
Wednesday June 12th, 2019
16. Griffith Observatory offers a Sunset Walk & Talk one evening a month led by a Park Ranger and museum guide. FREE
17. The Grove in partnership with LA Pride and The Original Farmer's Market invites you to a singalong screening of Hairspray. Come early to enjoy live entertainment, complimentary popcorn and snacks, plus Dylan's Candy Bar's special Pride collection. FREE
18. The Hammer museum will screen any film under 10 minutes in front of a raucous audience during Open Projector Night with comedian emcees the Sklar Brothers. Aspiring film makers can sign up one hour ahead of screening time. FREE
19. There's a Cobra Kai Concert going down at The Whisky A Go-Go featuring series composers from the hit show and some very special guests.
20. Hollywood Heritage and The Hollywood Foreign Press Association hosts Evening at The Barn a night focused on Judy Garland's television appearances in the 1960's.
21. Plan C a free comedy show happening on the second Wednesday of every month at The York in Highland Park returns for a round of progressive laughs starting at 9 p.m. FREE
22. Non-profit The Cat Cafe has a new popup kitchen lounge called Tiny Beans, where guests can interact with adoptable kittens for a fee. The sad fact is that many shelters do not have the capacity to care for kittens and that can result in euthanizing them. Tiny Beans aims to spread the word to help save as many kittens as possible all summer long.
23. Take an afternoon yoga class in beautiful Grand Park. The 45 minute workout is complimentary to the public. FREE
Thursday June 13th, 2019
24. Shakespeare By The Sea will once again offer a ten-week program of admission-free performances with two featured productions: The Comedy of Errors and Henry V at a variety of venues across Los Angeles. Kicking off the series is The Comedy of Errors at Point Fermin Park in San Pedro at 8 p.m. Thursday through Saturday. FREE
25. Over three dozen venues such as 2nd Stage, Hudson Theatres, The Broadwater and the Underground Annex Theater will host comedy, ensemble theatre, dance and immersive performances during the annual Hollywood Fringe Festival taking place June 13-30.
26. Who What Wear brings back Street Style Cinema, their series of free outdoor movie screenings, to The Grove every Thursday evening in June. This week they'll screen Crazy Rich Asians. FREE
27. There's a Marvin Gaye–themed karaoke night celebrating the life and work of the late Ernie Barnes, led by soul singer Torrénce Brannon-reese happening at the California African American Museum this Thursday. FREE
28. Downtown Art Walk brings art enthusiasts and locals together every second Thursday of each month to take part in gallery tours, parties, food trucks, and and more in the heart of the Los Angeles Historic Core.
29. Hit cabaret show Ms. Pak-Man returns to Los Angeles June 13 – 15 for a comedy filled night staring the superstar of 1980s video game Ms. Pak-Man. She'll regale audiences with stories of her rise to fame and what she's been up to since.
30. Night Market is back on the hilltop of the iconic Yamashiro restaurant every Thursday all summer long. Angelenos can enjoy boutique vendors, food vendors, a concert series, cocktails at Yamashiro's Pagoda Bar and an unbeatable view of Hollywood. This event is also kid friendley. Please note this year the organizers are charging $10 to park at the shuttle location. Shuttles are free and so is admission.
31. Nerd Nite is a monthly event held in 100+ cities across the globe including Busby's East in Los Angeles! Dubbed as "Discovery Channel with beer" folks will give fun and informative presentations about a variety of topics and the audience drinks along.
32. Free museum days: MOCA Grand & MOCA Geffen (from 5 to 8 p.m.), Skirball Cultural Center (noon to 5 p.m.), USC Pacific Asian Museum (5 to 8 p.m.), Japanese American National Museum (from 5 to 8 p.m.) and Long Beach Museum of Art (3 to 8 p.m.) FREE
Friday June 14th, 2019
33. Last Whispers – Oratorio for Vanishing Voices, Collapsing Universes & a Falling Tree comes to the Ford Theatres on Friday for a night dedicated to the mass extinction of languages. Presented in surround sound under the stars, audiences will marvel at a chorus of spoken and sung extinct and endangered languages punctuated by sounds of forest and wind, while black and white video and photography poetically link image and sound. Check for discounted tickets before making your purchase. DISCOUNTED (via Goldstar)
34. For the 5th year in a row, the KTOWN Night Market is returning to Koreatown June 14-15 for a weekend of live music performances, delicious food offerings and trendy Korean-beauty shopping.
35. Summer Friday Night Drive-In at the Roadium returns every Friday evening from June 7 to August 30 to revive your favorite films in a classic 1950's drive-in setting. The series continues with a screening of Jurassic Park.
36. Spend the season sipping wine during sunset hour at Barnsdall Art Park's Friday Night Wine Party Series. Happening on the lawn of architectural gem the Hollyhock House the evening features a fine selection of wines curated by Silverlake Wine, a live DJ and tours of the house. The series happens every Friday evening till September 6.
37. LA Plaza de Cultura y Artes in Downtown Los Angeles brings back their Summer of Salsa concert series this Friday. Dance to the sounds of some of the city's best salsa and Cuban bands one Friday evening each month through summer. FREE
38. Don't Tell Comedy pops up in Playa del Rey for a hilarious beach bash this Friday with secret performers at a secret location. The location will be emailed to ticket holders and it's BYOB.
39. The Skirball museum will host an Outdoor Movie Series screening of 1957 romanic musical Funny Face staring Audrey Hepburn and Fred Astaire.
40. "The Assassination of Edgar Allan Poe," takes the audience in and out of the many Victorian mansions at Highland Park's Heritage Square Museum. The show follows the strange life and mysterious death of Edgar Allan Poe through multiple storylines. Audience members decide which storyline to follow (literally) in this immersive theatrical event and draw their own conclusion on how the famous writer died. The show runs June 7 through August 17.
41. Every Friday evening in June, Rancho Santa Ana Botanic Garden in Claremont hosts Butterflies & Brews where they feature a rotating line up of local craft beers, music and access to their California Butterfly Pavilion. A ticket cost $15 and includes your first drink.
42. Grand Central Market's special promotion Friday Night Flights includes a flight of drinks or bites from GCM vendors and a round trip ticket on the historic Angels Flight Railway right across the street for $15.
43. FIGFest at FIGat7th in Downtown is back for another festive summer filled with live performances by leading artists in a variety of genres. The series continues this Friday with Oddisee & Good Company and Sudan Archives. FREE
Food Pick for the Week
This week's pick by Christina Champlin, Co-Founder of We Like L.A.
Every Thursday all summer long Chef Sammy Monsour hosts "Sammy's Cookout" at Preux & Proper. From 5:30. to 10 p.m. guests can munch on funky southern treats like Candied Yams with cinnamon-churro marshmallow; Dungeness Crab Hushpuppies; Nate's Nashville Hot Rabbit; Fried Wild Gulf Rock Shrimp and much more.
Preux & Proper is located at 840 South Spring Street Los Angeles, 90015
---
Want to get our to-do lists straight to your inbox every week? Sign up for our email program. Have an upcoming event you'd like suggest for listing? Drop us a line at [email protected]