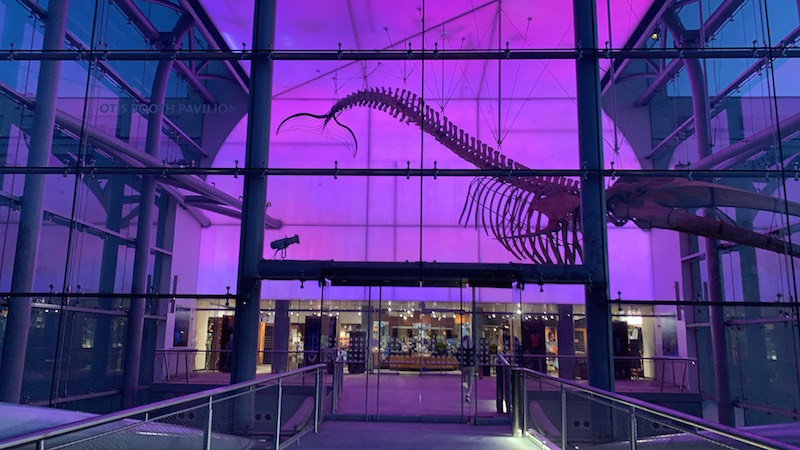 Los Angeles provides no limit of things to do, some awesome and some not so awesome. Since time is precious in this fast paced city we curate a list of things to do in Los Angeles for every weekend that'll help you decide how you want to spend your limited supply of attention (not to mention dollars!).
This weekend, from Friday, March 1 to Sunday, March 3, features First Fridays at NHM, the Museum of Toys, a Cherry Blossom Festival, Mardi Gras celebrations, CicLAvia in Culver City, and MUCH more.
Remember you can always go to our L.A. events calendar page to get an updated rundown of what's happening around the city.
Hope you find the rundown useful and, as always, enjoy your weekend!
---
Keep in mind that while we retain complete editorial control of our content, for some of the ticketing options provided we utilize affiliate links and receive a commission if you purchase through our links.
---
Friday March 1st, 2019
1. Obvious Plant's Museum of Toys will house over 100 items created by comedian Jeff Wysaski including fake toys, actual toys with new names, and actual toys with fake facts. The show runs March 1-17 at Start Los Angeles, in Harvard Heights. A free opening reception will be held this Friday from 1 at 7 p.m. Otherwise, tickets are $10 and can be reserved online.
2. Digital Nature 2019 comes to the L.A. Arboretum February 27 through March 3 for a dazzling display inspired by nature and technology. Artists works will be projected onto the arboretums lush landscape during the evening hours with interactive works that can include live music . Check for discounted tickets before making your purchase. DISCOUNTED (via Goldstar)
3. The Natural History Museum of Los Angeles County (NHM) First Fridays returns on March 1 for a monthly party after hours in the museum including live musical performances, DJs, cocktails, and food trucks. This month's theme is "Forces of Nature" and how fire, flood, drought, and earthquakes have impacted the land in California.
4. Dine Out Long Beach Restaurant Week returns with a host of specially priced prix fixe brunches, lunches and dinners from February 24 through March 2.
5. Experience National Geographic Live at the Eli and Edythe Broad Stage at the Santa Monica College Performing Arts Center. Their latest installment titled Point of No Return centers around Hilaree Nelson, National Geographic explorer and mountaineer. Check for discounted tickets before making your purchase. DISCOUNTED (via Goldstar)
6. An installation created by design firm and technology studio VT Pro Design gets a West Coast debut at ROW DTLA. Telestron is two large-scale robotic conductors creating geometric shades through light and shadows all around guests in a seven minute light show. Open to the public Wednesday through Sunday with the end date of March 28. FREE
7. The Griffith Observatory hosts a monthly forum where some of the most amazing phenomena in the known universe are explained and discussed. It's called All Space Considered and it takes place on the first Friday of every month. FREE
8. Dan Savage's HUMP! Film Festival returns on select dates from February 28 through March 9. The nationwide festival showcases five-minute sex-positive 'dirty movies' on the big screen of The Downtown Independent in celebration of creative sexual expression.
9. Venice Art Crawl returns with an evening of exploring Venice local artists, businesses and entertainers. FREE
10. 260LA will host a Ulla Johnson sample sale from February 28 to March 3 in their Beverly Hills location.
11. From February 4 through March 1 The Grove offers a special "Award Nominated Date Night" in honor of awards season. Guests will enjoy an award-nominated film and a three-course dinner at The Grove, as well as valet parking for the evening for $70.
12. Metro Arts presents Bloco Obini for a musical performance in honor of Brazilian Carnival. Happening at Union Station. FREE
13. It's First Fridays at The Village in Redondo Beach. Merchants and art galleries will stay open till 8 p.m. and a live performance by Mr. Loop next to the Aloha Bungalow.
14. This Friday Caltech's Stargazing and Lecture series returns to Pasadena for a night of outer worldly discussions and some stargazing. FREE
15. Since its the first Friday of the month check out all the cool events happening around town including block parties and art walks for First Fridays.
Saturday March 2nd, 2019
16. The South Coast Botanic Garden Cherry Blossom Festival happening on March 2 celebrates the blooming season for Japan's national flower. Guests can view cherry blossom trees, enjoy picnic bento boxes, live performances and workshops.
17. It's Mardi Gras at Santa Anita Park this Saturday. Enjoy live Louisiana-style tunes and authentic Cajun eats at a day of thrilling horse racing. Check for discounted tickets before making your purchase. DISCOUNTED (via Goldstar)
18. Join thousands of people for the Long Beach Mardi Gras happening at Shoreline Village and Rainbow Harbor. The afternoon will feature music, art, festivities, dancing, a parade and more. FREE
19. There's a meditation walk at Cabrllo Cliffs in San Pedro this Saturday morning. The walk begins at 9 a.m. and runs 50 to 75 minutes.
20. The Original Farmers Market's Annual Mardi Gras Celebration will bring a taste of NOLA right to Los Angeles. A family-friendly celebration the day includes New Orleans' food, a musical line-up of Cajun and Zydeco music and Mardi Gras activities. The Dog Bakery's Annual Mutti Gras Pet Parade will also take place. The celebration commences on Saturday, March 2, running through Sunday, March 3 and ending on Fat Tuesday, March 5.
21. Tocaya Organica will celebrate their grand opening in Westwood by giving guests their first two tacos free with any purchase of a beverage, side, or entrée.
22. 5th Annual Venice Brazilian Carnival Parade celebrating Carnaval from Oceanfront Boardwalk and Rose Ave to south of the boardwalk at Windward Ave. All guests are welcome to dress in costume and face paint.
23. The 6th Annual IPA Festival returns to Mohawk Bend this Saturday and Sunday with over 60 California breweries competing while guests sample a variety of unique IPAs, so were brewed exclusively for the festival.
24. Colburn Orchestra performs Beethoven and Rimsky-Korsakov at the Walt Disney concert hall this Saturday under the direction of New Jersey Symphony Orchestra Music Director Xian Zhang
25. Craft in America Center will re-open in a new gallery space with an exhibition of over 50 works by some of the most influential and innovative Californian craft artists from the mid-twentieth century.
26. There's a Sour Beer Showcase at sports and arcade bar Free Play from 5 p.m. to midnight. Located on the new second-floor of LAFC's Banc of California Stadium there will be close to a dozen fine and rare sour beers from around the country.
27. Groundlings & Groundlings, Attorneys At Law at LA's iconic improv theatre and school The Groundlings is their latest weekly hilarious show. DISCOUNTED (via Goldstar)
28. 100 Tactile exhibition is a sensory experience with objects and symbols through the sensation of touch. The immersive exhibit will be supported by visual and sound elements. Open now until March 30. DISCOUNTED (via Goldstar)
29. Head to Hauser & Wirth Los Angeles to check out 'Annie Leibovitz. The Early Years, 1970 – 1983: Archive Project No. 1,' an extension of the 2017 survey of the same title presented by the LUMA Foundation at the festival Rencontres d'Arles, France. The exhibition features more than 4,000 photographs taken between 1970 and 1983, spanning the artist's early photojournalistic work for Rolling Stone Magazine to some of her most iconic portraits. 'The Early Years' will remain on view through April 14, 2019. FREE
Sunday March 3rd, 2019
30. The 6th Annual Stouts n Staches Brew Fest & Pig Roast is a block-party style event happening on Sunday March 3 at Clutch Venice. The party will feature BBQ, pig roasting, craft beer, whiskey tastings, beard and stache trims, cigar rolling, live entertainment and more in the mission to raise awareness for the Movember Foundation. Check for discounted tickets before making your purchase. DISCOUNTED (via Goldstar)
31. CicLAvia is back for another round of open-streets biking, walking and exploring in different Los Angeles communities. This time they'll focus on Culver City, Mar Vista and Palms. FREE
32. Non-profit arts organization The Secret City comes to the Bootleg Theatre for an afternoon of over the top music, art, performances, food, storytelling, joyful interaction, community and kooky outfits. Event is free with a suggestion of a donation. Childcare is also free for parents.
33. Wisdome Art Park is an art focused immersive experience spread among a series of domes in an Arts District lot. The current exhibition, Samskara, takes guests on a journey that includes paintings, optical illusions, virtual reality, and one very trippy video projection. Happening all weekend. Check for discounted tickets before making your purchase. DISCOUNTED (via Goldstar)
34. Saved By The Max, the Saved By The Bell Pop Up Shop Diner & Bar will transform into Malibu Sands & Zack's Room as part of the "final semester" of the pop up expereince wrapping up in April.
35. Dreamscape Immersive, the latest contender in location-based virtual reality, has opened in the Westfield Century City mall with three unique adventures that include an alien zoo, a deep ocean dive and an action packed adventure to find a powerful jewel. Open seven days a week.
36. Desert X returns for its bi-annual public art show February 9 through April 21. Spread throughout the Coachella Valley in various locations, artists are commissioned to use the desert landscape as their canvas with breathtaking results.
Food Pick for the Week
This week's pick by Christina Champlin, Co-Founder of We Like L.A.
BOA Steakhouse now offers a Sunday Supper at both Los Angeles locations. The three course menu cost $45 a person. On the menu you'll find Pepper's Fried Chicken, Memphis baby back ribs, spaghetti & meatballs and lobster pot pie. Sunday is also "Wine Lover's Night" where you'll score half-priced bottles of wine to pair with your meal.
BOA Steakhouse has locations in Santa Monica (101 Santa Monica Blvd, Santa Monica, CA 90401) and West Hollywood (9200 Sunset Blvd, West Hollywood, CA 90069)
Want to get our to-do lists straight to your inbox every week? Sign up for our email program. Have an upcoming event you'd like suggest for listing? Drop us a line at [email protected]