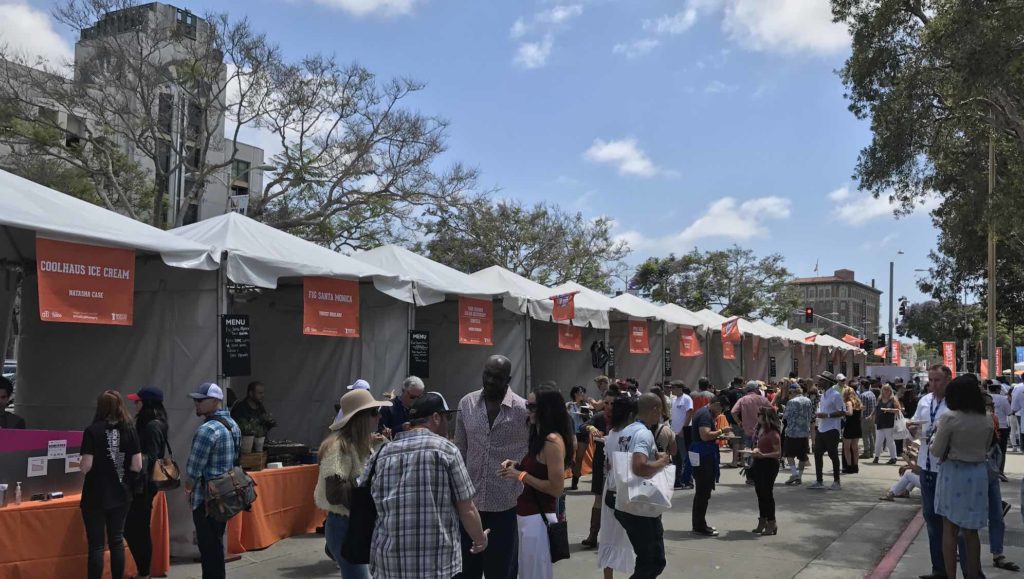 Los Angeles provides no limit of things to do, some awesome and some not so awesome. Since time is precious in this fast paced city we curate a list of things to do in Los Angeles for every weekend that'll help you decide how you want to spend your limited supply of attention (not to mention dollars!).
This weekend, from Friday, May 3 to Sunday, May 5 features Union Station's 80th Anniversary, Taco Madness, Free Comic Book Day, Taste of the Nation, Mount Wilson Observatory's Concerts in the Dome, Cinco de Mayo parties and MUCH more.
Also, as a reminder the Griffith Observatory remains closed through May 6 as they work on essential improvements to the building and road. Note that this will affect pedestrian and vehicle access to the Observatory hilltop as well.
Remember you can always go to our L.A. events calendar page to get an updated rundown of what's happening around the city.
Hope you find the rundown useful and, as always, enjoy your weekend!
---
Keep in mind that while we retain complete editorial control of our content, for some of the ticketing options provided we utilize affiliate links and receive a commission if you purchase through our links.
---
Friday May 3rd, 2019
1. Union Station is marking its 80th Anniversary with a two-day (May 3-4) community celebration. There will be live music in the the regal Waiting Room, a Living Gallery highlighting the past, a market place with local vendors, food and drink plus a special 80th anniversary menu. FREE
2.PHOTOVILLE LA happening at Annenberg Space for Photography May 2-5 is a photographic festival experience featuring exhibitions of local and international photographers, workshops, and more. FREE
3. Never been to LACMA? First-time Fridays is a new monthly event for new visitors to the museum. Simply let the ticket office know you're a newbie and you'll receive a free poster, discounts and a welcome gift. Stop by after 3 pm with a L.A. County residents ID and get free admission.
4. Lucha VaVOOM Cinco De Mayan Spectacular returns May 3 – 5 for a spectacular lucha libre show that consists of masked wrestlers going to town on each other, riling up the crowd as one gets whackier than the next. The show also features stripteases, comedy, mariachis, music, and tamales. Check for discounted tickets before your purchase. DISCOUNTED (via Goldstar)
5. Friday Night Block Party at L.A. LIVE presented by Absolut features 20+ pop-up shops, live art and street performers and select $5 food and drink menus at participating L.A. LIVE restaurants. FREE
6. The Los Angeles Pancakes & Booze Art Show comes to LOT 613 May 3 – 4 for a pop-up art show of over 500 pieces by 150+ local artists plus booze, unlimited pancakes and more.
7. Just Like Heaven Fest comes to Queen Mary Events Park in Long Beach for a two day music festival (May 3-May 4) with a lineup that includes the Yeah, Yeah, Yeahs, Phoenix, MGMT, Beach House, Passion Pit, Grizzly Bear and more.
8. Pasadena's One Colorado hosts Happy Hour Week from April 28-May 3 offering live entertainment and specially priced drinks and bites from local restaurants.
9. Effervescence: Champagne & Sparkling Wine Festival returns to Los Angeles May 3 – 5 for its premier sparking wine event featuring an array of grape-worthy activities over the course of three days. Highlights include exclusive collector dinners, grand tastings, chef-lead dinners, and galas with celebrity chefs such as Nancy Silverton (La Brea Bakery, Mozza).
10. The Walt Disney Concert Hall will host a pre-show reception in the Garden with complementary drinks before enjoying Mozart performed by Emanuel Ax and The LA Philharmonic.DISCOUNTED (via Goldstar)
11. Le Creuset will host a Factory to Table Sale, May 2-5 at the Barker Hanger in Santa Monica. The day will also include live cooking demos from L.A. chefs using Le Creuset products and delicious food samples for all attendees. A portion of ticket proceeds will go towards local non-profit After School All Stars.
12. The BeachLife Festival is a three-day music festival (May 3-5) oceanside at Redondo Beach's Seaside Lagoon. Headliners include Brian Wilson, Bob Weir, Willie Nelson, Jason Mraz, Ziggy Marley, Violent Femmes, Sugar Ray and many more.
13. Cirque du Soleil's AMALUNA heads to the L.A. Waterfront in San Pedro for a magical evening that takes the audience through a journey loosely based on Shakespeare's The Tempest. Check for discounted tickets before your purchase. DISCOUNTED (via Goldstar
14. The NoMad Los Angeles recently launched a new food series titled 'For A Limited Time Only' transforming the hotel's coffee shop into a variety of themed pop-ups every Friday and Saturday evening. The second iteration The Kentucky Derby featuring mint juleps, hot chicken sandwiches, deviled eggs and Derby decor to match.
15. The Mission District of the City of San Gabriel will throw a Cinco de Mayo Mercado Street Festival with food trucks, live entertainment, a Mercado with Latin American artisans and vendors, complementary kids' activities, art, beer and wine garden and more. FREE
16. The bi-annual Matisse Footwear warehouse sale will have highly coveted styles at 80% below retail, with prices starting at $10. Happening May 2-4 in El Segundo.
17. The Los Angeles Asian Pacific Film Festival dedicated to showcasing films by and about Asians and Pacific Islanders, returns May 2-10 with a variety of screenings and activities.
18. First Fridays in Long Beach will celebrate moms this month with plenty of special activities like "Take Your Mom to a Tea Party", The Uptown Village Market and more.
19. First Fridays return to the Natural History Museum this Friday for an after hours party with DJs, cocktails and food. The event will explore the forces of nature focused on floods this month.
20. The Southeast European Film Festival a.k.a. SEEfest will showcase filmmakers and films from south east Europe and Eurasia from May 1-8. Check for discounted tickets before your purchase. DISCOUNTED (via Goldstar
21. Since its the first Friday of the month check out all the cool events happening around town including block parties and art walks for First Fridays.
22. Rooftop Cinema Club returns to the rooftop of LEVEL in DTLA for a screening of Pulp Fiction, Aquaman and more.
Saturday May 4th, 2019
23. L.A. TACO and I LOVE MICHELADAS presents the 10th annual Taco Madness celebration at LA Plaza de Cultura y Artes in Downtown Los Angeles. Savor the city's best tacos, listen to great music and drink micheladas all day long. Admission into the event is free.
24. Free Comic Book Day returns this year for an international celebration during which comic book shops give away free comics to anyone who visits their shops. FREE
25. Taste of the Nation is back at Media Park in Culver City for a day of unlimited tastings from top local chefs, restaurants and mixologists all to benefit non-profit No Kid Hungry.
26. Street Food Cinema returns this weekend with a screening of A Star is Born at Poinsettia Recreation Park and Pulp Fiction at Los Angeles State Historic Park. (DISCOUNTED) via Goldstar
27. Explore a hidden historic neighborhood on foot during Walk On Washington an event that highlights art galleries, restaurants, boutiques and more along the Washington Blvd business corridor of Arlington Heights, Angelus Vista and Western Heights between Bronson Ave. and Wilton Pl.
28. The International Bird Rescue at the L.A. Wildlife Center in San Pedro celebrates Bird L.A. Day with a special day all about birds. Highlights include crafts, special presentations and educational booths. FREE
29. Party like Gatsby Los Angeles comes to the Belasco in Downtown L.A. for an unforgettable evening centered on the iconic and mysterious millionaire Jay Gatsby who threw the most extravagant parties ever to take place in the 1920's.
30. LINE LA will partner with Imperfect Produce to host an Ugly Vegetables Farmers Market from 10 a.m. to noon followed by a lunch party with holistic chef Sophia Roe and Openaire chef Josiah Citrin from 1-3 p.m.
31. May 4 is Star Wars Day (May the Fourth Be With You!), a worldwide celebration that various businesses take part in. A few local businesses in Los Angeles are holding events too. For example, Kidspace will host a Spirit Day for families who love the series and The VOID award winning VR experience will offer a buy three get one person in for free to their Secrets of the Empire experience.
32. Tom Gun Live brings back their crazy Top Gun spoof show this Saturday. Happening at Catch One nightclub the show will include outrageous audience participation and tacos. Check for discounted tickets before making your purchase. DISCOUNTED (via Goldstar)
33. Eat|See|Hear returns for 2019 with a screening of Ferris Bueller's Day Off at North Hollywood Recreation Center. Check for discounted tickets before making your purchase. DISCOUNTED (via Goldstar)
34. Article happening at the Craft Contemporary museum is a spring marketplace showcasing unique local makers in jewelry, clothing and other design. The market is free with museum admission fee.
35. Charles Bukowski's Los Angeles Bus Tour put on by the folks at Esoteric Bus Adventures will take you to some of the literary giants favorite L.A. haunts, you'll also see where he lived, worked and drank. DISCOUNTED (via Goldstar)
36. The Michelada Music Festival comes to Plaza De La Raza for an evening of sipping on the best Micheladas in town, dancing, live music by La Sonora Dinamita and more.
37. If Halloween and horror movies are your favorite topics then I Like Scary Movies Experience will be just what you're looking for. Guests can expect to see, hear, feel, and smell recreations of iconic moments from IT (2017), Beetlejuice, The Shining, The Lost Boys, and A Nightmare on Elm Street and more. The pop up experience runs April 4 through June 16 Thursday through Sunday.
38. One Colorado Vintage will join forces with Artisan Market to feature a market place of over 30 local women exhibitors offering vintage clothing, textiles, ceramics, jewelry, home decor and accessories. The day will also include workshops, art activation's, music and a Green Bar featuring organic wine, beer and kombucha on tap.
39. Museum of Illusions has recently launched a brand new experience. Guests can walk through eye popping 3D exhibits inspired by cartoons, art, current events, pop culture and more. The museum is open daily. Check for discounted tickets before your purchase. DISCOUNTED (via Goldstar)
40. Head over to the Regent in DTLA for The Rock and Roll Flea Market. The market features 50 vendors offering vintage and handmade crafts, including clothing, jewelry, memorabilia, instruments and more. Admission is free and open to all ages.
Sunday May 5th, 2019
41. Mount Wilson Observatory launches its third season of Concert in the Dome special concerts inside its historic 100-inch telescope dome. There will be two musical performances: one at 3 p.m. and the other at 5 p.m. A reception for the artists will follow each performance.
42. Roy Choi's Broken Bread KCET series will be screened at The Wiltern this Sunday as part of the Los Angeles Times Food Bowl. The free opening reception will feature Roy Choi joined by community organizations and individuals from the series to host a panel on the exploration of the power of food. FREE
43. Vegfest 2019, the all-vegan festival will feature over 150 exhibitors, over 80 vegan food trucks, celebrity guest speakers and much more. FREE
44. Le Salon de Musiques presents a stage free chamber musical experience with champagne and high tea to follow at the Dorothy Chandler Pavilion this Sunday. DISCOUNTED (via Goldstar)
45. There's a Game of Thrones viewing party happening at Hotel Figueroa at 'House Tangier' each Sunday leading up to the series finale. The food and drink menu will be inspired by GOT for the event. A peek at the menu shows dishes like Open Faceless Man Sandwich​ and a Stark Courage cocktail made of tequila, mezcal and Chartreuse.
46. Smorgasburg LA will host Hangover Cures & Hot Sauces with "hangover-cure" specials from vendors, plus over a dozen hot sauce vendors sampling and selling their goods.
47. Dirtybird BBQ 2019: Los Angeles comes to Exposition Park for a bbq feast and music headlined by Claude Vonstroke.
48. Open Days: Tours of America's Best Private Gardens comes to Hancock Park and Windsor Square is an opportunity to explore some of the most beautiful gardens in the area.
49. There's a 5 de Mayo Pop Up Party happening at THE WAREHOUSE this Sunday featuring food, fashion, art and music.
50. The Pasadena Showcase House of Design will take place at the Boddy House on the grounds of Descanso Gardens in La Cañada Flintridge from April 21 through May 19.4
Food Pick for the Week
This week's pick by Christina Champlin, Co-Founder of We Like L.A.
There are plenty of parties and food-centric events happening for Cinco de Mayo this weekend. From an all-you-can-eat and drink party, to cheap tacos and loads of drink specials. There's even a Star Wars Day and Cinco de Mayo mashup party happening in Downtown Los Angeles for those who like their tequila shots with a side of Wookie. Take a look at our round-up of parties and food events happening for Cinco de Mayo in Los Angeles and remember to celebrate responsibly.
---
Want to get our to-do lists straight to your inbox every week? Sign up for our email program. Have an upcoming event you'd like suggest for listing? Drop us a line at [email protected]