Los Angeles provides no limit of things to do, some awesome and some not so awesome.
Since time is precious in this fast paced city we curate a list of things to do in Los Angeles for every weekend that'll help you decide how you want to spend your limited supply of attention (not to mention dollars!).
This weekend (June 30 – July 4) includes Old Pasadena Summer Cinema, SoCal Corgi Beach Day, Anime Expo, the Venice Beach Block Party  and MUCH more.
Also remember you can always go to our L.A. events calendar page to get an updated rundown of what's happening around the city.
Enjoy!
[IMPORTANT: Want our latest 'things to do' rundowns sent straight to your email inbox? Sign-up for our newsletter program]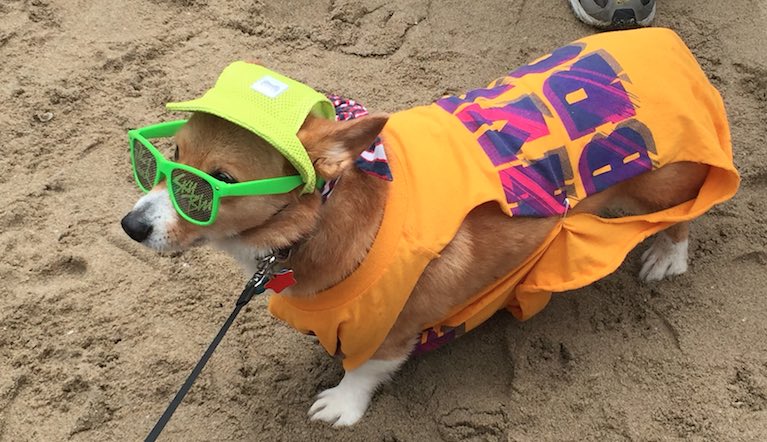 ---
Keep in mind that while we retain complete editorial control of our content, for some of the ticketing options provided we utilize affiliate links and receive a commission if you purchase through our links.
---
Friday June 30th, 2017
1. Enjoy some free Shakespeare this summer when the Independent Shakespeare Co. returns for the 8th year in a row with free/donation-based performances at the Old Zoo in Griffith Park. Measure for Measure will be performed Friday through Sunday.
2. The Music Center's Dance DTLA series returns this week with DJ Nights, curated by Peanut Butter Wolf at Grand Park. FREE
3. Shakespeare By The Sea returns with free performances for the summer. This Friday they'll be performing Macbeth at Point Fermin Park in San Pedro at 8 p.m. While admission is free encourage donations to help support the play. FREE
4. Celebrate summer while watching movies that rock (i.e. feature great music) during Outdoor Movies at the Skirball. This week they will screen That Thing You Do! Check for discount tickets before making your purchase. DISCOUNTED (via Goldstar)
5. The Last Book Review returns to The Last Bookstore in Downtown Los Angeles. Join host Ever Mainard and five comedians as they tell their own personal, funny and often awkward story on stage. The last comedian will then take the audience through a book review. FREE
6. Eco friendly hot yoga studio Modo Yoga hosts donation based Karma Classes every Friday at their La Brea and Echo Park locations.
7. The Levitt Pavilion in McArthur Park continue their annual free concert series this week with Vieux Farka Toure on Friday. FREE
8. Any weirdly obsessed Tom Cruise fans out there? Tom Gun LIVE: A Maverick's Homage brings a raucous interactive parody show to the Regent chalked full of karaoke sing-a-longs, dance offs, audience fueled paper airplane battles, missiles ziplining through the crowd, and much more.  Check for discounted tickets before making your purchase. DISCOUNTED (via Goldstar)
9. The Port of Los Angeles presents the 9th Annual Cars & Stripes Forever an all ages pre-Independence Day celebration featuring over 100 classic cars, live bands, food trucks, a beer garden, and a fireworks grand finale. FREE
10. Constitution Happy Hour at AMMO at The Hammer continues this Friday with a focus on the question "Is hate speech protected under the Constitution? "
11. Sip wine perched on a iconic L.A. hill that's also home to an architectural gem at The Barnsdall Art Park's annual Wine Tasting Nights. Now in its ninth year, the series feature tastings of boutique artisanal wines, along with food trucks, amazing food pop-ups and this Friday includes music from KCRW DJ Marion Hodges.
12. The Groundlings: The Completely Different Late Show is a hilarious improv show by the cast of the Groundlings' Main Company. Audience shout suggestions throughout the night for improvisational scenes performed by some of the best in the business. It's also a testing ground for brand new material for the Groundlings' main show. DISCOUNTED (via Goldstar)
13. Greenbar Distillery is hosting a cocktail classes in Downtown LA this Friday with seasonal fresh produce cocktails using tequila, gin and rum.
14. The Odyssey Theatre Ensemble is having previews this week for a new show titled Jacques Brel Is Alive And Well And Living In Paris. Mention "WE LIKE LA" when making your reservation use promo code: WELIKELA online, in-person or over the phone for free general admission tickets for this Fridays showings 😉 FREE
15. 626 Night Market will take over Santa Anita Park with food vendors offering unique cuisine and merchandise, along with fun activities for all ages Friday through Sunday.
16. Metro Art Presents a showcase of free arts and cultural programs at historic Union Station. Produced by Metro Art, programs are open to all ages. This week folk artists Frank Fairfield and Meredith Axelrod will bring their unique sounds of classic American music in the Waiting Room. FREE
17. Cinema Under The Stars returns to Westwood Village with a free screening of The LEGO Batman Movie. Lawn chairs and blankets are welcome. There will also be prizes, giveaways, and free snacks! FREE
Saturday July 1st, 2017
18. Hundreds of Corgis will hot the beach this Saturday for SoCal Corgi Beach Day at Long Beach's Alamitos Beach. The celebration will include a couple of Independence Day activities like a patriotic Corgi costume contest and a 4th of July pie-eating contest. Other highlights include the Bubble Pavilion featuring bacon- and chicken-flavored bubbles; free pawdicures and Corgi tattoos; a Corgi talent contest; a Corgi limbo contest; and a best momo (Corgi butt) contest. All dogs are allowed to come to the beach day!
19. Eat|See|Hear brings a screening of Top Gun at The Autry Museum. Check for discount tickets before making your purchase. DISCOUNTED (via Goldstar)
20. Old Pasadena Summer Cinema is back for 2017 with free movie screenings from July 1-29 at a variety of indoor and outdoor locations throughout the Old Town area. The series kicks off with Jurassic Park (1993) at One Colorado, 41 Hugus Alley at 8:30 p.m. FREE
21. KCRW's 2017 edition of Summer Nights is a free all ages outdoor music series happening throughout the summer. This Saturday they'll take over Chinatown with KCRW DJs Jason Bentley and Aaron Byrd. FREE
22. Red, White and BBQ, a Time Out L.A. barbecue bash featuring some of Los Angeles' best cook-out grub, a Golden Road Brewing beer garden, games, music and more will take place at Start Los Angeles. Stuff your face with pulled pork sliders, hot links and BBQ chicken from vendors including Gus's World Famous Fried Chicken, the Carving Board, Cheezus and Lucille's BBQ.
23. Beer Fest for Beer Geeks presents The Rarest Experience an outdoor festival featuring 30 extremely rare beers collected and cellared by Stout Burgers & Beers in Hollywood. Beer lovers are in for a real treat, many of these beers are not available for purchase in the U.S. Confirmed breweries include Firestone Walker, High Water Brewing, Dogfish Head Brewery, Jolly Pumpkin Beer, Het Anker, Tahoe Mountain Brewing, and many more.
24. Street Food Cinema this Saturday features two screenings on Saturday: The Sandlot at Brand Library Park Glendale and Napoleon Dynamite at Will Rogers State Historic Park Pacific Palisades.
25. Shakespeare By The Sea returns with free performances for the summer. This Saturday they'll be performing The Taming of the Shrew at Point Fermin Park in San Pedro. While admission is free encourage donations to help support the play.
26. Hauser & Wirth presents two opening shows this Saturday, renowned American artist Paul McCarthy's comprehensive collection of black walnut sculptures from McCarthy's White Snow series will make it's L.A. debut and Takesada Matsutani's first L.A. solo exhibition of paintings, drawings and sculpture will host an opening reception from 6 to 9 p.m. FREE
27. Celebrate the rich musical tradition of Mexican folk music during the 28th Annual Mariachi USA Festival at the Hollywood Bowl. The largest mariachi event in the United States, this spectacular evening will feature music from top Mariachi bands along with dance from Ballet Mi Tierra and stunning fireworks. Check for discounted tickets before making your purchase. DISCOUNTED (via Goldstar)
28. Enjoy a weekend filled with pirate adventures and mermaid tales during the Pirate Invasion of Long Beach. Taking place on July 1-2 at the Shoreline Aquatic Park the invasion will feature three pirate ships, hundreds of costumed pirates, sword fights, cannon battles, a Mermaid grotto storytelling and much more.
29. The Anime Expo will take over the Los Angeles Convention Center from July 1 through 4. The expo features panels, Q&A's, workshops, video rooms and autograph areas. Notable guest include Manga artist/illustrator duo, Akira Himekawa, the creators of ALICE IN DISSONANCE, YouTube personality AmaLee and Tokyo DJ banvox.
30. ShipKicker, the annual country music festival at Queen Mary Events Park in Long Beach, returns with a rockin line up and fun activities like line-dancing lessons, a beer garden, mechanical bull rides, food vendors, cocktails and yard games. Check for discounted tickets before making your purchase. DISCOUNTED (via Goldstar)
31. The Levitt Pavilion in McArthur Park continue their annual free concert series this Saturday with Chico and a fireworks show. FREE
32. Summer of Music at Redondo Pier will host free concerts every Thursday and Saturday highlighting a slew of genres. This week Cumbia musician Mayaztek will perform. FREE
33. Head over to the International Printing Museum's annual Independence Day Celebration and partake in some patriotic activities like printing your own Declaration of Independence on an authentic colonial printing press, and visiting Ben Franklin, Thomas Jefferson and John Adams in the Museum's Heritage Theatre.
34. The Lincoln presents Dog Day Afternoon a dog-centric party at the Venice watering hole. Bring your pup or maybe consider adopting from Angel City Pit Bulls, they'll be on hand with their awesome adoptable dogs. ZilkerBark will be on hand to a digital portrait of your pet for a fee. The bar will offer drink specials all day as well as dog treats, water bowls and toys for all four legged friends.
Sunday July 2nd, 2017
35. Street Food Cinema this Sunday features Fight Club at LA State Historic Park Los Angeles. Check for discounted tickets before making your purchase. DISCOUNTED (via Goldstar)
36. The Culver City Centennial Westside Food & Wine Festival returns to the Courtyard by Marriott Los Angeles Westside in Culver City for a day of tastings from Culver City, Mar Vista, Venice, and West Los Angeles restaurants, along with wines and spirits. Participating eateries include Mayura Indian Restaurant,Wildcraft, Hanjip, LA Gastronomy and more. Proceeds from the festival will benefit the Backpacks for Kids program. Check for discounted tickets before making your purchase. DISCOUNTED (via Goldstar)
37. Angel City Brewery presents Merica Fest (July 2-3) a backyard style party featuring red, white & blue beers, rockin' live music, Merica costume contest and Angel City's classic board game selection and cornhole!
38. Join Clifton's for a full scale U.S.O. star studded bash with performances by some of the most iconic stars from the 40's who've entertained the troops including the Andrew Sisters, Judy Garland, Marilyn Monroe and more. Celebrate in style by dressing up in 40s fashion too! Check for discount tickets before making your purchase. DISCOUNTED (via Goldstar)
39. The Levitt Pavilion in McArthur Park continue their annual free concert series this Sunday with Jessica Fichot. FREE
40. Yogis On The Move and Aktive Fitness L.A. team up to host a Boot Camp Boxing and Yoga event at Iron Triangle Brewery in DTLA. The class cost $20 and gets you an all inclusive 90 minute class of intense boxing followed by yoga. All attendees will end the class with a beer.
41. The 3rd Annual Venice Block Party returns with Phantogram, Grizfolk, isle & fever and more. Come dance, eat and frolic in the kiddie pools. Proceeds go to Peace4Kids.
42. The Great Rock and Roll Flea Market will take over The Regent Theater in DTLA with an impressive selection of vintage collectors, antiquities dealers, vintage clothing, jewelry makers, music memorabilia, vinyl, local food vendors, food trucks, craftsmen and used musical instruments dealers.
Tuesday July 4th, 2017
If you need ideas on how to spend your 4th of July holiday, check out our rundown of 16 Cool Things to do For the 4th of July in Los Angeles (2017) that includes block parties, fireworks extravaganzas, barn dances, and more.
---
Want to get our to-do lists straight to your inbox every week? Sign up for our email program.
Have an upcoming event you'd like suggest for listing? Drop us a line at [email protected].