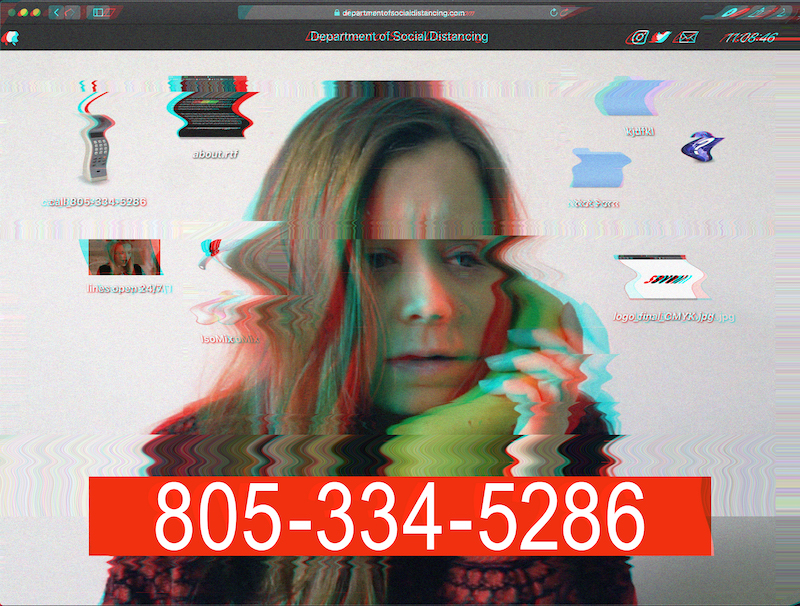 How's your social distancing going? Call the Department of Social Distancing to report your fears, epiphanies, observations, and other thoughts via its 24/7 hotline. 
The Department of Social Distancing is a project from independent art collective SOVO// to "collect and archive the thoughts and feelings of the general public during this time of global pandemonium."
The website looks like a messy desktop, icons scattered across the screen. After a few moments, a woman appears. She looks troubled. Clicking on the icons takes you to a variety of places including the CDC's COVID-19 website and a Spotify playlist of "coronavirus songs." They include Cake's cover of Gloria Gaynor's "I Will Survive," System of a Down's "Toxicity," and "Government Flu" by the Dead Kennedys. Definitely click on the icon of the world with a question mark over it for a nice surprise. But to hear the voicemails, you'll need to click on the folder labeled 'not porn.'
The website's aesthetic and the process of clicking through voicemails feel like something you'd do in another, earlier time. Maybe that period during which people made GeoCities fan pages for their favorite bands and TV shows. It's a little nostalgic, but it's also comforting just to hear someone's voice. 
Some of the callers crack jokes or read poems. One man says, "I've been talking so much to my dog, I think she knows how to speak English now." 
But others speak with a rawness that conveys fear and sorrow. One caller talks about how it's hard to motivate herself to do homework when dealing with an online learning format. "Every time I go to sit down to read, I get a little bit anxious," she confesses. "The main voice in my head is focusing on what I'm reading, but the voice in the back of my head is bringing up that tweet I read about the virus."
A woman contemplates mortality in line at Trader Joe's. Someone else discusses her favorite snacks, among them almond crunch Pocky. A caller from Los Feliz talks about how she'd been preparing to spend more time alone and now that's all she can do.
It reminds me of a project the band Night Things created in 2017. They installed a phone booth in Chinatown where you could listen to people's dreams. You could also call in and relate your own dreams. The Department of Social Distancing is more like recording your daily waking nightmare, but, uh, hey, at least we're all in it together.
To leave your own message in the Department's digital archive, call (805) 334-5286. You're invited to call as many times as you like. Each message can be up to three minutes long. 
The Department of Social Distancing was designed by installation artist Farida Amar, programmer Arjun Ray, and graphic artist Andru Perez. Check it out.