So you say you want to live in L.A., eh?
First, I don't want to burst your bubble, but here's a newsflash: Regardless of where you're moving from, it's not going to be an  easy transition. Not impossible, but definitely not easy.
Of course if you do it right, more likely than not you're going to love it. But to reach that outcome, one must prepare. And prepare. Aaaand prepare some more. As someone who recently made the transition myself, trust me on this point.
That said, what are some of the things you can expect before, during and after your move to the city of angels? How do you effectively make the transition? What are the steps you can take to acclimate yourself? To find success?
Well, let me run you through some of the things that I have learned along the way through my journey to L.A., and hopefully in doing so you can benefit from the wisdom of my experience.
Of course, like many things in life, it starts with what's in your bank account…
1. Make Sure You Save Your Money
First things first. The dollars.
I know this sounds like a total no brainer, but I'm serious, SAVE MONEY. The more money you save at the beginning, the better shot you'll have of actually making it initially and sticking through the tough times, and believe me, there will be tough times. The question then is almost always, how much SHOULD I save? Well, that depends.
If you're someone who has no problem living on a friend's couch/and or with a roommate, and who is totally okay eating homemade sandwiches and ramen for a few months, then maybe you're the kind of person who doesn't need as much. However, if you're dead set on getting your own place, then be prepared to spend.
Between the application fees, the driving around, the first, last and deposit (that's the one that hurts the most) and perhaps having to get some basic household necessities, money goes quick. REAL quick. And that's just on housing.
[RELATED: The Top 10 Apartment Hunting Tools for Los Angeles]
You also have to factor in the cost of moving. Driving, renting a truck, storage, etc., it all adds up. Once in L.A., it's all about the groceries and the gas, while continuing to pay for things like cellphone, change of car registration, updating license and car insurance, plus any bills you may carry over from your past life.
Also, things that in many places around the country seem like a given when renting a place, such as a parking spot, a dishwasher, an in-unit washer and dryer and maybe, oh, I don't know, a fridge… don't take them for granted.
Here in L.A. they're called 'amenities,' baby, and they're far from standard. I would say prepare to have enough money to live off for six months, minimum.
Once you arrive, everything in the city will appear shiny and new, so the temptation to spend will be there. Make sure you give yourself as much of a cash cushion as possible so you can focus on what actually brought you out here, be it a professional or personal plan. The good news is there's always plenty of free things to do in this incredible city, so you can always find ways to entertain yourself for less.
2. Do You Have a Plan? You'll Need to Have a Plan
No brainer number two, but you'd be surprised to know how many people move to Los Angeles and just wing it. Because, you know, it'll work out. Um, no, it won't. Los Angeles, despite the sunshine and the palm trees, is a hustling kind-of-town, and if you don't come out here ready to do so, you will be left behind.
Remember, no one out here owes you any favors and many are competing for the same jobs and opportunities. If you're moving out here with employment already lined up and a contract signed, good for you. You're already leaps and bounds ahead of the majority.
Whether you're already employed or not, they key is to set specific, time-sensitive goals, figure out what the steps are to making those goals happen, and sticking to the plan, step-by-step, to ensure you get to where you want to go.
3. Be Prepared to Improvise
I know, I know, sort of a total mind fuck, right? Well, that's life, and it just got more interesting. You can plan all you want, but life/the universe/destiny will have its way with you.
Getting stressed out because things aren't going your way is normal, but part of the experience of moving is learning how to become flexible and open-minded to things as they happen. I know it's easier said than done, but if you can really try to master the art of it, you'll make your life a lot easier.
4. Yes, You'll Need a Car
Is it possible to live in L.A. without a car? Well, maybe… but not likely.
As you may have heard, Los Angeles is huge. Spread out as far as the eye can see, this city was made to navigate in a car. That's not to say there isn't any sort of decent public transportation, there is and it's actually getting better every day, but it still isn't what it should be and it's definitely not comparable to other big cities such as New York. Plan on driving and dealing with traffic A LOT.
Yes, you've heard all of this before, but it's something you have to experience to really understand. I myself moved to L.A. from Miami, another city that's spread out and car-centric. I'm used to driving all the time, I thought I could handle it. But when it's Saturday night at 11:30 p.m. and it's bumper to bumper on the 101 for no apparent reason, it hits you: This shit is REAL.
Golden advice: LIVE NEAR YOUR WORK. I can't stress this enough. It will make your transition and basically every day of your life a heck of a lot smoother if you figure this out early. I've heard stories of people driving up to two hours EACH WAY to and from work every day. Personally, I can't think of a worse kind of hell than dealing with that kind of traffic. Also, download Waze onto your phone and join the rest of us battling the historically epic L.A. traffic.
You have been warned.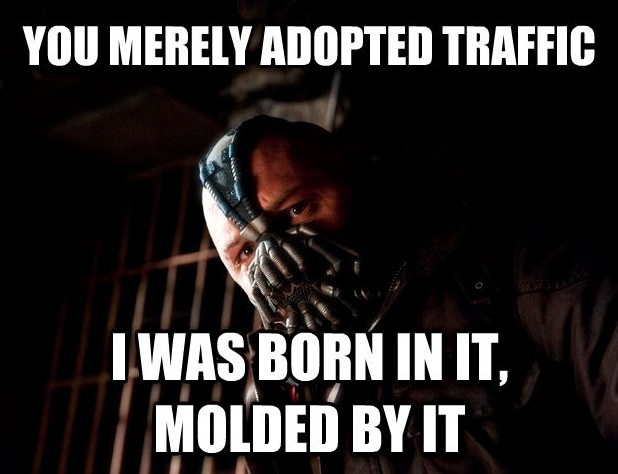 5. Make Sure Your Expectations Are Realistic
You are moving to one of the most populated places in the world. Many things will catch you off guard. If you're coming from an already large city, some will seem familiar but each place has its own characteristics. If you're moving out here from a small town, the transition into a busy metropolis can be even more jarring and difficult. Realize it's part of the process and that we all go through it at some point.
Remember, you are in a new environment, with maybe only a few friends/acquaintances (if you're lucky) at the start. The comforts and practicality of home are nowhere in sight but, in the end, isn't that why you decided to move to one of the best places on Earth? To be challenged and motivated? To start fresh and go after what you want? Success takes sacrifice but things WILL eventually fall into place.
6. Take the Time to Immerse Yourself in Your Environment
As a journalist, I make it a habit to read as many websites, blogs, weeklies and newspapers as I can so I know what's going on around me and my community. That habit has never served me better than when I moved to L.A. With a million things happening every single day all over town (many of them awesome), you'll wanna know so you can partake.
That's one of the greatest perks about living in L.A.: you can literally be into anything, and I mean ANYTHING, and it's almost guaranteed there will be a related event, screening, art-opening, party, get together, showcase, club, etc. There's plenty of great culture to go around here, and much of it is free, so get informed and become part of it-it's one of the best things about being an Angeleno.
Don't believe me? Check out this massive list of stuff going on in L.A. to get you started.
7. Ask Some Real-World Angelenos For Their Advice
Benjamin Franklin once said there are two ways to acquire wisdom; you can either buy it or borrow it. And believe me when I say that borrowing it from those who came before you is a far less stressful approach.
If you know someone who lives in L.A., try to pick their brain for as many insights as you can, and if you don't happen to know anyone, well there's always tons of resources online (like for instance the We Like L.A. Guide to Los Angeles)
That said, here's a few lessons I've learned I can quickly share:
First, look at the parking signs. SERIOUSLY. As confusing as they may be sometimes, look at them, study them and know exactly when and where you can park without getting a ticket. The meter maids here don't play and if you're over just a few minutes, but you think it's okay because you won't get a ticket: YES, YOU WILL. And it will be expensive. Very expensive. So if you don't want to throw your much needed money away, read the signs.
Second, if you've heard someone say, "Yeah, people in L.A. can be flaky," listen to them because it's true. This by no means everyone is flaky, but it certainly does have something to do with the fact that most people out here are juggling a job (sometimes more than one), trying to break into their "real career" and/or saving money or, simply, they live in Venice and you live in Silver Lake and it's just never going to happen. Time is precious. It's not that they didn't mean it when they said you two would hang out, it's just the law of the land out here. I still don't get it, but it is what it is.
Thirdly, if it's past 12:00 am and you are at a club/bar/house party and in conversation, you meet someone and they say they can get you a job at that cool indie music recording company you love, don't believe them. Just don't.
[RELATED: 16 L.A. Secrets Every True Angeleno Already Knows]
8. Don't Forget to Find Your Balance
There are beautiful hills and mountains and sunshine. Go for hikes. If yoga is your thing, you've come to the holy grail of it, just choose the one you like best. Workouts? This is gym/studio city. Go to the beach. If you need to refill your spiritual tank, Los Angeles has pretty much every religion imaginable, mainstream and not.
Meditation, common interest clubs, karaoke binges, whatever it is, you're going to need something from time to time to control the anxiety and stress of being somewhere new. Your body and your mind will thank you for it and, in the end, just make you a happier person.
Need some quick ideas? Check one of these awesomely peaceful places. Hunt for photographs at places with breathtaking views. Maybe just do some people watching. The possibilities are endless.
9. Yes, You'll Need to Learn How to Network
It's not what you know but who you know. This is sad but true. After 13 years working as a TV news journalist, ultimately, it was my agent and not my resume that opened the door to my current job out here. Mind you, I had to work to get through it and prove myself, but the truth is I wouldn't have gotten even a meeting if I had done it on my own.
Do your homework and get out there. Sign up for clubs and organizations that can help you open the doors in your chosen field. Meet your neighbors. Let people know you're here and call and email and don't give up. Use social media to your full advantage (always without crossing lines of respect and privacy, of course).
Always remember, you never know who that person in front of you in line can be. Same goes with that woman you are serving, or the guy next to you on the treadmill. What I'm trying to say is that this city is for those who persevere. Many have come out here and left within a year because it just didn't "happen" for them, but I wonder how many of those people actually tried to put themselves out there in every way possible? Again, this city is full of opportunities, you just have to be willing to work for them.
Which leads me to….
10. Don't Give Up Easily
Cliche as it may be, if you stick with it and work hard, good things will happen. That's the beauty of this place: It's one of the best cities in the U.S. for many careers and industries, all under blue skies and eternal sunshine. I know it's a lot to take in, especially in the beginning, but it's worth it.
I've only been here six months and I haven't regretted my decision to move here once. Yes, I have cried, I have had major anxiety at times, I have felt lonely and missed my family and friends, but I also have met incredibly inspiring people. People who are smart, creative and driven, who inspire me to push myself further and get to where I want to get to. Few things feel better than when you know you've conquered your fears, took that leap of faith and it actually paid off.
That's a sign of a true Angeleno.