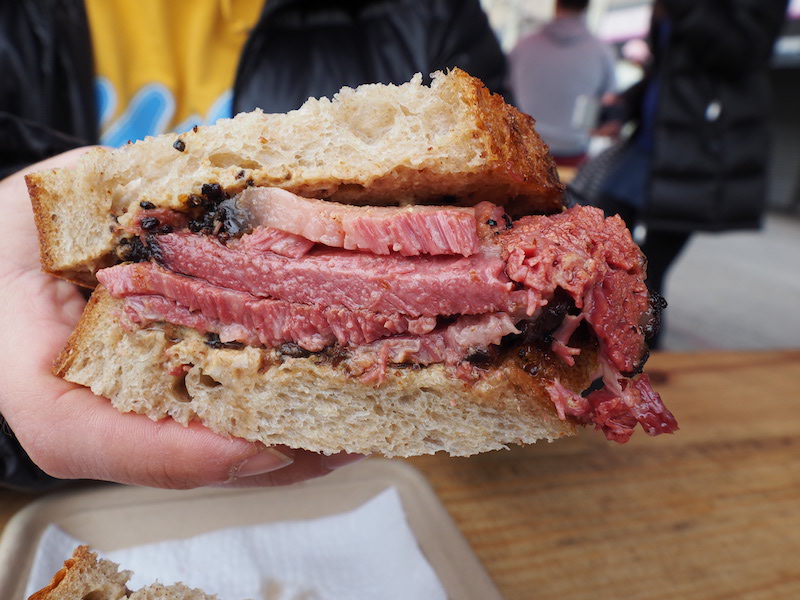 Far be it from me to try to sway you if you're a diehard Canters or Langer's fan, but if you haven't tried Ugly Drum's pastrami sandwich, you are missing out. Typically, this incredibly tender delicacy was only available at Smorgasburg LA on Sundays. But now, Ugly Drum is launching a deli-style cloud kitchen and we couldn't be more excited. Starting this Friday, you can order that sandwich, plus a whole lot more, any day of the week. 
Ugly Drum: Deli.Delivered launches on September 18 at 609 N. La Brea. The menu includes pastrami and turkey sandwiches, meat by the pound, matzo ball soup, sides including fries and potato salad, desserts like brownies and gelato, soda, cold brew, cocktails, beer, and wine. The cocktail list includes a jarred Bloody Mary that serves two and a horseradish-infused vodka. Starting October 3, you'll be able to get breakfast sandwiches on the weekends. 
Guests can order online for pickup, or request delivery via platforms including ChowNow, DoorDash, Grubhub, Postmates, and UberEats. Hours are Monday through Friday, 11:30 a.m. to 3 p.m., and Saturdays and Sundays from noon to 4 p.m. More info here.