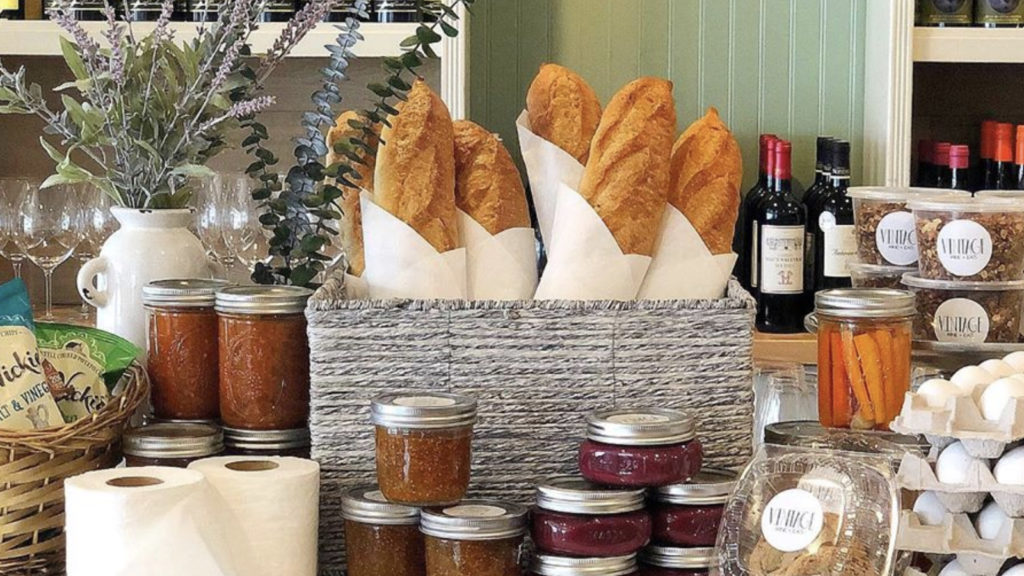 [Update: March 31] The Los Angeles Department of Public Health recently cracked down on some restaurants for not having a proper license to sell groceries. They are, however, allowing restaurants to offer grocery items as part of their menus for takeout, pickup, and delivery. Many restaurants have also put "no-inside" policy into place to prevent the public from browsing and touching items. Please place your orders ahead of time by phone or through a delivery app.
In a time of social distancing, the grocery store seems to be one of the last places where not everyone is concerned with staying six feet apart. Grabbing items that might have been touched by several strangers can also bring a lot of anxiety, too.
If these are the type of thoughts that go through your mind when you're fighting for the last can of beans at the grocery store, consider going to a restaurant instead. Many restaurants, now closed to dine-in customers, have transformed into mini-grocery and pantry grab-and-go stores. Some of them even offer delivery. You'll find fewer people and restaurant-quality items, plus you'll be supporting restaurants at a time when they need all the help they can get. Below is a list of fantastic restaurants turned local bodega. Enjoy!
[This is an ongoing list updated regularly. Check in once in a while to find a store near you.]
All Time in Los Feliz is offering fresh produce boxes, meat, seafood, eggs, milk, cheeses and pantry items.
Go Get Em Tiger locations are now pantries selling coffee beans, eggs, oats, rice, bread, and more alongside prepackaged gget items like baked goods, soup stock and chicken salad. Preorder of pantry staples for pickup is available through the "go get em tiger" app for iOS and Android.
Both east side locations of Valerie Confections are offering delivery and take-out. From prepared foods, baked treats to pantry staples and even toilet paper. Orders can be made through email or by phone. Both are listed in the link.
Porridge and Puffs in Historic Filipinotown converted to a grab-and-go store that sells provisions and composed meals, including the current menu of porridge, plants, puffs, and PINCH takeout items.
Ronan in the Fairfax District has all your Italian grocery needs. On the menu are pizza dough, Pead's and Barnetts proscuitto, 00 flour, pesto, farmers market boxes and more.
Yang's Kitchen in Alhambra has transformed into a full-time marketplace Monday through Friday. The takeout menu includes eggs, cold brew, fresh produce, prepared goods to name a few. Chavez Farms Produce Boxes are also available. They are currently in beta testing for delivery service.
Sightglass Provisions in Hollywood will provide contactless pick-up and local delivery. The shop is carrying a number of produce sourced from local farms, pantry essentials, prepared foods, proteins, dairy, freshly roasted coffee, wine and beer. Pre-orders can be made through Tock.
WOOD in Silver Lake is offering grab-and-go and delivery of items like produce, pantry staples, and make-your-own versions of their pastas and pizzas. Wine and beer are half-off, too.
L'Antica Pizzeria da Michele in Hollywood is selling wine at 20% off and has opened up a pickup and delivery market with cheese, fresh fruit, homemade pasta and sauces, and vacuum-sealed ready-to-cook proteins like slow-cooked meatballs and steaks.
Jon and Vinny's is now a goods shop operating out of sister restaurant Animal in the Fairfax District. It's stocked with fresh produce, sealed meats, bacon, dairy, cheese, ice cream and loads more. Same day delivery is available.
Homestate in Hollywood is offering pantry and ready-to-eat items including eggs, dry beans, flour, coffee, beer, wine, margaritas, and toilet paper.
Chef Josef Centeno is offering produce boxes from Ricks and Thao Family Farms for pick up out of Orsa & Winston in DTLA.
Vintage Studio City has converted to a market offering fresh baked bread, eggs, preserves, produce, wines and even toilet paper. They also have daily take home meal kits.
A selection of The Original Farmers Market tenants are now grocery and pantry stores. Those who prefer to shop from home can support the establishments by purchasing a variety of groceries and prepared meals for delivery through mercato.com.
La Monarcha Bakery locations are offering grab-and-go items like flour tortillas, coffee, cookies, all types of milks, pastas, beans, and even household staples like toilet paper.
Palette Food And Juice in Atwater Village updates what's in the $60 grocery boxes every week. Sometimes the box comes with sourdough, bone broth, pickled veggies, fruit and even eggs. Ala carte vegetables are also available and so are pantry items.
Bar Avalon in Echo Park is now Bodega Avalon with grocery kits to make shopping and cooking easier. The kits have everything you need including a bottled of wine! They also have produce, pantry items, fish, meat and fruit for sale individually. Delivery is available through Postmates and Caviar on select made-to-order menu items, wine, beer and beverages.
The Butcher's Daughter in Venice has transformed into a "Butcher's Bodega" offering essentials such as groceries, toilet paper, hand sanitizer, and more.
Birdie G's in Santa Monica is offering curbside pickup, delivery (through ChowNow and Postmates), and takeout. The menu is expansive with deli meats and dozens of dry goods like flour, yeast, and Koda Farms chickpeas to name a few. There's also a sauces, pickles and ferments list that will definitely level up your home-cooked meals.
Secret Lasagna in West Hollywood is selling a variety of produce plus dairy and dry goods like sushi rice, pasta and Tehachapi Grain Project flour. They are offering pick up and delivery.
Mickey's Deli in Hermosa Beach has a grocery store filled with essentials such as toilet paper, laundry detergent, water, and an "isolation starter pack" which includes prepackaged dry pasta and a jar of their homemade sauce for $11.99 available for pickup.
Izakaya Tonchinkan in Arcadia is selling gorgeous fresh fish like tuna belly, mackerel, and yellowtail at market price. They'll also slice or filet the items for you. Basically, you can have one incredible sushi moment at home. Get updates on the latest catches on the restaurant's Instagram Stories. Call (626) 461-5078 for questions and to purchase.
Kismet in East Hollywood has grocery and goods for pick up and curbside. You can find yeast, flour, sugar, spices, vacuum sealed meats, produce and produce boxes.
Sweeetfin locations are now a market offering a selection of premium-grade raw fish (with or without marinade) and produce boxes. A selection of their sauces and bases will be sold in bulk. You can place orders until 4 p.m. for next-day pickup at all locations.
Poppy + Rose in DTLA is operating as a grocery pickup spot every day from 9 a.m. to 3 p.m. In stock are eggs, fruits, vegetables, butter, steel cut oats, brown rice, flour, toilet paper, and paper towels. Call ahead to order at (213) 622-0176.
Tesse in West Hollywood is now a market place stocked with farmer's market fruits and vegetables, fresh baked bread, cheeses, a variety of red meat and chicken breast. Paper towels, gloves, and toilet paper are also available. Reserve your items online via OpenTable for pick up or use Postmates to get items to delivered to you.
Little Dom's in Los Feliz is now a temporary grocery store, offering farmers market produce, meats, and canned and packaged goods from the restaurant's deli, plus wine, beer, and cocktails.
Gjusta in Venice is offering organic produce boxes for pick up as well has house-made pickles, pastries, butchery meats and more. Delivery is available through DoorDash.
Bacari's Beverly Grove, Playa del Rey, and Glendale locations are now Bacari Pop-Up Markets stocked with fresh produce, meats, house-made sauces, pantry items and more. Same day delivery and pick is available.
Gwen in Hollywood is now a specialty butcher shop offering prime cuts from Creekstone NY Strip to Cape Grim Grass-fed beef. There's a Vesta Fruit and Vegetable Box for $100 loaded with itmes like asparagus, okinawan yams, peewee mix potatoes, avocados, bananas, raspberries and strawberries. Available for pick up and delivery through apps Caviar and Postmates.
Tender Greens is offering now offering a variety of grocery boxes to be picked up at all their California locations.
The L.A. Bodega on Wheels is bringing your groceries to you! The truck is carrying groceries, booze, and pre-made meals by local restaurants. More info. here.
A number of L.A. restaurant's including Akasha (Culver City), Kismet (East Hollywood) and Highland Park Brewery (Chinatown location) are working with Thao Family Farms offering their Peak of Harvest Produce Boxes for $40. The boxes can also be picked up a select local farmers markets.
Tamai Family Farms produce boxes are available for pre order on their site to be picked up at the Santa Monica Farmers Market and local spots like Ronan and Clementine Bakery. Prices start at just $15.