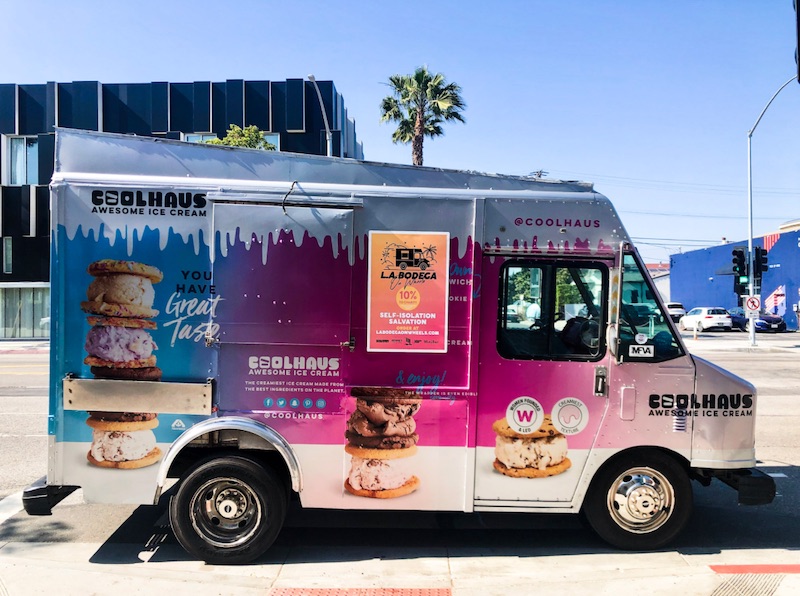 The L.A. Bodega on Wheels is back tomorrow for another round of local grocery, booze, and meal delivery. There have been a few changes, too: former partner 101 Coffee Shop is closed temporarily, but Rose Venice is now on board with bake-at-home pizzas, hummus, pasta kits, and more. 
Bodega on Wheels uses Coolhaus's fleet of ice cream trucks to deliver within a select radius. Last time, the radius covered central L.A., while this run skews towards West L.A. The project not only puts some employees who would otherwise be out of a job back to work, but also donates 10% of all proceeds to charities including L.A. Regional Food Bank and Opportunity Fund's Small Business Relief Fund. 
Some items you can order in addition to food from Rose Venice: canned sparkling cocktails from VERVET, gin from Future Gin, bottles of wine from Rose Venice, and Coolhaus ice creams and cookie sandwiches. You can also get pantry staples, including coffee beans, cream cheese, jam, flour, bread, and granola. And if you need a mask or hand sanitizer, they've got that, too. 
Deliveries are available April 24-26 and April 29-May 5, 11 a.m. to 6 p.m. Place your order by 6 p.m. for next-day delivery. Orders must reach a minimum of $25, and there's a delivery fee of $10. Pre-order is available online here.